It was interesting to see William Inge's Picnic and Tennessee Williams' Cat on a Hot Tin Roof on successive nights.  Both first arrived on Broadway in the mid-fifties, both received the Pulitzer Prize, were great hits on stage and later on film. Both have major female characters at the center, each with unsatisfied yearnings. Both plays are engaging but I found it interesting to note the differences in tone, language, the handling of painful personal issues in very different ways.
Inge has his spinster school teacher set out to get her man, and get him she does. He has his heroine fall for the transient hunk and dare to leave a proscribed future for a life with a drifter who has reached something deep in her that her hometown boy friend could never come near.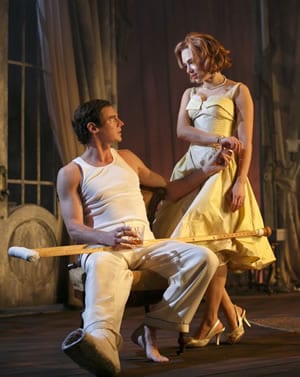 Williams has his Maggie (aka Maggie the Cat) determined to win back her man (Brick) who has taken to drink in a self-loathing rage after the suicide of his best friend Skipper, for which he blames himself.  Both plays deal with sexual issues, but with 1950s discretion. But Williams' people are larger, the stakes in his plays are higher, the language is loftier.
Scarlett Johansson plays Maggie. In 2010 she proved herself a powerful stage actress in her Broadway debut,  A View From The Bridge.  I found her a bit off her mark in this one. Her Maggie is still a 'cat on a hot tin roof' but that's all she is. From her opening monologue through the long first act, which is primarily a duet for her and Brick, she plays Maggie at top speed, and in consistent volume. She is still luscious to look at, far more intelligent than her skimpy educational background should allow, but it is no wonder that Brick spends most of the act restlessly moving about trying to avoid her.
He is further lumbered by his need of a crutch to support a broken ankle  he'd managed to inflict on himself during a recent binge when he attempted to jump the hurdles at his old high school during a rainstorm in an impossible attempt to recapture his glory days when he and his close friend Skipper were the darlings of the gods.
The term "close friend" will be examined in the course of the play, for Brick has absented himself from his marriage for months, and though he and Maggie had had a healthy sexual relationship when first married, he hasn't touched her ever since Skipper's death.  There is also a phone call from Skipper to Brick just before he ended is life, that will be examined as the play unfolds.
Playing Brick is not easy. Benjamin Walker was so over-amplified as Bloody Bloody Andrew Jackson that it was hard for me to evaluate that performance. But he's in full control of Brick — he has the looks and the charisma to conjure up images of him when he was a football hero.  It's a rough role — his right ankle is  bandaged up to the knee, his crutch is often out of his reach and he has to hobble to get it back. Mixing whiskey and water, which he does about every 2 minutes, is not an easy task either. One can see why Maggie is fighting to make him face the demons that Skipper's death have set loose on him, so she can remove Skipper as a rival from another world.
Big Daddy is a giant of a character — absolute ruler of his 28,000 acre fiefdom of the "richest soil this side of the Valley Nile" — he has no interest in or concern for anyone who does not serve him.  He will claim to prefer Brick, his rebellious  younger son, over the compliant and far less interesting Gooper, though Gooper and his wife Mae have provided him with five grandchildren whom Maggie calls "the no necked monsters."
Big Daddy is just returning from a stay in hospital where he was thoroughly examined to determine the cause of a stomach ailment, and today he is returning home to enjoy his 65th birthday party. He's been told he came through the examination with "flying colors" and he is now "fit as a fiddle", saddled with nothing more than a spastic colon. Big Mama returns home with him, overjoyed that her husband of 40 years is going to be just fine.
Big Daddy is played by the always interesting  Ciarán Hinds who is fast becoming one of Broadway and Hollywood's most in demand character stars. With dozens of films behind him, a plethora of  TV movies and series, he's just as well known in Ireland and England, and he is the perfect spark for this production for it is his hatred of "mendacity" that drives him. And Hinds bats a thousand in driving home his search for truth in a fine confrontation scene with Brick.  Only Maggie would seem capable of love and she wants to save her marriage, for she truly loves her man.
Debra Monk has been very effective in musicals, but here without song or dance she is a powerful Big Mama, very much a force equipped to trade blows with her Big Daddy man. He controls her, of course, but he allows her all sorts of indulgences, and she is satisfied to be the Mrs. for she can lord it over her fellow matrons whose husbands don't own 28,000 acres. It is the unearthing of secrets that takes the final two acts to complete.
Another import from the musical stage is Rob Ashford, the director. He's best known as a choreographer, but he wet his feet with recent revivals of Promises, Promises and How to Succeed, guiding film and TV stars Daniel Radcliffe and Sean Hayes to career stretching performances. And in  England he directed Anna Christie and A Streetcar Named Desire so he certainly deserved a crack at Cat. 
There were elements of his work that confused me. The set, for example, though designed by Christopher Oram, had to be approved by Mr. Ashford and it's a puzzlement. The brass bed is smack dab in the middle of a humongous bedroom, with a ceiling high enough to handle the chandelier in Phantom of the Opera. The room is scarcely furnished but characters seem to cross it far too often by running, sliding or jumping across the bed.  I don't know why they don't use the floor; that's what it's there for.
And the six monstrous children who run in and out tooting horns, banging drums, blowing whistles make proper sounds but seem more like automatons than kids.  They do as they are directed, but there isn't a discernible attitude among them.  I grant you that it's rough for little ones to have to hang around for 2 1/2 hours each night just to run on stage to annoy everyone, but they don't have to look bored. I swear the littlest one was yawning during the curtain call.
The big scenes are well staged and played (except for the overuse of the bed) and though we've heard there were additions to the material in earlier previews of the play, they seem to have disappeared, and that's good.
I feel fortunate that I've been around long enough to have seen the original productions of these classics, and have vivid memories of them. It's a pleasure to be able to compare Scarlett Johansson to Barbara Bel Geddes (the first Maggie) to Elizabeth Ashley and to Elizabeth Taylor who was at her finest in the film.
To be able to see Debra Monk play Big Mama as a raging fire, compared to the imaginatively cast Judith Anderson in the film, who was far more ladylike, or the original, Mildred Dunnock who was frail of frame and voice, but whose inner core was up to living with the Big Daddy of Burl Ives.
It's good to have these fine plays brought to new generations, with newly minted stars  when their productions are of the calibre of Lost In Yonkers, Who's Afraid of Virginia Woolf, Harvey, Annie and Picnic, a sampling of attractions we've been offered just in the last year.  This Cat on a Hot Tin Roof  has enough going for it, despite its occasional over indulgences, to make it very worth a visit.
Cat on a Hot Tin Roof is playing thru March 30, 2013 at the Richard Rodgers Theatre, 226 W 46th Street, NYC. . Details and tickets.
——————————–
Richard Seff, who, in his more than 60 year career on Broadway as a performer, agent, writer, and librettist, has recently written the book for Shine! The Horatio Alger Musical!, which debuted at the 2010 New York Musical Theatre Festival. He is also author of Supporting Player: My Life Upon the Wicked Stage, celebrating his lifetime on stage and behind the scenes, available through online booksellers, including Amazon.com.  Read more at RichardSeff.com
R
ichard Seff  interviews Broadway luminaries:
Richard Seff podcasts: