Wake up! – DC area actors – grab your coffee, then dig out your primo 90 second audition monologue. You know. The God-I'm-great-you-gotta-cast-me one. Because signups for Monologue Madness start at 10 a.m. this morning online, and, if Year 2 was any indication, slots will fill up pretty quickly.
Monologue Madness is back for Year 3 of its head-to-head DC theatre version of the NCAA March Madness competitions. On Selection Sunday, from a field of 320, a panel of judges will decide who moves on to Championship Sunday, and the chance to battle their way through the bracketed competitions to arrive at the sweet spot – the Final Four and then on to win the $1,000 cash prize.
Previous year's champions are: 2012: Aviva Pressman, Champion, Theodore Snead, Runner-up, 2011: John C. Bailey, Champion, Joe Brack, Runner-Up.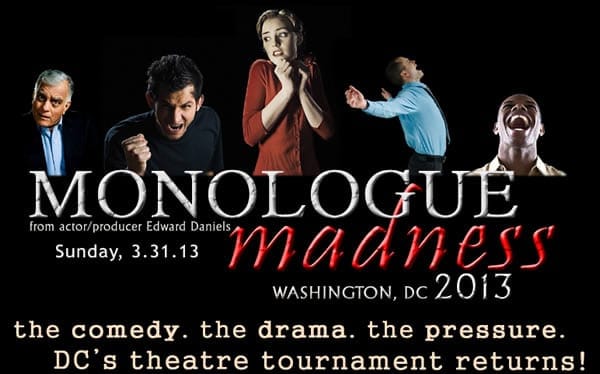 Edward Daniels, founder of this event, told us "We're inviting every artistic director and casting professional in town, as a way to get more auditors in the room (in addition to the three judges), being that we're not sure whether some of our other annual large opens calls (ie, LOWT auditions) will be happening this year or not. So, this would be a great way for actors to be seen and get headshots/resumes on file with local companies, whether or not the actor actually makes it into the Top 32 for the competition."
Here are the dates.
Sunday, Feb 17:  Cast party fundraiser at MOVA Lounge (14th and W NW)
Sunday, March 10  – Selection Sunday – Open Call Auditions  9am-6pm, Renaissance Arlington Capital View, Crystal City, VA
Sunday, March 31 – Championship Sunday, 6pm-8pm. Location TBA
Check back here for further details.
Signup for Monologue Madness 2013 opens at 10 a.m., Monday, January 28, 2013.