Tuesday,  temperatures in Washington rose unseasonably high, and that night The Keegan Theatre fairly sizzled with one of the hottest interpretations – and darkest — of the musical Cabaret audiences are likely to see.
From the very first drum roll and that unmistakable oom-pah pulse of composer John Kander, audiences sat expectantly in the dark waiting to learn how far this ensemble would take this well-known material.
Yes, Cabaret is arguably the most popular musical of the second half of the twentieth century. Locally, Signature did it, Arena did it, and it seems like every community theatre and high school in the scene has done it. So, why another production?
There are also some special challenges that the material poses. There is something "between Scylla and Charybdis" in any venture that takes on Cabaret. On the one hand the 1972 film version looms, and images from that classic dominate the expectations audiences often bring to the piece – from Liza Minnelli's black bob and the Barbie-hipped, inwardly-rotated legs and sharp pelvic thrusts of the Bob Fosse dancers, to Joel Grey's Emcee, so thin and weedy that you could hang him up overnight to dry.
On the other hand, should one go back to the Berlin stories of Christopher Isherwood, in particular "Goodbye to Berlin," upon which the play, then musical, then film were based? For instance, Isherwood indicates that Sally Bowles is not only an English singer but a bad English singer. One theatrical organization, which shall remain nameless, tried to follow this to disastrous ends. A musical with a bad singer at its center is not something one should aim for in any production.
Co-Directors Christina A. Coakley and Michael Innocenti do a terrific job picking their way between these two models to find their own template. They restored the role of Sally to being English and the character of Clifford to being American (reversed in the film.) Drawing on the story, they also emphasized Sally's darker side, including addictions. But they also keep the musical humming and fresh, allowing improvised lines to provide texture throughout.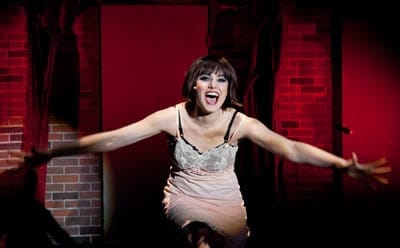 Maria Rizzo has thrown herself into Sally Bowles, using odd laugh punctuations and rapid-fire sentences to convey the manic, self-destructive side of her character. She also reveals a young woman both vulnerable and sympathetic. Rizzo has strong musical sensibilities and, more importantly, takes chances by coloring the songs to further each emotional beat of Sally's journey.  In this way, she makes Sally her own, but always coalesces her work into one part of the threaded stories.
The directors cast another company member, Bradley Foster Smith, against type as the "leading man" Clifford Bradshaw. This was a stroke of genius.  From his rubbery face down to his scuffed-up shoes, you could tell this character was not only a bad writer but a plain loser. As Clifford, his curious ménage with Sally Bowles demonstrated unequivocally that, however incompatible sexually they were, this man sucked up energy from her, some pizazz his life so badly needed, and his Midwestern goodness would try to make the impossible work. His performance is full of nuance and odd tenderness as Clifford "comes of age" in the sexually hot but brutally cruel world of Weimar Republic and rise of Nazism.
This gets me to the other challenge I have found with other productions. The girls at the Kit Kat Klub along with the Emcee cut such dramatic, exotic figures and engage in such titillating naughtiness that the other characters, and particularly the Nazi Ernst and the courtship between Herr Schultz and Fraulein Schneider get lost in productions. Their scenes often seem to slow the forward momentum of the show.
The Keegan performers play off each other beautifully and create a tight ensemble, with characters taking the time to establish moments. Christopher Gillespie as Ernst was so believable as the friend who introduces Clifford to Berlin, that it actually caught me by surprise when he revealed his more nefarious motivations.
Stan Shulman and Jane Petkofsky, stalwart ensemble members of Keegan, pull off a relationship both comedic and totally touching. They seem both to know and love these people.  Shulman could have made Herr Schultz, the grocery man who brings Fraulein Schneider pineapples and pears not pearls, pure schtick.  Instead, he plumbs down to the truth behind this touching little man.  Petkofsky started off a little tentatively but grew stronger with every scene. When she confronts Clifford about ending her engagement with Herr Schultz because he's Jewish, she demonstrates both pathos and a stern reality. "I will survive….[but] …this is my world." What they perhaps lack in traditional musical singing chops, they more than make up for with their honest and powerful character portrayals.
The boldest choice in Coakley's and Innocenti's interpretation is to imbed the character of the Emcee in almost every scene. Actor Paul Scanlan drives and unites the whole show. Sometimes the Emcee functions as stage manager, as when Scanlan holds a pineapple between Shulman and Petkofsky as they sing their duet. (He also licks its spiny bottom and plays with it crotch-level, disallowing the audience to succumb to any sentimental response.) At other times, he hovers high above the stage action watching, or more intimately over a character's shoulder, his make-up suggesting he is more of a Mephistopheles, planting the seed in all for darker choices.
Scanlan's robust physique and tight jaw gives him a strong, even dangerous presence. He totally reinvents the Emcee, not so much portraying a sexually androgynous entertainer but, with his black pants, tough black boots, and criss-crossed suspenders over his bare chest, something politically engineered for lethal power. You never know what his game is or what he is going to do, including leaping off stage.
What an arc this actor has created for this role!  By the time he sings "I Don't Care Much," alone and shooting up heroin on a fire escape landing, it's as if he has pushed himself beyond anything endurable. He's already dead.
Rizzo creates a parallel arc to her own scary end. Along the way, she new-coins her songs and builds to a climax in the showstopping "Cabaret." The number becomes a wrenching piece, where that bouncy wig is torn off and long hair bedraggled, she reveals her true self. Sally makes the decision to choose the club over a life with Clifford.  The line "When I die I'm going like Elsie" is a scream at the man who offered her an alternative to a road Sally surely knows will kill her.
Don't get bummed. This show retains its trademark chorus of half-clad Kit Kat girls and has added a delicious handful of Kit Kat boys.  But not only are these men gorgeous dancers but they help to deepen the "thrust" of the production.   Charlie Abel doubles as a menacing Max, owner and manager of the Kit Kat Klub, who has his own S&M thing going.  When Sally chooses to go back to the club, its emotional punch is doubled as we see her returning to such a physically abusive relationship.
Ryan Patrick Welsh as Victor and Matthew Rubbelke as Bobby not only pose complications to Clifford as he tries to build a new identity and life with the effervescent Sally Bowles, but they taunt and seduce Sally back into their more dangerous world, and even compromise the Emcee and seal his fate.
Highly Recommended
Cabaret
Closes March 2, 2013
Some performances are sold out
Church Street Theater
1742 Church Street, NW
Washington, DC
2 hours, 35 minutes with 1 intermission
Tickets: $35 – $40
Thursdays thru Sundays
Details
Tickets
The directors have used the tightening of cast members to advantage and created new resonances with the material. Songs are not just re-choreographed but reinvented. "Tomorrow Belongs to Me" becomes a number for Fraulein Kost, the young woman in the boarding house, who seems to have a thing for sailors and a mission to bed these good German boys. The solo becomes a beautiful duet with Ernst, and this gives us audience a chance to penetrate their romanticizing of German nationalism.
Sarah Lasko as Fraulein Kost also gets a turn to sing "Married" in German, picking up first with Herr Schultz and Fraulein Schneider, and delivers this powerfully.
Rachel Leigh Dolan is a fine choreographer who isn't afraid to borrow, then transform, the popular material of Cabaret into something new.  I loved the "Entr'acte/Kickline "with girls and Scanlan (in blonde wig), which seemed to fuse a bit of the Swan Lake quartet with the Rockettes. The song "Two Ladies" often serves as a bit of choreographed silliness, a teasing spoof of three-way sex, often hidden under a blanket.  There's nothing much hidden in this production, and just when things might start to flag, Dolan dubs in Rubbelke and Welsh in the female roles, and things really get interesting.
This is an arresting production with strong performances and, of course, Fred Ebb's masterful lyrics and John Kander's great music. As Keegan Theatre prepares for a face-lift renovation of their space on Church Street, it's clear this is a theatre that has a vision and both the talent and the chops to make powerful theatre happen.
—————
Cabaret .  Music by John Kander . Lyrics by Fred Ebb . Book by Joe Masteroff . Based on the play by John Van Druten and stories by Christopher Isherwood . Directed by Christina A. Coakley and Michael Innocenti . Music Direction by John-Michael d'Haviland . Choreographed by Rachel Leigh Dolan . Featuring Paul Scanlan, Maria Rizzo, Bradley Foster Smith, Jane Petkofsky, Stan Shulman, Erin Ryan, Sarah Chapin, Alison Crosby, Shannon Cusello, Shayna Blass, Paige Felix, Sarah Lasko, Chris Gillespie, Timothy Adams, Charlie Abel, Ben Lurye, Ryan Patrick Welsh, and Matthew Rubbelke. Produced by The Keegan Theatre . Reviewed by Susan Galbraith.