Two generations of Japanese men search for their destinies not knowing where their journeys, which span the time and space continuum, might lead them.  That is the fundamental conception of Haruki Murakami's acclaimed 2002 novel Kafka on the Shore, which was later translated into English in 2005. 
It's a story we have all heard many a time before, but the way Murakami infuses ancient Japanese culture and traditions, and modern values and norms that transcend national boundaries into the story sets it apart from others.  In Murakami's fantastical world – where we don't always know where reality ends and fantasy begins – it's not so much where one ends up that's important, it's the path one takes to get there.   Since it's the journey and not the destination that matters, there is ample opportunity to theatricalize this metaphysical tale.  Certainly Frank Galati saw this potential when he adapted the post-modern story for the stage in 2008.
First premiering at Chicago's acclaimed Steppenwolf Theatre Company, Galati's adaptation of Kafka on the Shore is receiving its East Coast premiere at Washington's small but ambitious Spooky Action Theater.  While the Rebecca Holderness-directed extravaganza features some uneven acting, it stays true to the Japanese roots of the story.  From a production standpoint, it also offers the audience some gorgeous imagery as they consider the metaphysical, spiritual, and cultural lessons of the deceivingly complex story – the details of which will not be spoiled here since they need to be experienced to be believed.
The success of telling such a story is largely dependent on the strength of the actors embodying the two men on journeys – different journeys to be sure, but ones that share common characteristics.  In the case of this production, the two leading actors aren't quite up to the acting challenge.  Although to be sure, it's a formidable one.
As the self-named Kafka, a teenage intellectual who flees from a difficult home situation, Michael Wong has the awkward mannerisms of someone who is 'not-quite-an-adult, but not-quite-a-kid' down pat.  When he learns of a tragedy at his home, his reaction is naïve, but detached. At the same time, he can discuss great works of philosophy with the best of them.  Unfortunately, Wong lacks stage presence and spends much of the show looking down at the stage as he softly delivers his lines.  The timidity could be excused in those scenes where he's expected to demonstrate his young age and lack of surety, but does not lend itself to other scenes where he must demonstrate strength to fight his inner demons.  A certain lack of chemistry with some of the people he meets along his journey also makes it difficult to care about where this young man ends up.
Like Wong, Al Twanmo does not particularly rise to the challenge of embodying an older man (Nakata) who has experienced great tragedy and once again must take control of his 'life' and destiny even as he continues to face seemingly insurmountable challenges.  He has an endearing presence which works in his favor as he tries to do what's right and good, but a failure to remember all of his lines and speak clearly and with emotion and purpose ultimately also makes it difficult to care more about his physical and spiritual journey.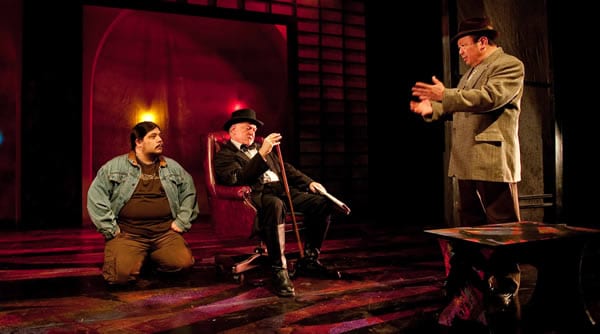 The supporting players – the ones that Kafka and Nakata meet as they make their way to their 'destinations' – fare exceedingly better and ultimately are among the major reasons I'd recommend this show.   Although all are quite strong, three deserve specific mention.
Dane Figueroa Edidi takes on Crow, Kafka's omnipresent spiritual guide, with reckless abandon.  He has oodles of stage presence and charisma to the point where it's difficult to take eyes off of him as he moves gracefully yet athletically across the stage in a black, anime-inspired costume (Sara Jane Palmer) in the reality and fantasy-based worlds in which Kafka resides.  At the same time, he never oversteps his role and does not detract from the story, but enhances it.
Tuyet Thi Pham offers a grounding presence as Oshima, a young transgender who kindly offers Kafka guidance and shelter as he flees from his home.  Equally able to handle comedy and drama, including a rather satirical scene as gender equality issues are discussed, she is certainly a formidable acting force and is one of the few who is able to bring some life out of Wong as Kafka.
Jennifer Knight's natural acting style is also perfect for playing Sakura.  Like Oshima, Sakura offers seemingly wise advice to Kafka as he tries to make the best of his newfound situation.  Knight's light-hearted, but experienced take on a young girl who doesn't quite fit in, but has done the best she can to make her own personal journey a productive one offers a nice juxtaposition to Wong's Kafka.  The fire in Knight's eyes is undeniable and makes her a joy to watch. Her consistent (albeit one-sided) chemistry with Wong makes the culminating scene where the audience realizes how the two characters are connected all that more powerful.
Recommended
Kafka on the Shore
Closes February 24, 2013
Spooky Action Theater
1810 16th St NW
Washington, DC
2 hours, 40 minutes with 1 intermission
Tickets: $20 – $25
Thursdays thru Sundays
Details
Tickets
Production-wise, Holderness is mostly successful in focusing and containing the sprawling story while balancing reality and fantasy.  The majority of the success comes in Act I and the final moments of Act II. Leveraging Brooke Robbins' set – comprised of sliding panels, Asian art, and vivid colors – and some culturally-appropriate compositions/sound design by David Crandall, she's able to create realistic and non-realistic worlds that contain elements that allows audience members to recognize the Asian roots of the story, but also the idea that the experiences portrayed on the stage are quite universal.  The end result is a series of beautiful and evocative images.
The lighting design (Zachary A. Dalton and Kyle Grant) is minimal given the constraints of the space.  At times it does not allow all action to be seen, but not to the detriment of the telling of the story.  However, the lighting design is eerily effective in perhaps one of the most powerful scenes of the show when the audience sees the shadows of all of the people and animals that Kakfa and Nakata have met or been influenced by on their journeys.
While this production is far from perfect, I give definite kudos to Artistic Director Richard Henrich and his creative team for taking on the ambitious project.  In an era where many companies are shying away from difficult material in favor of known quantities that will sell tickets, this is a welcome addition to the DC theatrical landscape.
——————————
Kafka on the Shore by Haruki Marakami, adapted by Frank Galati. Directed by Rebecca Holderness . Featuring Michael Wong, Al Twanmo, Dane Edidi, Steve Lee, Tuyet Thi Pham, Steve Beall, MiRan Powell, Julia Nakamoto, Sarah Taurchini, Jennifer Knight, Wonsup Chung, and Jon Jon Johnson. Production:  Set Design by Brooke Robbins, Lighting Design by Zachary A. Dalton, Costume Design by Sara Jane Palmer, Sound Design by David Crandall, Properties Design by Deb Crerie. Produced by Spooky Action Theater . Reviewed by Jennifer Perry.