Discerning theatergoers, are you looking for a contemporary play that you can relate to, that makes you laugh and think about the world? Are you in need of a delightful and gripping entertainment that painlessly drops something about the human condition on your head?
You need look no further than David Lindsay-Abaire's serio-comic bonanza Good People, currently playing at Arena Stage.
Good People is Lindsay-Abaire's exquisitely crafted, lovingly drawn study of his own hardscrabble South Boston roots. The play takes on the profound dividing lines of class and raises intractable questions about how we get to where we get in life, whether we deserve that placement, and the way we justify our accounting in the social hierarchy.
One of Good People's most penetrating insights deals with the unseen machinery that ultimately decides one's fortune: what is the value of hard work and determination? What role dumb luck? Circumstance?
One is reminded of the unsettling idea that small hinges turn history, and that but for a hiccup, you could be that other person and that person, you.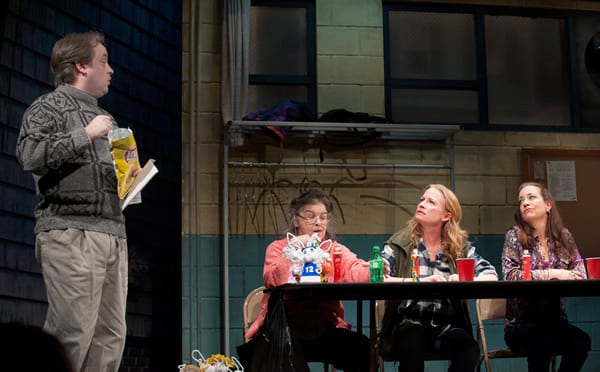 The drama centers on Margaret, a standup gal from "Southie" who used to be pretty, but whose prettiness and odds of getting material success faded as she became a struggling middle-aged woman caring for a daughter with special needs all by herself.
As the play opens, she loses her job at the Dollar Store. With bills mounting, she tentatively looks up an old boyfriend, Mike, another kid from Southie who made it out and is now playing the part of a well-to-do physician. She's desperate and not above doing even the basest of legitimate work to survive. Mike's reluctance to help a living reminder from a past he escaped and the collision of those worlds is the crux of the drama.
The supreme achievement of this piece is Lindsay-Abaire's honest, tender script, with its enormously appealing characters, its visceral expression of neighborhood and its well-crafted plot of reveals and reversals. Casual in structure and compassionate in the telling, the play unspools its story in a series of scenes that boil in local color before blowing up in a second act "ballbuster."
Lindsay-Abaire lovingly depicts blue-collar South Boston as an anachronism in its particularly insular social cartography. It's a place where everybody knows everybody else and all their business. Margaret knew her boss Stevie at the Dollar Store when he was a boy, she knew his mother, she knows his brother down at the Gillette factory and the Thai girl whom he's dating. She knows how much the girl makes by the hour and what people say about Stevie behind his back. It's a place of missed opportunities, faded dreams, bitter resentment, low-end jobs, incarcerated friends and family, and numbers that don't pay off. It's a place where people degrade and steal from each other, but also harbor an intense loyalty for one another, especially when confronted by outsiders.
The role of Margaret is a plum for any actress, and Johanna Day delivers a sublime composition of layered passive aggression. She is foremost likeable, a gallows humorist, exuding the strength and weariness of a survivor, the flinty vulnerability of the desperate and just barely concealing the angry resentment that peeks through in sharp jabs made by a sly smile.
She makes you feel for her, and root for her, and wince when she sabotages herself once again. "Something'll come up"–the mantra of the poor–is repeated over and over by the play's luckless denizens.
While Day carries the drama Rosemary Knower and Amy McWilliams provide the cultural context to Margaret's life and much of the humor as her acerbic landlady, Dottie, and best friend, Jean. The scenes with the ladies, sometimes accompanied by the humorously maligned Stevie (Michael Glenn) at the kitchen table or at the bingo hall are richly funny, ensemble acting at its best.
Andrew Long was slightly disappointing as Mike, especially in his earlier scene, but became more comfortable with the character as the play moved through the dramatic second act.
Director Jackie Maxwell has done an excellent job with the pacing, lulling the audience into an easy familiarity with the characters and building tension through the interactions between them, from Mike's increasing annoyance to Margaret's contained desperation licking to strike out.
Todd Rosenthal's set design pulls off an ingenious trick: the finely detailed sagging row houses of South Boston convey the shunting, narrow oppressiveness of the neighborhood in earlier scenes, and then remain as omniscient specters, hovering over the climactic blow-out in Mike's elegant "lace-curtain" living room in suburban Chestnut Hill, like remnants of a bad dream you can't shake.
Linda Cho deserves credit for the contemporary costuming, which illustrates just as much as the sets the social divide between the characters.
Not just a funny, photorealistic character piece with a rock 'em sock 'em climax, Good People paints two distinct truthful portraits of combating socioeconomic philosophies: The man who arrives as the product of hard work and responsible choices, and the woman mired by forces beyond her control.
Separated by a subway ride, the boundaries between Margaret's Southie and Mike's Chestnut Hill cut deep. "You're comfortable. Ok. I guess that makes me uncomfortable then," Margaret tells Mike. Margaret and Mike both consider themselves "good people," and have created narratives to underscore that, but what that really means is left in disquieting doubt.
—————
Good People by David Lindsay-Abaire. Directed by Jackie Maxwell. Featuring Johanna Day, Michael Glenn, Rosemary Knower, Amy McWilliams, Andrew Long and Francesca Choy-Kee. Production: Set Design: Todd Rosenthal, Costume Design: Linda Cho, Original Composition and Sound Design: James Sugg, Lighting Design: Michael Gilliam, Produced by Arena Stage. Reviewed by Roy Maurer.
Want more?
DCTS talks with Johanna Day and director Jackie Maxwell