Can you feel that white-hot bubbling of Conservatism in your gut? Can you smell that unmistakable, pungent aroma of angry men? It's David Mamet season in Washington, and the air is thick with chunky dialogue, whizzing through the Beltway like bullets from an unregulated firearm.
It is possible, right now, to attend two different Mamet plays within the Washington metropolitan area. In addition to the blistering new Theater J production of 2009's Race, the Round House Theatre in Bethesda has simultaneously mounted a stage for the playwright's Pulitzer Prize-winning Glengarry Glen Ross. But only one of these works is also the springboard for a weekend-long symposium on "Race in America" Jan. 16-17, featuring, among other voices, Washington's non-voting Congressional delegate Eleanor Holmes Norton and former Republican National Committee chairman Michael Steele.
A conference on race relations is a lofty thing to hang onto the coattails of any play. It's true that Mamet always aims for loft, but the decision to build such a program around a piece by the most powerful conservative white man in American theatre seems somewhat… obtuse. Equally so for Theater J to set admission fees at a level that many will find prohibitively expensive, charging close to $100 for a member of the "general public" to experience both the play and the surrounding talks on race relations that purportedly concern the general public. The protagonists of Race would no doubt leap to some cynical conclusions here.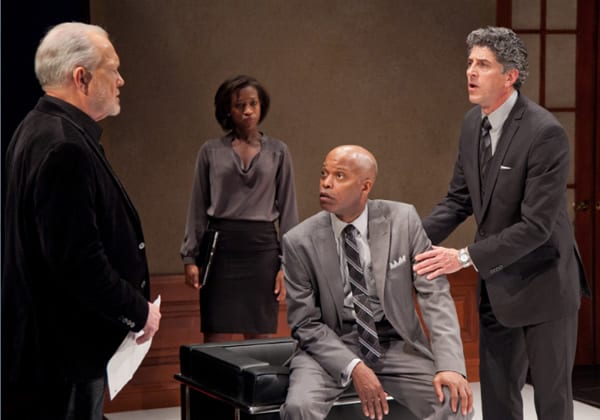 The play itself concerns a small law firm that takes on a high-profile case from a wealthy, powerful client, seeking to defend himself from charges that he sexually assaulted a young woman. The client is white and his accuser is black, which means — as his very Mametian lawyers patiently explain in-between curse words — things aren't looking so good for him. But the client knows this, and that's why he went to a firm with both a white and a black attorney. The characters have names if you listen closely enough, but then again, why bother? In the audaciously reductive world of Race, skin is the only thing that matters.
What follows is a series of hypothetical legal arguments as the attorneys debate whether to take the case, cementing their own inherent prejudices in the process. James Whalen, as the white one, is smarmy and self-assured until he feels the earth shifting under his feet, while Michael Anthony Williams, as his fiery partner, strikes at points with furious anger. Drawing parallels to the case, the lone clerk in their firm is also a young black woman, who, as played by the steely-eyed Crashonda Edwards, is a spitfire of righteous guilt and anger, able at various points in the action to play both victim and perpetrator.
Under John Vreeke's direction, Theater J's Race is one tough piece of jerky. The stage action at times evokes a gladiator ring, with the lawyers swooping in synchronized semicircles around their client-prey before pouncing on his story's dangling loose ends. The color palette of the firm, heavy on the reds, whites and blues, is a sly joke — as is the framed photograph, visible only from up close, of the two lawyers shaking hands with President Obama. (Credit scenic designer Misha Kachman and lighting designer Andrew Griffin.) And the performances are uniformly excellent. Erickson, playing a daft man always several steps behind realizing how the rest of the world sees him, is a standout.
Vreeke also proves about as adept as one could hope for when it comes to his biggest hurdle: how to reconcile the two very distinct sides of David Mamet. As a dramatist, the man has an intoxicating love of dialogue that makes him consistently one of the most fascinating writers around. As a political and social theorist, he is a blithering idiot — his recent, absurdly argued case for a heavily armed society in Newsweek serving as only the most convenient example.
Recommended
Race
Closes March 17, 2013
Theater J 
1529 Sixteenth Street, NW
Washington, DC
1 hour, 20 minutes without intermission
Tickets: $35 – $60
Wednesdays, Thursdays, Saturdays and  Sundays
Details
Tickets
Race
, for better or worse, spotlights both faces of Mamet — even as its characters argue over the facts and interpretations of their case, they still find time to sound off on affirmative action (they don't like it) and employ stereotypes as legal arguments (because, see, they're true sometimes!).
The idea that Mamet, of all people, has enough perspective and passion on the issue of race to attempt the definitive play on the subject is, at a basic level, absurd. Under Vreeke's smartly torqued-up direction, as the actors leap into cushy chairs, storm in and out of doors and wave documents around frantically, the title becomes satirical. In brief video sequences at the outset and the act break, supercuts of sensitive moments in racial history flash by at such velocity that the images, like Mamet's dialogue, become blurs.
Yet even after slyly (inadvertently?) pillorying the ideals Mamet holds dear, and producing a better play as a result, Theater J isn't done with the man yet. In early March, in collaboration with Round House, the company will host a "Write Like Mamet" contest, a chance for local playwrights to hash out their own five-minute scenes, in Mamet's style, as direct responses to Race. Good luck, local playwrights. Perhaps one day you, too, can anchor a symposium about both you and something infinitely more important than you.
———————
Race by David Mamet . Directed by John Vreeke . Featuring Crashonda Edwards, Leo Erickson, James Whalen and Michael Anthony Williams. Production team: Scenic Design: Misha Kachman, Lighting Design: Andrew Griffin, Costume Design: Erin Nugent, Sound Design: Chris Baine, Properties:  Becca Dieffenbach, Stage manager: Jeanette Buck, Dramaturg: Jamila Reddy. Produced by Theater J . Reviewed by Andrew Lapin.