In which the expression "I Do" can be applied everywhere but the most obvious place.
Glee generally goes for the obvious with its titles, and "I Do" certainly can be read that way. However, since Emma "didn't", it forces a little extra perception about who, in fact, said "I do" in the hour, and to whom.
Marley/Jake/Ryder – Every week Marley and Jake have been featured, I've praised the innocence and sincerity of this basic high school romance, and the grounded energy that Melissa Benoist and Jacob Artist have been bringing to it. Glee is often a cynical, fast-paced show, and a little "slow" often does it a world of good.
Even the Ryder complication (he's in love with his best friend's girl!) feels old-school in that regard, and I liked several beats of this story: first, that Jake did NOT turn out to be a bad guy with the hotel room; second, that Marley could totally see through Jake's V-day prowess and credit Ryder; third, that apparently this has been building gradually since break, and my astute eyes totally missed it while writing Ryder off as a useless character (suddenly "I Only Have Eyes for You" back in the Sadie Hawkins episode is taking on new meaning). This is the storyline I have the most faith in not throwing something at the TV.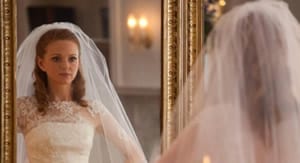 Finn/Rachel/Brody – While Rachel is home for the wedding, she and Finn are rekindling their little somethin'-somethin', just a bit. The chemistry between Lea Michelle and Cory Monteith has improved a bit since last time I watched, and I think distance has been good for these kids and these characters. Rachel keeps singing the praises of her Sex and the City life and open relationship with Brody, but there's no one like Finn to her. The bonds of Journey songs run deep indeed.
Sidenote: anybody else think Finn's "She loves me/loves me not" monologue was just a tad too much? To say something was forced on Glee must mean it really stands out!
The final scenes do show some trouble under the hood, though; figuratively as Brody is a LYING LIAR WHO LIES about his no doubt hilarious exploits with prostitutes while Rachel is away, and literally in the "Oh my God Rachel is preggers!" way.
Will/Emma – Ah, the "I Don't" story. Emma had booked it out of her own wedding episode by the end of the second commercial break, but she did so memorably (with Sondheim!). My heart aches when Jayma Mays gives us Emma's OCD pain, and I'm grateful that it isn't really a gag anymore but a very serious issue for our poor sweet girl.
A huge sigh of relief from me was heard throughout the land! Finn's kiss was exactly what I hoped it was, in that he was responding badly to Rachel news, and it domino'ed Emma's stress through the roof. There is no triangle being set up here, thankfully. Hallelujah!
Artie/Betty – Emma fixes Artie up with her wheelchair-bound niece Betty (played amiably by The Glee Project's Ali Stroker, who, refreshingly, is an actor actually in a wheelchair). Their subplot is cute, they trade some barbs, shack up at the reception, and generally I have a good little time watching. Sometimes, the degree of bitchiness they gave Betty did set off my "look, I'm Ryan Murphy writing three-dimensional disabled characters!" alarm, which may qualify it as this week's Murphiest Moment, even though I liked the story overall.
Also, Kurt and Blaine hooked up though they're not back together, and Santana and Quinn hooked up, even though Quinn is still not gay.
Mercedes was also present.
Music!
"You're All I Need to Get By" – Cute, bouncy, cheesy little Valentine's number, with Jacob Artist throwing in some fun, slick footwork for good measure. Ridiculous but also sincere in that Jake/Marley way I like so much. Hope the Ryder triangle doesn't damage this stuff too much. B+
 "(Not) Getting Married Today" – First off, a round of applause for Jayma Mays sticking the landing on the delivery here (both in the recording studio and on the set). Her tempo is FAST (the fastest I've heard since Heather Laws). The number is directed really well, too, like true musical theatre, with the story continuing to move, acting beats within, and good devices like the split screen and people talking directly to the camera as if it were Emma. Aces. A+
"I Just Can't Get Enough" – Kurt and Blaine bounce around to an '80s tune at the reception. It's exactly that. B
"We've Got Tonight" – Another somewhat boringly staged/performed reception number, though the execution is bumped up a bit by the montageiness of everyone going off for their reception coupling. Good editing and storytelling. B+
"Anything Could Happen" – Continuing the theme of montages and storytelling-heavy musical numbers in this episode, here's our closer. I like how the closers are now kind of completely in their own reality. Subtexty glancing abounds, the vocals are solid, and good editing on the storytelling within again helps it out. B
On the "Anything Could Happen" subject, this is one of the sticking points of Glee, for me.The show is written in such a way that the characters and stories seem utterly amorphous and can literally go any direction the show wants. It can set up a creepy storyline in a couple of episodes, only to point out how insane it is the next week as it asks for our forgiveness. That's why good will is so hard to earn, and bad storytelling decisions that happen in one week make me think the show is about to dive-bomb. You really can't tell with Glee. Maybe that's why it fascinates us so much!
Quotes!
"Will needs his mother as far away from the bar as possible, and all you Glee kids have dated so incestuously that I can't remember who can tolerate who anymore." – Emma. No wonder she's flipping out!
"This is just bros helping bros!" – Blaine, explaining the no-strings hookup with Kurt, in what is undoubtedly the strangest use of that expression ever. Frat boys, take note.
"You're a weird bird lady with a hollow pelvis and OCD, and Will Schuster is a weep man-child whose greatest joy in life is singing with children. And his best friend is 19."
AND
"Don't tell Will Schuster, he'll have you singing a stripped down acoustic version of 'I Will Survive' in front of a choir room full of teenagers with meaningful looks on their faces." – Sue, falling back on meta-obvservation again, but hey, it always works for me.
"(You look beautiful!)" – Brittany silently mouthing praise for Sue's inappropriate wedding gown.
Sidenote: Sue's false bridal entrance really was well set up.
"The moment we all saw coming is here at last. You're a hag. You're hagged out. You're in love with Blaine and it's creepy."
AND
"Did you vapo-rape my ex-boyfriend?! Don't walk away from me TinaCohenChang!" – Both Kurt, who apparently reads my recaps!
"We are endgame." – Finn, to Rachel. But really, Ryan Murphy, to Finnchel 'shippers.