Synetic Theatre has delivered a blockbuster with its almost cinematic rendition of The Tempest. Think Lord of the Rings mixed with scenes from James Cameron's Titanic. Shakespeare's masterpiece is moved through with a lush underscoring whose decibel strength could do an AMC "big screen" theatre proud.
Synetic's creative team of directors and designers have never been shy of borrowing images from popular events and culture. Like many transplant artists, Paata and Irina Tsikurishvili cast new eyes on the American scene often overlooked by natives, and keenly pluck from, then transform, cultural references to give that special kick that comes from recognition.
So, from Peter Jackson's film of Tolkein's classic, we recognize a mighty wizard who blasts his foes across a watery universe with his magic staff. Surely, the crouched physicality and wide-eyed stare of Vato Tsikurishvili's Caliban owes more than a little to the wretched slave-to-the-one-ring, Gollum. From James Cameron's haunting tale of the great unsinkable ship's sinking flows image upon image of drowning and floating bodies.
And yes, there are waterworks.  It is a wet season in Washington indeed. Across the Potomac at Arena Stage, Ovid's Metamorphoses gets a reprise of Mary Zimmerman's groundbreaking 1996 production – staged also in a swimming pool. Constellation Theatre featured a pool in its own recent Zimmerman adaptation. One could argue not only that "it's been done" but there's a danger in these aquatic theatricals that that's what audiences leave the theatre talking about (and writing, as demonstrated in a detailed Washington Post article.)
Water is not a novel element to Synetic. The company already featured a pool in the 2010 splashy romp celebrating the Arthurian legend. Members of the King Arthur cast are on record for swearing they'd never do it again, but asking Synetic's ensemble not to tackle the difficult is like asking x-treme athletes not to venture up to the highest slopes for danger of avalanches.  They'll do it because they can!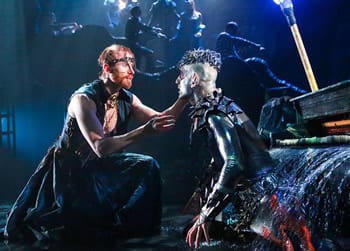 Set Designer Anastasia R. Simes has created Synetic's most ambitious set to date. There's not only a full-stage pool floor-level but – with projections, hanging green tendrils, and falling water features – an entire aquatic universe. The only two stable objects in this world are a subterranean grotto with bars for doors (a red glowing devil's lair and "home" to Caliban,) and a half-rock half-piano that emerges as a most unusual musical instrument.
For the characters, shipwrecked from Milan, the island with its dripping, ever oozing world is a treacherous and haunting place. They shiver and stagger through the tidepools, lift their heads from less than a foot of water to sputter and cough, or simply succumb and float lifeless. A moment that left me gasping was when the ensemble created the storm by repeatedly skittering downstage holding onto curtain ends that billowed like tattered sails of their ship straining with the wind then, overboard, fought to get to the water's surface. Simple movements like these, imbuing real moments with haunting visual imagery, are when this show "breathes" most beautifully.
A few spirits live on this isle happily, seeming miraculously to bob and float under water like seahorses, but only two creatures seem to love this world: Caliban and Miranda. Irina Kavsadze plays Miranda, the daughter who has known no other life. She uses her expressive body to convey the freedom and strength she has gained not confined to courtly garb. She splashes and plays with Caliban, her playmate, until one sad day their innocent childhood is no more. She and Ferdinand (Scott Brown) discover love, and love brings out the guileless wonder of Miranda and the protective compassion in Ferdinand. Their courtship features giant toothbrushes, and with these the couple scrubs the surfaces of Prospero's dwelling, like good sailors scraping a keel clean of seaweed and barnacles.
Irakli Kavsadze is the most mature and experienced actor in the cast and could have easily have pulled off a stunning Prospero as he did Lear. Instead, as Stefano, he is as marvelous a clown as any I've seen in a Shakespearean production.
He has an able sidekick in Emily Whitworth who rises to his level of comic gamesmanship as Trinculo, and together they just about steal the show. Their scene with Caliban, where they begin to grope and discover each other hiding under a shared blanket is one of the funniest I've ever enjoyed. Every acting student should make this delicious duo the study of how many things can you do with a prop – Kasvade with his bottle and Whitworth with her yellow umbrella, opening and shutting like a self-propelling squid.
Often productions, whatever the "plumage" and "paint," reduce Ariel and Caliban to good vs. evil.  Actors Dan Istrate and Vato Tsikurishvili offer something original, and I was awed but find myself still wrestling with the choices, and what they meant. Istrate was dressed in something that reminded me of rock icon David Bowie in a certain period. His tall lean personage with his sprayed silver body and spiked hair was going for a look more hungry and cunning than sweet and bright. His height alone made him more a partner in magic-crime with Prospero than his minion.  It was at first delightful to see him conjure the piano to spray out jets of water then pluck them to create "airs" of the island, but this  "concert" itself became monstrous in its repetition. He appeared to maniacally conduct events on and off stage to the point that Ariel's whole need to be freed wasn't clear.
Caliban, in his red wetsuit with horns on top and dangling ears that wiggled, was more "moon-calf" than "monster," more needing protection than threatening.  Even his groping and discovering himself to have sexual feelings for the now grown-up Miranda felt more pathetic than downright monstrous. It's only when he was introduced to a bottle of spirits and relives the murder of his mother that he snaps into revenge mode. Vato has grown into a powerfully expressive actor, and the image at the end suggests this production belongs to Caliban.
Philip Fletcher, as Prospero, led the ensemble in the fluid physical stylization needed in this production. He brought the complex multi-media elements together in the most stunning visual moment of the whole evening, when he moved through a musical phrase to the climax and, flinging his arms outstretched, matched exactly the video streaks of lightning-like energy that seemed to emanate from within his body and stretch out across the universe. This was Prospero at his most fiercely powerful, showing the people who had betrayed him how mighty he was.
But– dare I say it – for the first time I missed language in a Synetic production. I so wanted the poetry and depth of Prospero's journey as he relinquishes his need for vengeance and power.
Highly Recommended
The Tempest
Closes March 24, 2013
Synetic Theater 
1800 S. Bell Street
Arlington, VA
1 hour, 30 minutes without intermission
Tickets: $35 – $55 (special discount for splash zone seats)
Wednesdays thru Sundays
Details
Tickets
Possibly, the balance still needs some shifting. Too much of the taut ninety-minutes, a signature for a Synetic Shakespeare adaptation, got taken up with the back story to Shakespeare's play: the betrayal of Prospero by his brother and usurpation of his dukedom, his cruel treatment by King Alonso and others, the shipwreck that marooned him on the island, his battle with the witch Sycorax then domestication of her son Caliban, and his freeing Ariel from being imprisoned in a tree.
In this production, Prospero has not so much retreated to a meditative life but from the start seems driven by the need for revenge, not only against those who did him wrong in Milan but daily as he continues to wage war on his island enemies. The energy and focus needed to survive found its momentum in the second half of opening night, but something was missing signifying the emotional depth of Prospero's personal transformation.
Nonetheless, this Synetic production, as always, amplifies the play's themes with burning visual images.  Loss and reconciliation, vengeance and forgiveness, and most, of all, illusion are all in this Tempest – especially illusion. Be ready for magic. And then maybe we'll ask for a sequel.
———————-
The Tempest by William Shakespeare . Adapted by Nathan Weinberger . Directed by Paata Tsikurishvili . Choreography by Irina Tsikurishvili . Featuring Philip Fletcher, Irina Kavsadze, Dan Istrate, Scott Brown, Vato Tsikurishvili, Ryan Tumulty, Francesca Jandasek, Irakli Kavsadze, Emily Whitworth, Tori Bertucci, Pasquale Guiducci, Jace Casey, Katherine Frattini . Fight Choreographer: Ben Cunis . Composer: Konstantine Lortkipanidze . Costume/Set Designer: Anastasia Simes . Lighting Designer: Andrew F. Griffin . Projection/Multimedia Designer: Riki Kim . Production Supervisor: Erin Baxter . Technical Director: Phil Charlwood . AV Engineer: Thomas Sowers . Master Electrician: Aaron Waxman .Stage Manager: Marley Monk . Produced by Synetic Theater . Reviewed by Susan Galbraith
Creating the watery Tempest
Synetic's brand of physical theatre seems to offer a perfect lab to explore once again the medium of water, how it drags on the body, how it cushions falls, how it amplifies emotions by a tender scoop of the hands or a playful splash, and how it clings to and seems to undress bodies making one want to caress and be caressed. Irina Tsikurishvili mines all of this and more, and the choreographer has set some of her best and most fluid pieces on this cast, if making some of her most dangerous demands.  Imagine, for instance, the most complicated of ice-dancing duets, the male spinning, flinging and catching his partner in air, but both bodies are soaking wet and slippery as fish.
These actors trust Tsikurishvili and the masterful fight director Ben Cunis so much that they throw themselves into the choreography and once again prove they represent a most outstanding ensemble.