They call the festival Nordic Cool, but someone must have planted a stick of dynamite at the Kennedy Center.  Hedda Gabler at times is so "hot" that it blasts away at any conception that Ibsen is the old fashioned architect of 19th century dramatic realism. The production from the National Theatre of Norway is fresh, contemporary in staging, and emotionally full and compelling.
As a drama major I grew up revering Henrik Ibsen, reading and rereading his plays in anthologies, learning to mouth "father of modern drama" synonymously with his name. I have seen his plays in many fine productions. I will even shamelessly drop the fact that I saw the Ingmar Bergman production in 1970 at the National Theatre in London with Maggie Smith, then at the height of her stage career. She was marvelous as the iconic Hedda, if already up to her wrist-wiggling mannerisms, but for many I think the picture of such tall elegance and mordant sweeping around the stage has stuck in our minds.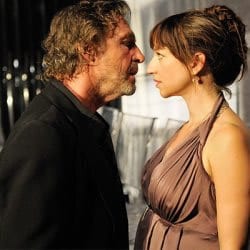 Director Peer Perez Oian signals we are in for something a little different right from the start. Gone is the traditional use of the  "fourth wall" of Ibsen's realistic plays where the people interact oblivious to the presence of the audience.  The actors enter in front of the curtain before the show and "hang out" on the stage staring out and responding to the audience. They give the impression they always dress like this as the urbane, Euro-chic actors they must be, right?
One of them (Mattis Herman Nyquist) begins to speak directly to the audience in English, breaking the ice, introducing the actors, making jokes, explaining what we are going to see, even reassuring some who might be a little nervous about attending a "talky show" in a foreign language. He assures us that, with the surtitles, it will be just like watching a French art film where the actors "will be talking 'blablahblahlah' and then up on the screen you'll see 'Thank you.'"
Maybe Oian started out determined to push the revered Mr. Ibsen off his pedestal by setting the show in contemporary times.  He even irreverently incorporates Norway's lavish National Theatre by having the stage-within-stage of painted drops reflect the stage floor, theatre boxes and ceiling of that establishment but setting them askew and misplaced, so that one feels a little as if one has entered an Escher world.
The little theatrical world created works like a music box that keeps opening and rotating its raked platform. The actors take turns as stage managers for this task, as well as pulling the "walls" back like shower curtains. Thus, the world closes in, then opens back up, to reveal the deepest cerulean blue sky punctuated by an enormous chandelier.
Upstage a window opens and shuts but later stands like a gilded framed mirror. Subsequently, the mirror, like the walls, gets "broken apart." The only furniture is made up of a group of lucite chairs. It's a home of the nouveau riche, designed by one of those fancy Italian designers who make furniture pictured in glam magazines that don't look like anyone would sit on them.
None of the characters fit the stereotypes that are often associated with the casting of this play. It becomes exciting to discover these people anew and follow how their fully realized and nuanced relationships unfold.
Tesman, for instance, can come across as the myopic scholarly type, an unworthy, even foolish husband to Hedda. But Mattis Herman Nyquist is a perfectly good looking and appealing young man. He's a husband who's trying to make his wife happy and you think at the beginning that maybe this marriage can be saved. Throughout the play, it's comical the way he leaves the scene then returns, almost interrupting but never quite his wife's toying with other men.  He always tries to discreetly announce himself, hiding how awkward and uncomfortable he feels in the sophisticated society he finds himself.
Christian Gregor Strong plays Brack, a most smooth and successful operator, who prays on wives of married friends and enjoys such safe and cozy threesomes. The way this man drapes his sleek frame across the stage floor with such impeccably good taste, you know his character would never let a crumb get picked up by his suit let alone a smear of scandal or drama in his life.
Jorgen Langhelle plays Ejlert Lovberg, the third man in Hedda's circle, an old lover who also happens to be her current husband's academic rival for an academic position. At the start of the play we hear that he is a reformed man.  But as everyone encourages him to relax and drink and at Hedda's goading, he goes on a binge, bellowing and physically lurching, his own worst enemy. His swarthy looks and strong presence not only well explain why the two women in the play have fallen for him, but help support his descent as an individual caught in the vise of alcohol.
When we first meet Hedda she is a tiny thing in a black handkerchief cut dress with black lace straps but barefoot. Andrea K Braein Hovig is a beautiful and talented actress, but I was taken back misjudging her size and take on the great iconic Hedda Gabler.
Her physicality became a joy to watch. Sometimes she would rise up on her toes like a little girl, coming in close to any of the three men's chests to tease and be fetching. At other times she tugged at her head or flung her arms out as if something needed to pop out from her restless body. She danced and pranced like a woman used to partying at the local discos now chained to a home and a husband.
Many of the characters are vain, self-absorbed and self-referential, Hedda most of all.  She stands downstage facing out as if she is always slightly preening herself in front of a mirror, the kind of person who watches her reflection while talking to you to see how she looks when she feels or acts in such a way.  These people stare at themselves constantly. But then, just as suddenly, they break that invisible wall, and take their scenes out into the audience.
Hedda is bored with her life, and, like many people of a certain class in our age who find  everything at their disposal and so many choices are wide open – houses, props, pasttimes, sex – they're out of touch with reality. "Did you get me my horse?" is Hedda's response to her husband on learning of his buying of the house on the premature expectation he will get an academic position.
But when he quietly suggests that instead of throwing a lot of parties at this insecure financial time for them they can spend some time together she stares at him not so much horrified but simply non-comprehending, then flounces off to her other toys.
Rounding out the cast is Tone Beate Mostraum as Hedda's former school chum, Thea. I've always found this character borderline insipid, but Mostraum's performance was alternately fragile and feisty. Her journey from the frantic and desperate woman who has fallen for an unstable man and abandoned her whole family to follow him only to discover he is without a center or the will to be a healthy and stable companion, is quite extraordinary. When she finally accepts, recovers and moves on it is both moving and a little eerie to watch her "take over" Tesman as her next "project."
The Nordic Cool Festival
February 19 – March 17, 2013
The Kennedy Center
2700 F Street, NW
Washington, DC 20566
Free and ticketed events
Mondays thru Sundays
Details and tickets
There's some wonderful updating of props and references too. Tesman collects vinyl discs from his Aunt Juju, and he and his buddies wail out Stones and Elvis Pressley tunes. Then there's the iPhone used by Mattis. The audience enjoyed every inventive substitution.  The only thing that didn't work for me was the build up to Lovberg losing his manuscript and the plot turning on the announcement that this is his only copy.  No back up in this day and age? Guys, he's got to lose his iPad, drop it in a fjord or something.
This aside, there is a wonderful, sexy edginess throughout this production.
When this Hedda Gabler reaches her tragic end, it is less an inexorable arc of a woman trapped by societal restrictions and choices limited to her sex. It's as careless a choice as she made buying her house or choosing her husband, an act by a woman bored by having too much choice and collapsing into destructive attention-grabbing behaviors.
The show is taut and contemporary even in its length. Perhaps as much as thirty percent of the text has been edited out yet there's a lot of momentum in the play and nothing seems lost.
Leaving the Kennedy Center with the Nordic Cool "northern lights" installation playing on its façade, I thought this a fabulous but all too short visit from our Scandinavian artists.
This production has 1 more performance, Wednesday, Feb 27 at 7:30pm.
Highly Recommended.
Running time: 1 hour, 20 minutes without intermission
————————
Hedda Gabler by Henrik Ibsen . Directed by Peer Perez Oian . Produced by the National Theatre of Norway as part of the Nordic Cool Festival . Presented by the Kennedy Center . Reviewed by Susan Galbraith