Director Stefan Larsson and this astonishing ensemble from Stockholm's Royal Dramatic Theatre, visiting briefly as part of the Nordic Cool Festival, have created a moveable feast. Fanny and Alexander spreads out, as the nineteen actors occasionally do, across the stage and filling the whole proscenium space, as they serve up every satisfying course as if this were a leisurely evening meal spent with friends.
Larsson has captured the genius of Ingmar Bergman, in his adaptation of what has always been on my "top ten" list of films since I saw it in 1982. Bergman was nearing the end of his prodigious cinematic career when he made Fanny and Alexander and he had turned to his own childhood for its material.
It was as if he opened his heart and mind to express his culminating thoughts using a monumental canvas. It is life itself that this show offers, revealed in multiple layers. There's a sense of wonder and awe in this mature work that gives it the feeling of Shakespeare's The Tempest. Bergman has taken inspiration from many sources, marrying images from storytellers like E.T.A. Hoffman and Charles Dickens.
Through the eyes of two children, Alexander and little sister Fanny, Bergman pits two worlds that would shape them. In one, the siblings are growing up "backstage" of the emotionally messy and pleasure-seeking theatrical Ekdahl family of three adult brothers and their mother, the theatrical matriarch, plus assorted wives, lovers, and friends.
In this familial bosom, the children experience Christmas, crammed with relatives and revelry, and the benign if foolish behaviors of mostly inebriated adults.  But when the children's father dies, their mother Emilie finds running the theatre company burdensome and lonely and finds comfort with and marries a Bishop. In his household, the uprooted children discover, in stark contrast, a world stripped of love as well as ornament, and one of narrow-minded, religious hypocrisy and cruel, pathological discipline.
Fanny and Alexander, played most sympathetically by Kajsa Halldén and Hannes Alin, have taken us by the hand and shown us both the glories and perils of the lives of children. They are not the "doers" of this piece (as so many children's authors would have us believe happens.) More true to life, these are kids more acted upon, who live off to the side of things, where the drone of adult conversation works as a familiar and comforting soundtrack, but also where the realm of magic and the imagination collide with childhood fears and evil.
Set designer Rufus Didwiszus has created multiple worlds within worlds by the use of a giant turntable set that exposes the artificiality of theatre walls by showing the back "construction" of several flats. As the floor slowly revolves, actors step from one reality to another and occasionally change costume on the way.  Everything is exposed including the stagehands moving props or, as in one scene, turning on the propane tank to set fire to a small replica of a house.  Oddly, this only adds to the magic.
It seemed also magic that any obstacles to the enjoyment of this show soon dispersed. The running time of just under four hours, rather than dragging, seemed like delicious time spent reminiscing with friends.  The Swedish language (aided by surtitles which had the occasional "brown out" opening night) was delivered with marvelous musicality, and was, according to my theatre-going companion, much more understandable than Shakespeare.
There were no theatrical bios and no solo bows.  I missed the former, but everyone contributed beautifully to the seamless experience, and some actors played many parts.
As Maj the new maid with bobbed blonde hair and extraordinary vivaciousness that belied a polio-like limp, Ellen Jellinek wins the interest of philandering husband Gustav Ekdahl (Reuben Sallmander) and becomes pregnant. Their sexual rompings were graphically exuberant and screamingly funny. Jellinek later transforms herself as the adoring, histrionic stage manager to the "maestro" in the scene where the theatre company is rehearsing Hamlet. But it's as Justina, the Bishop's maid, all angles and coercive manipulation, that she manages her deepest and most disturbing portrait.  When Jellinek returns a fourth time to the stage as the enigmatic brother Ishmael, the actress has convinced us that she is one of those rare shamanic performers.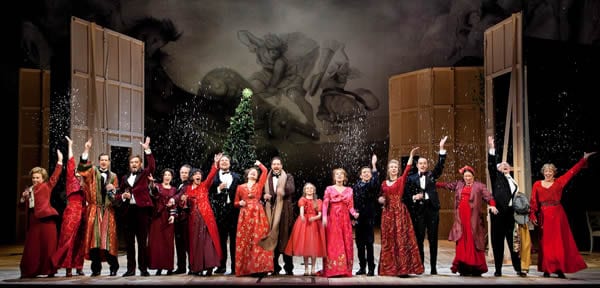 There were so many outstanding performances. Marie Göranzon as the matriarch Helena Ekdahl fills the stage with a presence full of ease and grace. As she ruminates about life, a spokesperson for Bergman's own musings, she drew each of us into her very intimate sphere. I was deeply moved when she shared that she both felt very old and very young but that everything in between that had seemed so important has become inconsequential. Her tolerance and bemusement of others' goings on, in particular her sons' inabilities to keep their trousers zipped, were a great reminder that people can choose their responses to others' failings.
This show took time to afford the actors moments to express full dimensionality. Two of Helena's sons, played by Reuben Sallmander and Thomas Hanzon, also have Bergmanesque soliloquies, where they step downstage to speak movingly about family gatherings, theatre, and the meaning of life. At other times, Sallmander is reduced to a sexual buffoon, literally following his privates "up and down" the stage. But when he explodes, his power as an actor is impressive. Hanzon as the actor-manager Oscar starts out feebly when rehearsing the Ghost in Hamlet but – thanks to the berating director – becomes a bellowing maniac. Oscar then collapses and, as a man cognizant of nearing life's end, shares a touching melancholic and even heroic monologue.
This is a theatrical family and therefore full of theatrics.   Third son Carl played by Christopher Wagelin has the hardest time of all the brothers in his marriage to a German woman he despises and, in his misery, he savages her brutally. He horrifies us and commands our sympathies simultaneously.
Oscar's wife, Emelie, played by the stunning actress Livia Millhagen, tries to leave the theatrics on stage or at least for life's biggest challenges. Her primal scream after her husband dies is only surpassed in its emotional depth by her rage in discovering the Bishop's physical and mental cruelty towards her son Alexander.
Fanny and Alexander is terrific throughout, but some of the best moments of the evening are when the ensemble steps out of the story to deliver riffs on theatre companies and their processes. These actors are not above having fun at exposing a world of ridiculous egos and the silly, self-serving nature of the art itself.
At one point, the entire cast, dressed up like ghosts from Mardi Gras, troop through the auditorium and mount the stage to demonstrate company warms up. The director tells them to all act like trees blowing in the wind, which they all promptly do, waving their arms about, accessing their imaginations and totally absorbed in their suspended disbelief. When one actor gets pulled out, he admits he was thinking he'd be a fairy in the woods, the director screams in fury, "There are no fairies in my woods!" People not in theatre may not appreciate how funny and appallingly true this vignette is.
Highly Recommended
Fanny and Alexandra
Closes March 9, 2013
The Kennedy Center
2700 F Street, NW
Washington, DC 20566
3 hours, 50 minutes with 1 intermission
Tickets: $49 – $80
Details and Tickets
Every good play deserves a villain, and Reine Brynolfsson as the Bishop proves one so controlled and so rational that he is that much more lethal. This is a performance filled with nuance, where Brynolfsson has internalized his disturbing and repressed character so deeply that agreeing to have dinner with him might be like saying yes to Hannibal Lector.
The great acting teacher and theoretician Konstantin Stanislavsky wrote, "there are no small parts only small actors." There are no small anything in this world-within-worlds production, and it makes us ruminate afterwards, raising questions about many character interpretations.
Lena Nillson is the silent, accepting German outsider, married to a husband with anger issues. Is her placid demeanor a way to survive or a calculated instrument of torture? Why is it Isaac Jaobi (Hans Klinga), loyal friend to Helena, who risks his professional reputation and perhaps his life on a rescue mission to save Fanny and Alexander? Who are Aron and Ishmael really?
In our society, serving up culture seems more and more dictated by constricting rules. Focus on a main character. Keep the show down to ninety minutes. Maintain accessibility by talking down (and certainly by talking English.) It is a great tonic to have the Royal Dramatic Theatre shake us up and show how full and rich theatrical fare can be, given proper seasoning and time to "rise". It was grand of The Kennedy Center to invite these guests and us to such a feast.
There are only two more sittings.  Call now to reserve a place at the table.
—————————
Fanny and Alexander by Ingmar Bergman . Adapted for the Stage and Directed by Stefan Larsson . Produced by the Royal Dramatic Theatre . Presented as part of the Nordic Cool Festival by the Kennedy Center . Reviewed by Susan Galbraith.