— We talk to Mary Zimmerman, director and creator of Metamorphoses, now completing a successful run in the Fichlander at Arena Stage at the Mead Center for American Theater. Zimmerman shared her insights on the creation of the piece, the power of myths and how Metamorphoses has touched audiences over the years.–
——————————–
Based on the myths recorded by Roman poet Ovid (43 BC – 17 AD), Metamorphoses uses an ensemble of actors to retell ancient stories of gods and fortunes both good and bad. Originally produced at Chicago's Lookingglass Theatre Company, where Zimmerman is a company member, Metamorphoses has been performed on Broadway and toured around the world.
A shallow pool that serves as the primary scenic element is one of the hallmarks Zimmerman's adaptation of the classical myths. Arena Stage has the distinction of having the largest pool constructed for Metamorphoses.
What is it about these myths that speak to you?
There is something about the ancient, oral impulse that is in them. Bringing them back to the air for performance is pretty much what I do. I like these ancient texts. The fact that they've hung around this long is because they are so archetypal and fundamentally revelatory about what we go through in life. These stories have earned their keep; they are not a conspiracy of English professors.
What originally brought you to Ovid's Metamorphoses?
All my life I was interested in myths, especially the Greeks. Growing up I was sort of obsessed with my mother's copy of Edith Hamilton's mythology. And I have always worked with texts that have settled into print form from the oral tradition, like Ovid in this case, but the stories are really older.
Originally I wanted to do the Odyssey in water, back in graduate school, but I ended up doing that production on dry land. Later, I thought I would do these Greek myths in water because they seem to match very well. Six Myths, the earlier version of Metamorphoses, was so successful in water, I let go of ever doing the Odyssey in water. I changed the name to Metamorphoses when more of the show became based on Ovid's text.
Did you always plan on using a pool for the staging?
The whole idea of Metamorphoses had everything thing to do with water; it plays a role and can play a character. I think it's because water is so changeable – it can be a solid, a liquid, or it could be steam. Water is also often a symbol of change. You can undergo "a sea change"; if an object is in water too long, it is either corrupted or purified; we speak of people crossing their Rubicon. Water is used in ritual, all over the world, to be the emblem of change. It's the source of life, everything. It's all around us and in us.
The text I chose out of all the possible myths are ones I felt I could see in the water, that benefit from the water, are amplified by the water, and the water means something in them.
How did your design collaborators (set designer Dan Ostling, costume designer Mara Blumenfield, and lighting designer T. J. Gerckens) help shape the vision for Metamorphoses?
In my shows, because of the process, design plays a more guiding role. Because when we start working, we do not have a complete script. Not having a script is a very different process. It is unlike working on a production of Hamlet, for example. And with something like fairy tales or myths, it's really unknown what the structure of the content is going to be.
I think that in all my plays – the things I make up or adapt – what I'm looking for is a kind of totality of experience, where it's not just the spoken word that's carrying the story, but image and sound and light, all of that is carrying the story or is thoughtful and full in a certain way.
And you have been working with your team for quite a few years, correct?
I actually met Dan Ostling on this show at school. He was a graduate student and I was a young professor. It was just a very good collaboration. He's obsessive, he's brilliant, and he's also funny and a very viable human being. I drew him into the professional world with me, and we ended up just going along together. And I have Mara, who does my costumes, she is essential. And T.J. [Gerckens], lighting designer, I met him on an earlier show. He is similarly obsessive-compulsive and brilliant.
These are the people I've been working with for twenty years; this is sort of the core team. It's all of us working together. It's never a leap in the dark, there is always a text I'm adapting. They're doing what designers do, based on what I am telling them, but it's not a known script. The design work is an open field of play, always full of possibilities and surprise.
Revisiting Metamorphoses with your design team for a unique staging – describe that process.
We recently closed it [January 6, 2013] at Lookingglass  for the 25th anniversary of our little company. I had been invited to do it at other theatres, but I turned them all down except for coming to DC. The reason I agreed to do it at Arena and nowhere else because it's really the most radical rethinking of it that it's ever had. It's extreme. Every single moment has to be thought about in a new way. It's really big, but it's very exciting.
There are things we've given up in the Arena staging and things we have had to add because of it. Because it's in the round, we can't have the strip of sky we usually have had when the gods appear. So we lost our heavens, in a way. We have no raised area in the space at Arena. We worked and worked on new ways of doing the cloud wall and it is still there, at least visually. We do use the raised entrances in the corners, so we do it a little bit.
It's also the largest pool we've used, but we always used a deep thrust, not in the round. It always had that orientation forward. In Arena, there is no forward.
Many people have seen your productions of Metamorphoses since 1998. Do you remember a particular reaction to the play or piece of feedback that you received from it?
Back in Chicago, we assisted with a marriage proposal. The performance finished and the actors came back out. Aphrodite came out with Eros, and he was there to bring the lady flowers. Then this man proposed to his sweetheart.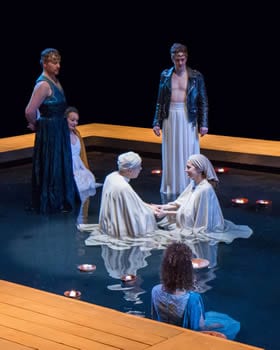 I will always remember an elderly couple in New York. Apparently they were very moved by the last story, the myth of Baucis and Philemon. In the story, a very old couple are given the choice of anything they want from the gods as a reward. Baucis and Philemon, instead of choosing some material thing, they ask to die at the same moment. When it is time for them to die, the gods turn them into two intertwining trees.
This elderly couple was very moved by that story, they sponsored a tree in Central Park with tree trunks that are intertwined. The plaque they sponsored at the two intertwining trees includes a reference to that myth. That couple's story was really, really moving to me.
That's the power of these myths, that's not me. They speak to us and they seem to speak to any situation you are in. There's always something in the show that feels like that's me or that's my beloved, that's the person I lost. It finds a home in the people who are looking at it. It feels deeply personal.
—————
Tonight's performance of Metamorphoses is sold out. Four more performances remain: Saturday, March 16, at 2pm and 8pm and and Sunday, March 17, at 2pm and 7:30pm. Arena Stage at the Mead Center for American Theater , 1101 Sixth Street, SW, Washington, DC. Tickets