Peter's Alley Theatre Productions, in its current production of Proof, tests the following theorem: let x = one of the thirty best English-language plays of the last twenty years and let y = a bold new approach, utilizing excellent actors. Does x factored by y yield a fresh, revitalized version of Proof?
The results of the experiment I saw Saturday night is an unqualified yes. At Peter's Alley, we are seeing a celebration of obsession, held by three people who share that obsession against an uncomprehending world. It is a recognition that intellectual accomplishment, that knowing, is better than heroin, and more addicting. It is a Proof for thinkers.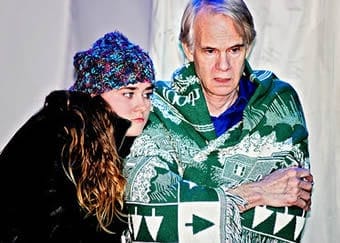 Consider: In 1637, the French mathematician Pierre de Fermat set forth a theorem: that no positive integer, raised to a power higher than 2, when added to another positive integer raised to that power, could equal a third positive integer raised to that power. He had a proof for that theorem, he wrote, but it was too large to fit on the page.
Then he died.
For three hundred fifty-eight years, the best mathematical minds in the world tried to find this proof. They failed – or succeeded incompletely – until the British Mathematician Andrew Wiles put the last piece of the puzzle together in 1995. He was thereafter celebrated with a half-dozen lucrative prizes, and inducted into the Order of the British Empire.
But why? What difference does it make whether Fermat's theorem is true or not?  Do you sit around trying to sum positive integers raised to the n power? Does anyone?
There is one answer to that question: mathematics, as Galileo once said, is the language with which God has written the Universe, and to understand mathematics is to understand God.
And so the principal characters of Proof are listening to God hard, filling the wood planks and chairs on the  porch of a Hyde Park (Chicago) bungalow with formulae and equations. The central dilemma is to determine who formulated a proof of a Fermat-type theorem – a brilliant, demented professor Robert (a splendid Bob Chaves) or his truculent genius college-dropout daughter Catherine (Ashley San, who also designs the spare set).
The other elements in the equation are Hal Dobbs (Matt Baughman), a young mathematics professor at the University of Chicago and onetime protégé of Robert's, and Catherine's sister Claire (Aly B. Ettman), who comes to Chicago determined to take Catherine back with her to New York, where she can watch over her more closely.
Catherine, who has cared for her father through his years of mental illness and has begun to feel the first flickers of the same affliction in herself, mistrusts Hal (who is mining Robert's voluminous notebooks for nuggets of coherence) and detests her sister. Over the course of the play, Catherine's suspicion of Hal is mediated by hope, then turns to love and finally to faith. Her feelings toward her sister never change.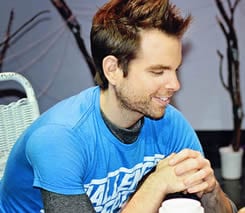 Baughman plays Dobbs with such verve and knowing astuteness that it is impossible to overlook the impact he has on this play. Baughman's stage credits are mostly in basement-style musicals (Evil Dead: The Musical, Dr. Horrible's Sing-Along Blog) and it is easy to forget what a first-rate actor he is. You will not miss the point if you see him in this. Dobbs is usually played as a math nerd and Baughman is all of that here, but he also makes Hal be in love with life and even, in his own socially awkward way, charismatic.
Baughman's Hal wears his heart on his sleeve. When Catherine kisses him during a post-funeral party, you can practically see the hearts and angels circling his head. He may have actually floated half a foot off the floor. He is a geek, but a cool geek, who plays drums in his own band, can keep up with the hard-drinking and hard partying mathematicians, and makes Catherine fall in love with him. Baughman finds the humor in playwright David Auburn's work, and exploits it fully, making him – I'm guessing here – the Hal Dobbs Auburn had in mind when he wrote the play.
Highly Recommended
Proof
Closes March 30, 2013
Theater On The Run 
3700 South Four Mile Run Drive
Arlington, VA
2 hours, 15 minutes with 1 intermission
Tickets: $20
Fridays thru Sundays
Details
Tickets
Chavez similarly honors Auburn's intentions with his strong performance as Robert. More than any other character, it is this gifted, desperately ill man who must take us to that mathematical plane where we can touch the hand of God. It is a hard job for any actor; I have never seen it done convincingly until I saw Chavez do it. Director Angela Pirko says that Robert "speaks of math as poetry" but Chavez does more than that; math becomes poetry in his mouth, and finally becomes poetry in motion.
San does fine work with Catherine as well, giving free reign to the anger with which Catherine masks her fragility, but blooming like a rose in Hal's love allows her to reveal her great secret. San, like Baughman and Chavez, is excellent even when she is not the focus of attention; she is at every moment Catherine, even when she is sitting on a chair listening to two other characters speak.
It is one of the great pleasures of theatergoing to see a familiar play reupholstered with a dynamic new approach, carried on by a proficient director and by fine actors. I saw that happen with Rep Stage's fabulous production of The Goat, or Who Is Sylvia? and Steppenwolf's groundbreaking Who's Afraid of Virginia Woolf? at Arena Stage and, though the fresh approach is not as radical here, it is every bit as much a pleasure.
——————-
Proof  by David Auburn . directed by Angela Pirko .  featuring Bob Chaves, Ashley San (who also designed the set), Matt Baughman and Aly B. Ettman. Lighting design: Peter Caress; sound design: Bruce Hirsch  . Set design: Ashley San . Stage manager: Bruce Hirsch, assisted by Isabel Mahoney, who also operated the lights.