The Broadway musical Man of La Mancha gave us the timeless song about dreaming the impossible dream.Argentine playwright Patricia Suarez' play for kids, based on the satiric novel by Miguel de Cervantes, takes us inside the mad mind of Don Quijote, who peppers us with a riddle.
As directed by GALA's artistic director Hugo Medrano, this technically synergistic GALita version, that draws upon seven chapters of the first part of the Cervantes novel, is positively enchanting.
Ever wonder what it must feel like to go crazy? We first confront the mock-heroic knight, played with gentle, lyrical dreaminess by Manolo Santalla, riding a stick hobby-horse representing  Rosinante, his steed. Don Quijote (spelled with Spanish "j") bears a lance and a shield, sports a silver helmet (costumes by Dan Iwaniec), and makes public his mission: "I am chivalry's most valiant knight. I am here to set a thousand wrongs to right."
Yet our hero sounds  disoriented and confused:
"Am I fiction? Am I real? How do I know?/Who are you? La voz de mi imaginacion?/….
You are I and I am you. Eres yo; soy tu."
Throughout Cordelia Cody's bilingual adaptation of Suarez' play, passages in Spanish alternate with passages in English. Spanish predominates with just enough English to let non-Spanish speakers understand the plot, yet not let the pace drag with repetition. It's a clever way to avoid English supertitles.
Yet hearing Don Quijote speak two languages adds to the dimension of where we are. We're inside a split-mind. We are out-of-touch with reality. In his opening soliloquy, the madman admits: "I am speaking in a language not my own."   And the teasing questions he has raised linger and keep all eyes and ears glued to the stage.
Lights come up on the Don's bedroom, backed with a cut-away wall lined with volumes of books. The room is cared for by his housekeeper, Ama, played with warm vitality and exaggerated, broad gestures by Lucrecia Basualdo, and his down-to-earth niece, Sobrina, enacted with sympathetic nuances by Anamer Marcano. Don Quijote is an addicted book worm, whose literal reading of romance and chivalry blinds him to reality and drives him mad. The two women plot to restore his sanity by burning all his books.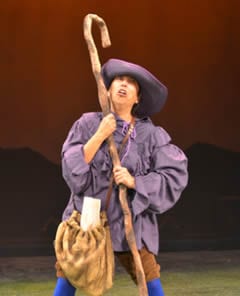 Yet life must have meaning. And Quijote, whose spirit cannot be squelched, rides again, saying he must passionately defend and unreel his adventures for us to record and remember.
A stunning scene design by Elizabeth Jenkins McFadden synchronized with lighting accents by Joseph Walls symbolize the conflict between illusion and reality. Like a surreal pendulum, a luminous globe, that glows with color changes, from rose to mustard yellow, hangs suspended and dominates the stage. Authentic, 16th-17th century period musical selections, blending lute, mandolin and classical guitar, bridge the blackout scene changes (sound design by Brendon Vierra). Musical director Andres Holder integrates Spanish folksongs that the actors, some who play multiple characters, sing and dance to. All works together to build a mood of merriment.
Two selected episodes show how well-meaning altruism can cause disaster and chaos. Don Quijote's imagination magnifies ordinary people, criminals, crooks, priests and casts them into romantic, glorious quests. Quijote more often than not leaves situations worse than they were before he interfered.
The hilarious tilting at windmill episode comes across as totally absurd. Santalla as the Don effectively impersonates smacking into the upstage flat painted as a windmill. Santalla gets a running start and crashes off-stage with a clatter. Then he re-enters, collapses flat on his back, simulating his humiliation. Don Quijote saves no one; only does harm to himself by almost knocking himself out cold.
We envision from Don Quijote's perception, that the white towers are monstrous, evil giants with rotating blades, who pose threats to helpless maidens, in need of rescue, like the love of his life, Dulcinera. (Dulcinera's presence is never fully-seen; only hinted at through a shadowy black-garbed figure who sits in the dark.)
Even though Quijote, the true-believing reformer, only succeeds in creating suffering, he continues to inflict his values of exalted nonsense on other people's lives. His madness increases. This point is effectively made in the hilarious, mistaken identity scene with the two Friars (actors Marcano and Basualdo), in which Quijote, who believes a spell-bound young woman is inside, talks to a water-filled urn. Thus, Quijote's ever-growing madness is escalating into wilder hallucinations.
Highly Recommended
The Adventures of Don Quixote of La Mancha
March 18-22, 25, 27, and 28, 2013 at 10:30 am
1 hour, 10 minutes without intermission
GALA Hispanic Theatre
3333 14th Street, NW
Washington 20010
Tickets: $10 – $12
Details and tickets
Actor Alex Iraheta is a convincing embodiment of Sancho Panza.  The sidekick comes across as an average guy, an Everyman, who has his wits about him and sees what really is. Panza constantly reminds Quijote that what he imagines is not real. A windmill is a windmill, not a giant. The men in black are holy men, not evil magicians.
One exciting crisis after another, accomplishing nothing, however, gets tedious. An ironic turnabout happens when the physically stooped actor conveys Sancho Panza's burn-out. Panza tells the Don he just wants to abandon the quest and go home to his wife and children.
Actor Manolo Santilla's starry-eyed stare, calm-on-the-surface demeanor, and child-like portrayal of Don Quijote make it easy for kids to identify. The actor successfully projects a hero who only sees goodness in people to the point that he is delusional. Even after getting trounced upon and beaten up time and again, what makes him endearing is his unconquerable spirit.
From this production, I came away inspired by the enthusiasm of the kids in the packed-to-the- rafters audience. May the magic spell of dreaming stay with them forever.
In Spanish and English
 Suitable for the entire family, but specifically for ages 7-12.
——————
Las aventuras de Don Quijote de La Mancha     (The Adventures of Don Quixote of La Mancha) . Written by Patricia Suarez . Bilingual adaptation by Cornelia Cody . Based on the world classic novel by Miguel de Cervantes Saavedra El ingenioso hidalgo Don Quijote de la Mancha  (The Ingenious Gentleman Don Quixote of La Mancha) . Directed by Hugo Medrano . Musical Direction by Andres Holder . Produced by GALA Hispanic Theatre . Reviewed by Rosalind Lacy