Back in 2007, theatre folks had a good chuckle over this satirical headline in The Onion:
Unconventional Director Sets Shakespeare Play In Time, Place Shakespeare Intended
The joke, of course, is on us. Washington theatres offer only rare exception to the trend that presumes to require, with each new production, the re-potting of Shakespeare's text into a previously-unbrainstormed setting.
As Jack Marshall, the Artistic Director of The American Century Theater, writes in his newest program note, these days "a traditional Macbeth would be shocking, with re-edits and re-imaginings… now almost too commonplace."
It's true. And the fact does no favors for TACT's newest endeavor: a large, ambitious, but fundamentally perplexing overhaul of Orson Welles's groundbreaking 1936 New York production called, for posterity, Voodoo Macbeth. Marshall and director Kathleen Akerley have an unusual challenge in front of them: to honor Welles's imaginative work on that production without doing him the disservice of merely copying his bright ideas for a new era.
It turns out to be even harder than it sounds. Almost immediately, the team ends up lost in the woods, nursing a number of intriguing production concepts but wandering clear past much of the most crucial work — on rhythm, tone, and the stark emotional needs of the play itself — needed to give Shakespeare, even when adapted by Welles, some real magic.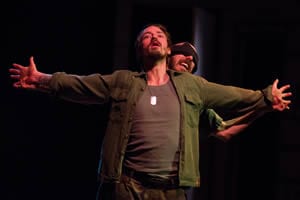 Akerley has proven herself more than once among the area's smartest creative thinkers, and a talented cadre of actors (all men) populate the blackbox stage at the Gunston Arts Center. So, wherefore this ponderous pace? This pervading glumness in tone? This chronic inattention to the life-and-death horror of Shakespeare's short, sharp, sexy nightmare of a play? Weirdly enervated, frequently confusing, and surprisingly monotonous, this Voodoo Macbeth gets badly entangled in a thicket of hazily-imparted ideas.
Let's rewind the history tapes and try to puzzle this out. Back in the thirties, rising theatre star Orson Welles was approached by John Houseman, on behalf of the Negro unit of FDR's Federal Theatre Project, with the opportunity to produce a new show from the ground up. Welles, only nineteen at the time, decided to edit down Macbeth, gather an an all-black cast of non-professional actors, and set the show in a magical, impoverished Haiti, substituting the woodsy witchcraft of the Scottish original for his imagining of tribal Caribbean voodoo. The show (which, ironically, was called simply Macbeth during its run) played for a mostly white, largely unexpecting urban audience in New York.
Jump to 2013. Marshall (who is a fan of Welles, to say the least) writes excitedly about the unforgettable effect that production had on the American theatre. "To Orson, theatre was never about the text or even the playwright's intent," Marshall explains. "It was about making theatre that would race your heartbeat and stick in your mind." Whether you agree or not with this statement's dubious first half, it's easy to relate to the second. Who wouldn't want an audience to engage?
That's the key, Marshall and Akerley decided. Don't copy Welles — honor his spirit of reinvention.
So let's jump again, this time to 2033. American troops are fighting a new world war. They've been fighting in Scotland since 2022 but are now cut off from contact with their homeland. Some soldiers are settling in, adopting bits and pieces of the local Scottish culture. But all go on serving, fighting an unseen enemy. Note, too, that this bunch of fighters has carried over with them an unusual set of extreme Christian practices centered on worshipful cutting and self-mutilation.
Welcome to the reboot of Voodoo Macbeth. If you didn't read the director's program notes in advance, however, you're in trouble. Not only is none of this indicated with any clarity — through movement, design, or otherwise — but Akerley's attempt to find a way to parallel the adventurous spirit of Welles seems in fact to have pulled attention away from the first order of business: activating the play itself.
Our titular soldier (Joe Carlson) decides to kill Duncan (Theodore M. Snead), who appears to be an army commander of some sort. Fair enough. But what, in this new world, does Macbeth gain from Duncan's murder? Perhaps rule over land? As an enlisted man abroad, this doesn't clearly follow. Then what about rule, more simply, over his own band of comrades? Also hard to believe, given that not one actor indicates any disruption to the established order after Duncan eats steel.
What, then, drives Macbeth? Lady Macbeth, perhaps? No such luck. The casting of all male actors in the show is fine in theory — although one wonders whether the American infantry wouldn't include some women by 2033 — but here the character Lady M is converted into a chummy, goading friend named Gruoch (played by Matt Dewberry). Gruoch's devilish whispering in his bestie's ear might logically trigger Macker's power grab, but it also drains the murderous mission of its sexual undertones. It's the twisted logic born of deep-seated lust that plows the plot of Macbeth greedily forward, not casual camaraderie. The excision of sex makes a dark world of difference.
From there, the use of the all-male cast grows stranger and stranger. Gruoch is referred to as "my brother" at first, but later proclaims: "I have given suck, and know how tender 'tis to love the babe that milks me." Come again?
Later, during the murder of poor Macduff's family, we hear grown male actors employ their best falsettos to deliver the lines of wife and child from off-stage. The scene tries, with seeming sincerity, to offer a convincingly female voice. We wonder, then, why it was so important to not cast women in the first place.
Most signs of strain, however, are more systemic. Frank DiSalvo, Jr.'s sound design, bursting with chaotic dissonance, seems to imply a tense and disordered world. But the largely straightforward staging, the many languorous line readings, and the nearly-unchanging dim warmth of Jason Aufdem-Brinke's lighting design suggests otherwise.
In one nicely surprising moment, the ensemble breaks from its subdued state and nearly erupts into full fistfight — a wholly believable moment. This is, after all, a pack of abandoned soldiers in the midst of war; we expect they may be a bit upset. But it's a false alarm. Moments later, actors are falling back into a familiar rhythm of gloomy line delivery, bored onlooking, and distracting side-business.
Duncan's body is found. Banquo, played by Frank Britton, dies and reappears. Lady Macbeth (sorry: Gruoch) suddenly expires. And each of these discoveries makes barely a ripple on the pace and tone of what has every right to be a frightening and pulse-pounding play regardless of the setting. By the time we get to fight choreographer Casey Kaleba's drawn out, improbably balletic finale, full of leaping swordplay and cruel slaughter among supporting characters (with blood effects aplenty), we begin to understand why the ensemble may have saved most of their energy for the end.
It's a bit late, unfortunately, for the fog to finally clear.
—————–
Voodoo Macbeth . Adapted by Orson Welles . Directed by Kathleen Akerley . Featuring Frank Britton, Joseph Carlson, Keegan Cassady, Evan Crump, Matt Dewberry, Cyle Durkee, Chris Dwyer, James Finley, Nick Hagy, Will Hayes, James Miller, Ryan Sellers and Theodore M. Snead. Produced by The American Century Theater . Reviewed by Hunter Styles.
More?
Jack Marshall and the original Orson Welles Macbeth