Like Dahl's famous peach, this larger-than-life production teems with fun. A bit of genre anxiety robs the story of some of the stage magic it deserves, but there's still plenty to savor in Imagination Stage's reinvention of a well-loved classic.
Fans and first-time audiences alike will discover a host of new friends in this amiable adventure story, while a scavenger hunt's worth of references to 60's Britain gives parents something extra to enjoy. This production of James and the Giant Peach is part of Imagination Stage's double helping of Dahl this season, performed in repertory with The Magic Finger.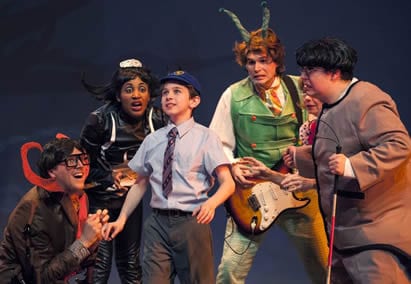 Just like the book, the play is propelled by its deliciously unique personalities. When his parents are mowed down by a rhino while shopping in London, James (Sean Silvia) is sent to live with his comically cruel Aunts Spiker and Sponge (played with side-splitting slapstick by Joe Brack and Phillip Reid). A magical gift saves James from their clutches and his chores, offering escape into a ship-sized peach populated by a band of friendly bugs. Hungry for adventure, the new pals roll the peach into the sea, headed for adventure and America.
Motivated by the story's historical moment (the book was first published in 1961), adapter David Wood and director Janet Stanford cleverly overlay James' journey with icons of the British Invasion. The bugs are quite literally a band—only one of the characters is actually a beetle (Leigh Jameson's bass-twanging Ladybird), but costume designer Kendra Rai's ensemble of 60's boots and suits makes the whole ensemble look simply smashing. Dour, blind earthworm (again, the versatile Phillip Reid) scowls through Lennon-style circular frames and the fringe of an overgrown bowl cut, while grasshopper-cum-guitarist Mattew Schleigh perfectly captures Jagger's jump and scowl.
Meanwhile, projected behind the actors, Monty Python-inspired video backdrops by David Stern and Stephen Guidry illustrate the story's various locales with a wry lunacy perfect for Dahl. Stern's London evokes the Flying Circus' meld of hand-drawn cartoons and black-and-white photos.
In another apt section, the rolling peach bowls over Stonehenge on its path to the sea–a clever match for Dahl's trademark mix of magic and menace.While these playful touches give audience members something extra to smile at, the British Invasion's progress into the actual storyline tramps a tad too far. Recalling that Dahl subbed in for war pal Ian Fleming to pen the third James Bond screenplay, You Only Live Twice, Wood and Stanford attempt to merge James' tale with that of the renowned super-spy.
The play begins with James already arrived in New York and re-tells his story as the filming of an action movie. A camerawoman strafes around the stage, while a director interrupts the action with a clipboard and calls of "Take 1."
Dahl's masterfully-crafted story rejects this needless graft. It's easy to forget about the film conceit entirely until the bulky camera blocks your view, but the framing concept threatens one of the stage's fundamental powers.
Recommended
James and the Giant Peach
Closes May 26, 2013
Imagination Stage 
4908 Auburn Avenue
Bethesda, MD.
2 hours with 1 intermission
Tickets: $15 – $22
Saturdays thru Sundays
Details
Tickets
As kids clapping and dancing to the final number know instinctually, it's only in theatre that a story's borders can swell magically, engulfing viewers in a shared adventure that film can't touch. At heart, Stanford's production knows this. That's why the camerapeople loiter in the periphery while Dahl's original characters win all the grins. That's why the director never intrudes for a second take—live theatre is the art of not needing one.
In this respect, the production soars. The characters take full advantage of their live audience, ushering kids from the aisles up to examine set designer Milagros Ponce de Leon's luscious-looking peach from close range and offer their commentary. Tim Guillot's music, too, makes it hard for taller patrons to stay seated while their kids groove to a playful repurposing of 60's riffs. Matthew McGee's puppets are gleefully terrifying: a bundle of octopus tentacles and the charging rhino are only onstage briefly, but in their menacing succinctness, they usher Dahl's quirky magic onstage with relish.
With all this live-action fun so faithful to the tenor of Dahl's tale, neither patrons nor Stanford, as she does in her director's note, should worry that a stage adaptation has to compete with the movie. Kids here have a unique opportunity to accompany James on his fantastic adventure in real time. And just like in the peach itself, there's room for everyone in Dahl's much-loved story.
——————–
James and the Giant Peach . Written by Roald Dahl . Adapted by David Wood . Directed by Janet Stanford .  Featuring Sean Silva, Ian Berlin, Megan Graves, Matthew Schleigh, Leigh Jameson, Phillip Reid, Joe Brack, Eric Messner and Lauren Du Pree. Creative team: Composer Tim Guillot, Music Director Debbie Jacobson, Set Designer Milagros Ponce de Leon, Projections,David Stern and Stephen Guidry, Costume Designer Kendra Rai, and Lighting Designer Andrew Griffin. Produced by Imagination Stage . Reviewed by Robert Duffley.