It is a complicated and difficult art to do a ten-minute play. The playwright must establish his emotional tone immediately, and thereafter add to it. John Guare says that the playwright has fifteen minutes to win his audience over, but for the ten-minute playwright, the production is finished before the fifteen-minute mark is ever reached. She may have one minute to win us over.  Same too for the actors, who must show us who their characters are without fuss or excess.
Given the difficulty of the task, it is a cause for celebration when – as here – half of the efforts are truly outstanding. Heading the pack is Cake, Sherry Kramer's lovely, heartbreaking story about love in a time of doom. Lily (Amie Cazel) loves Scott (Frank Turner), but it is hard work: her dyspeptic partner is a horrible businessman, who has brought financial ruin to Lily and to her mother as well. He is sharp-tongued and ill-tempered, and also he is dying. Scott loves Lily too, but has no words for it.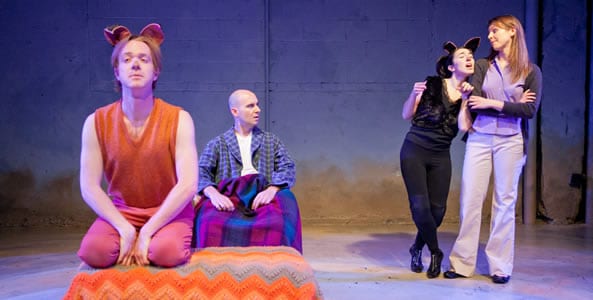 To help us understand their feelings for each other, we have Paco (Chris Aldrich), a Chihuahua bred to give and receive unconditional love, and Samsera (Mia Bronco), a Chihuahua-Greyhound mix who also loves unconditionally, but with a little more self-awareness. Paco, too, is a little hard to love, since he pees – frequently and enthusiastically – on Scott's Oriental rug. But both dogs, who have the ability to smell love, know that if unchecked love flows with the force of the Niagara, and wipes out pee and misery with equal ferocity.
Smell also plays a big role in Jessica Huang's A Unicorn on 7th and Nicollet, which is the story of Mary (Branco), a young woman in the television business and, well…a unicorn (Turner). To fully appreciate this story it is good to remember that in medieval mythology it was thought that a unicorn was a wild beast who could only be tamed by a virgin. In the great book of medieval allegory, Physiologus, when the unicorn sees a maiden (a metaphor for Mary, the mother of Christ), he lays his head upon her lap, and is tamed. Things are a little more complicated on 7th and Nicollet, in that Mary is not a virgin and the unicorn is in fact rude, verbally aggressive, foul-mouthed, sexist, and entirely unpleasant. On the other hand, he speaks with a British accent, which means everything is forgivable. Eventually Mary makes him apologize – the contemporary equivalent, apparently, of virginity – and, happily tamed, the unicorn rides Mary off into the sunset. Very true to life.
Maureen Monterubio directs both plays flawlessly, and Turner earns special kudos for portraying two very distinct characters authentically and with flair.
Peter J. Roth's Strangers on a Train is something else entirely; a loving sendup of the WWII-era movie of a certain ilk where Nothing Is What It Seems. Siobhan (Monalisa Arias) is a young woman alone on a train when Conrad (Brandon Mitchell), a Frenchman on the lam from a murder rap, bursts into her compartment. Suddenly there is a rap on the door! It is the headwaiter, taking Siobhan's order of trout. Things start to get weird afterward, as Siobhan and Conrad reveal secret identities serially. It would be possible – even easy – to do this play badly, but Arias and Mitchell enter into the fun with great gusto, their over-the-top enthusiasm meshing perfectly with Roth's funny, over-the-top aesthetic. Director Jacob Janssen's attention to detail (for example, by assuring that Siobhan and Conrad move in sync with the train) serves this piece well.
The other three plays are not as successful. They each have interesting elements, but they seem, in the end, void of intention. Eric Pfeffinger's complicated With Her Old Boyfriend There Were Patterns is a story about Jenna's (Emma Jackson) youthful relationship with the weird and unpleasant Craig (Josh Adams), who appears to be obsessed with historical battles and whose conversation is composed of random observations about explosions. Jenna as a mature woman (Hyla Matthews) narrates the story of her youthful dalliance, with commentary; but when mature Jenna begins her own relationship with Omar (Adams in a bad wig), some of her history with Craig interferes. Are you shocked? Gwen Grastorf and Hannah Blechman are largely wasted in walk-on roles; ten-minute plays should not have extraneous characters.
Recommended
In the Midst
Closes June 30, 2013
Source Theatre
1835 14th St NW
Washington, DC 20001
1 hour, 30 minutes with 1 intermission
Tickets: $20
Schedule
Details and Tickets
Womb days, womb days, good old tummy tomb days. In David Mitchell Robinson's
Supplication,
Cameron (Mitchell) tries to discover the origin of his failed life by going back to the womb of his accommodating mother (Peg Nichols). Once there, he is dismayed to find that his brother (Adams) and father (Jim Epstein) have beaten him to this choice piece of real estate. We are treated to the astonishing sight of Cameron calling his mother from her womb on his cell phone, but aside from that, this Janssen-directed playlet bears an uncomfortable resemblance to a Saturday Night Live sketch gone bad.
Finally, in Jami Brandli's Back Stock, Shelly the Mermaid (Cazel) is ensconced in a kiddie pool behind a supermarket, abandoned by its owner, Harry, who had fished her out of the Ocean and gotten her addicted to light beer. Harry's son Dale (Aldrich) discovers her as he tries to prepare for Hurricane Veronica. We are treated to some moderately amusing dialogue about the underwater life while Dale complains about daddy. Honestly, I forget how this one ends, but the lesson is: don't get addicted to light beer. Monterubio directs.
The distinguished children's-theater director Kathryn Chase Bryer serves as directing mentor; her two protégés, Monterubio and Janssen, acquit themselves well. Of course, good directors seldom save bad or mediocre plays; even Bryer herself couldn't do much with Patterns. But when given good material, both protégé directors do fine work.
I am recommending On the Cusp to you because the best of it is high art, and because there are moments of pleasure in every short play. "The smell of love never goes away," Paco observes, correctly, at the close of Cake; and neither does the smell of art.
———————————
On the Cusp: composed of A Unicorn on 7th and Nicollet by Jessica Huang, directed by Maureen Monterubio and featuring Mia Bronco and Frank Turner; Cake by Sherry Kramer, directed by Monterubio and featuring Bronco, Turner, Chris Aldrich and Annie Cazel; With her Old Boyfriends there were Patterns, by Eric Pfeffinger, directed by Kathryn Chase Bryer, and featuring Hyla Matthews, Emma Jackson, Josh Adams, Hannah Blechman and Gwen Grastorf; Strangers on a Train by Peter J. Roth, directed by Jacob Janssen and featuring Brandon Mitchell and Monalisa Arias; Supplications, by David Mitchell Robinson, directed by Janssen, featuring Mitchell, Adams, Peg Nichols and Jim Epstein; and Back Stock, by Jami Brandli, directed by Monterubio and featuring Cazal and Aldrich.
Stage manager: Patrick Magill . Assistant Stage Manager: Lena Foreman and Andrea Fanta, Lighting Designer: Sean Forsythe . Sound Designer: Elisheba Ittoop . Costume Design: Lauren Cucarola . Props and Costumes: Joni Martin . Produced by CulturalDC's Source Festival . Reviewed by Tim Treanor.
More?