The six short plays which make up the Source Festival collection Afterward lack the individual superstar brilliance of some of the plays in its other two collections, On the Cusp and In the Midst, but all of them are interesting and fun, and some of them are very good indeed.
It's hard to pick a favorite, but, if I did, it might be Edward Cullen Ruined My Mother's Love Life, by Stephanie Alison Walker. Edward Cullen, of course, is the immortal vampire in the Twilight series, and his love for Bella, which purports to be designed for eternity, sets an impossible template for Ramona (Carol McCaffrey) to demand of her considerably more earthbound lover (Christian Sullivan). Why a fifty-year-old woman gives herself over to such a silly fantasy, and why her preternaturally bright teenage daughter (Meredith Richard) somehow never gets around to taking her driving test, remain nagging mysteries behind the witty dialogue.
At the end, Walker, the fine cast and director Megan Behm reveal the answer with exquisite subtlety; it will nonetheless hit you like a ton of bricks.
Another contender might be Christopher Lockheardt's Lost in Thought, in which a man (Bru Ajueyitsi) remembers his lover (Kathryn Ryan) – their first moments together; her sweetness and tenderness; the moments of pain; the way they broke up – and imagines how she is now with her fiancée, Tom (Theo Hadjimichael). The moments in his mind are full of emotion; joyous, painful, deeply sexual, tender. But the single incident in the present tense in which he stumbles upon her by accident is rigidly bland and politically correct. In these few brief moments Lockheardt sums up the difference between the way men behave, and the way they are in their hearts.
Director Ali Miller moves things along with dispatch and assurance, and Ajueyitsi in particular gives a nuanced, intelligent performance of a man in love and in sorrow.
Both Edward Cullen and Lost in Thought are focused and suggestive; they invite us to discover the point ourselves, and thus to be collaborators in the finished project. This is not the case for two other plays, Minus You and Riot Grrrls Reunion, which are gassier. Darin J. Dunston's Riot Grrls Reunion is the story of a trio of badass but oh-so-adorable teenage roller derby queens (Jessie Jordan, Genevieve James, and Ruthie Rado), who schedule a death match with their rivals but forget to reserve the high school gym. When they get there the place is crawling with young boys playing basketball. The Unholy Rollers (their name, not mine) decide to clear out the room, until they meet up with a force more badass than them – mom (Alina Collins-Maldonado).
Hajmichael and Darius Epps, as basketball coaches, serve as a sort of Greek chorus. All this is funny and well-executed, but Dunston should have ended his play three minutes earlier than he did. Instead, he gives mom a lengthy speech in which she explains her backstory. This, if it does anything, makes her less the universal mom and thus makes the play less fun. Renana Fox directs; Ashley Byrd-San does the effective, slow-mo fight choreography.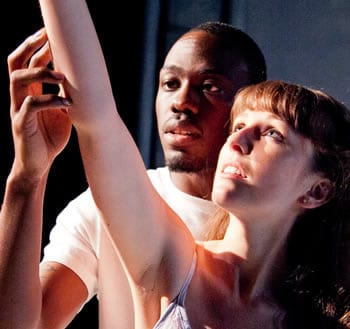 In Minus You, Jennifer Barclay tells the story of ghost (Sullivan) seeking ghost (Richard). They were once married, but then things got bad, and then they got really bad, and then they were dead. Barclay gives her characters serial monologues in an odd, stilted poetry which is strangely affecting. However, she clutters her story with irrelevancies – most particularly, a brand of medication which Sullivan's character is hawking in the afterlife. Eventually Minus You reaches a conclusion (there is a blackout moment before the conclusion – don't clap then) which is tentatively satisfying, but if there is wisdom or insight here I missed it. Behm directs.
There are also two ten-minute plays which do interesting things with the form. The Man in the Powder-Blue Suit, by the fine local playwright Stephen Spotswood, is the story (recounted years later) of the time a young girl (Collins-Maldonado), swimming in the pool of an Arizona motel, encountered an evangelist for an apocalyptic sect (John Tweel). What happens next is dramatic – certainly for a young child – but not apocalyptic. Spotswood does what the ten-minute play does best: capture a small moment perfectly. Collins-Maldonado is fabulous switching from her adult persona to that of the child (who appears to be about eight); Spotswood supplements her dialogue by having Tweel step out of his character and supplement the narrative (occasionally taking on the role of the girl's father when necessary), and old pro Tweel delivers without showiness or fuss. Fox directs, beautifully.
In Alex Broun's 50 Guns Emma (Ryan) scatters a box of metal geegaws on the floor and then, near tears, tells you stories about people killed with guns as she picks each piece up and returns it to the box. You may at first think that this is nothing more than a screed about gun control, as I did. If so, be patient. There's a payoff – a good one – at the end. Miller directs.
As with the other two ten-minute play collections, Afterward features the services of a distinguished DC-area director to mentor the directors of these plays. In this instance, that mentor is Eleanor Holdridge, former Resident Assistant Artistic Director at the Shakespeare Theatre who recently co-authored and directed Constellation's excellent Zorro.
Afterward
By Stephanie Alison Walker, Stephen Spotswood, Alex Broun, Jennifer Barclay, Christopher Lockheardt and Darin J. Dunston
A Source Festival Collection of Ten-minute Plays
Directed by Megan Behm, Renana Fox, and Ali Miller. Eleanor Holdridge served as directing mentor
Produced by the Source Festival
Reviewed by Tim Treanor
One hour twenty-five minutes
Recommended
Afterward, being composed of Edward Cullen Ruined my Mother's Love Life by Stephanie Alison Walker, directed by Megan Behm and featuring Carol McCaffrey, Meredith Richard and Christopher Sullivan; The Man in the Powder-Blue Suit by Stephen Spotswood, directed by Renana Fox and featuring Alina Collins-Maldonado and John Tweel; 50 Guns, by Alex Broun, directed by Ali Miller, and featuring Kathryn Ryan; Minus You by Jennifer Barclay, directed by Behm and featuring Richard and Sullivan; Lost in Thought, by Christopher Lockheardt, directed by Miller with fight choreography by Casey Kaleba, featuring Ryan, Theo Hadjimichael,  and Bru Ajueyitsi; and Riot Grrrl Reunion, by Darin J. Dunston, directed by Fox with fight choreography by Ashley Byrd-San and featuring Collins-Maldonado, Hajimichael, Darius Epps, Jessie Jordan, Genevieve James, and Ruthie Rado.
Stage manager: Patrick Magill . Assistant Stage Manager: Lena Foreman and Andrea Fanta, Lighting Designer: Sean Forsythe . Sound Designer: Elisheba Ittoop . Costume Design: Lauren Cucarola . Props and Costumes: Joni Martin . Produced by CulturalDC's Source Festival . Reviewed by Tim Treanor.