If you only have time this year to read one autobiography of an actor, make it Richard Seff's book Supporting Player: My Life Upon The Wicked Stage. If you only have time to read one autobiography of a playwright, make it Richard Seff's book Supporting Player. If you only have time for one autobiography of a theatrical agent, make it Richard Seff's book.
I didn't intend to write a review of this book, but I had such a good time reading it that I want to share the news of its existence with my readers – despite the possibility that some would see a potential conflict of interest because we are colleagues. So, let me begin with a full disclosure.
Theater Shelf appears weekly on this Web site. Richard Seff also contributes to DC Theater Scene with his own column, NY Theatre Buzz. As the title suggests, he covers shows on and off Broadway.
I've enjoyed reading his reviews, so when I planned my last visit to Manhattan, I dropped him an email asking if we could get together for lunch. He suggested a neighborhood tavern on the east side, and we met for what turned out to be one of the most enjoyable "get to know each other" visits I've had in a long time.
He is a great story teller and has a seemingly inexhaustible supply of fascinating tales to tell.
He generously brought along a copy of his book, which he autographed and gave to me at the end of our lunch. I tucked it in my bag and couldn't get to it for a few weeks because of other things on my Theater Shelf. Once I did, however, I found it an unalloyed delight. It reads like 453 pages of stories told over a table in a pub.
Just who is this Richard Seff? He's a theater maven who began his "Life Upon The Wicked Stage" as an actor. He had significant early success only to learn that being a "gypsy," living on the road either performing in regional theaters or in the national tours of Broadway's successes, just wasn't for him: at least not as a young man in his twenties.
Before he learned that lesson, however, he'd earned his Equity card and landed roles off and then on Broadway, notably the role of "Prisoner 302" in Darkness at Noon opposite Claude Rains and Jack Palance. He then went on the road with the show with Edward G. Robinson in Rains' role.
At the start of the 1950s he'd been picking up gigs on radio and that newfangled thing called "TV." But the way successful, but not famous, actors earned their living at the time was to create a role on Broadway and then, if the show was a success, take it on the road. Road tours were de rigueur in the post World War II legitimate theater.
It is a lucky man who learns early on that his chosen career won't provide the life he wants. The road tour of Darkness at Noon taught him that he was too much of a homebody to be comfortable in strange cities for a week or two or even a month or two at a time.
Seff acted on that lesson. He gave up acting but searched for a way to be part of the theater without having to do the traveling thing.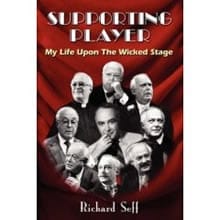 As luck would have it – and luck seemed to have a thing for him – he found an opportunity to get into the business of being a theatrical agent. He started small, assisting in an exclusive agency that represented, among others, Tennessee Williams, William Inge and Truman Capote. His job wouldn't be with the literary types, however. He was hired in 1953 to book actors into those strange new gigs, live television shows.
Luck struck again as his small agency was purchased by the largest media agency in the world, MCA (which stood for Music Corporation of America but became just initials as the firm diversified). This expanded his opportunities and the stable of clients for whom he could strike deals. He worked as an assistant (or "associate" as his boss was gentleman enough to call him) to one of Broadway's biggest agents, David Hocker.
In 1962, the Federal Government brought suit to break up MCA, seeing it as a monopoly that reached into production and distribution as well as representation. Seff and two other still young MCA agents struck out on their own, setting up a small agency that bore their initials – H. B. S. which stood for Hesseltine, Bookman and Seff.
The book is replete with stories of clients who became friends. Seff tops the semi-famous story of how music publisher Tommy Valando introduced Kander and Ebb to each other with the suggestion that they work together. Seff tells how he took Ebb to a matinee of a A Family Affair two years before Valando's matchmaking. That show had music by Kander and Ebb sat with Seff in the mezzanine of the Billy Rose Theater (today's Nederlander Theatre where Newsies is now selling so well) and said "Yeah, I could work with him."
I particularly loved his story of a phone call he received from Fred Ebb when they were working on the opening number for Cabaret. Ebb said "We don't speak French and you do, and here's what I need … the beat goes Da DUM da da da. That's all the room I have. And it has to say 'its so nice to meet you' or 'it's a pleasure to know you' or something like that. What is that in French?" Seff said "Je suis enchenté" and that ended up being Seff's line in Cabaret's opening:
Willkommen, bienvenue, welcome!
Fremde, etranger, stranger.
Gluklich zu sehen, je suis enchante
Happy to see you. Bleibe. Reste. Stay.
By the mid 1960s, he was trying his hand as well at playwriting. He relates the tale of staging The Whole Ninth Floor with Alan Alda as the star in 1966, Paris Is Out which played the Brooks Atkinson Theatre on Broadway in 1970, a brief fling with Consenting Adults at Lake Tahoe's Summer Festival for the A.C.T. of San Francisco in 1974 and the musicals Spotlight, which almost made it to the Palace on Broadway, and Shine!, the Horatio Alger musical he still hopes will one day get its due.
The man who could drop a promising career as an actor in the early 1950s to take up a new career as an agent was capable of dropping that career when he found that both the nature of the business and his own psychic needs had changed. He walked away from his agency in 1974 and returned to working on the stage instead of behind it.
He relates his experience in theater both in New York and in the regions, some work in feature films and a whole lot of television work in Hollywood. Some of the most entertaining stories of the book are of the back stage world of on stage talent.
Whether telling tales of success or failure, opportunities grasped or missed, private moments of the famous or the unknowns of the theater world, Seff manages to entertain and inform without either exaggerating his own successes or diminishing those of others. He communicates his pride in his accomplishments without boasting, but also without false modesty, and has a refreshing way of relating the weaknesses of others with whom he has had contact without seeming to either picky or cruel.
Most of all, though, the book is enjoyable because it is chock full of interesting stories drawn from over half a century of being part of the theater world. It's a heck of a good read.