Hold on, Millie Martindale (Raven Bonniwell)! You got some 'splainin' to do. You've just tried to break a date with your husband's boss' awful wife Kitty Sunderson (Karen Lange) by pretending you had an appointment with a butcher on U Street – and now Kitty wants to go to the butcher with you! How are you going to get out of that?!!
And not so fast, Bob Martindale (Andrew Keller)! You got some 'splainin' to do too. You're in charge of the State Department program to root out communists on the payroll, and your boss Ted Sunderson (Zach Brewster-Geisz) has just put you in charge of a new program to get rid of all the sexual deviants in the State Department – and you're one of them yourself!
Although you have a sham marriage to Millie, you actually live in unholy bliss with your neighbor Jim Baxter (Kiernan McGowan), who is legally married to your secretary Norma (Natalie Cutcher) – who is in reality Millie's lover! How are you going to get out of that?!!
The best thing about Topher Payne's fabulous Perfect Arrangement is its pitch-perfect capture of the 1950s comic voice, and its application to the dreadfully serious drama in which we have all been cast. But, really, doesn't this setup sound like the ones that appeared on I Love Lucy and other shows of that ilk? Bob and Jim are lovers, and so are Millie and Norma, so in order to fool society into thinking that they are not deviant, Bob marries Millie and Jim marries Norma. They live in adjoining townhouses in Georgetown and pass from one house to the other through a living room closet.
And here's the kicker: Bob, a hotshot commie-detector at State, is commissioned to find gay people working at State so they can be isolated, ostracized, and fired.
Yes, I know, I know. There were no gay people in the 1950s, so nobody wrote comedies about them. But the basic structure was the same: Lucy, or whomever, has told a little white lie, which someone called her on, causing her to tell a slightly bigger lie, until the whole house of cards came crashing upon her head. Payne brilliantly employs this structure to tell a story which – unlike a fifties sitcom – results in pain, calamity and despair.
Ah, the fifties were a giddy time in the U.S. of A. Having just defeated a truly fearsome foe, we thought we could do anything through the vigorous application of basic American principals: democracy, capitalism, the Protestant work ethic, and a sexuality inspired and guided by beliefs formed in the Victorian era. Self-loathing homosexuals believed that they could dishonor their natures, and thus achieve happiness, through prayer and an iron will. Failing that, they (or their agents) sought to hide that nature from society (e.g. Raymond Burr's imaginary "wives", both of whom died mysteriously).
Ironically, by impersonating straight people, homosexuals really did leave themselves open to blackmail, and thus became security risks. To address to this conundrum, Payne invents the character of Barbara Grant (Jill Nienhiser) – a creature Oscar Wilde might have created if he could have done so without going to jail. Barbara is a vigorous enthusiast of sex – the more, and more varied, the better. She cannot be exposed because she is happy to expose herself. She is like the French diplomat who, when confronted by a KGB agent with photos of himself in sexual congress with a Russian Mata Hari, asked for a half dozen 8-by-10 color glossies. She cannot be blackmailed, and so is not a security risk. They fire her anyway.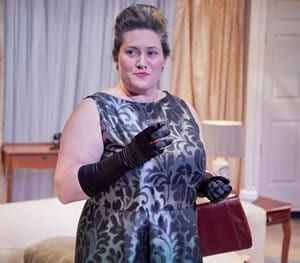 Nienhiser, incidentally, is magnificent in this role. She is like the prow of a great ship, plowing through cowed people as though they were stilled waters, and becoming everyone's heroine. Payne gives Barbara the best speeches (including one, toward the end, that goes on a little too long) and in Nienhiser he has found the actor to deliver them.
Which is not to slight the other actors. They're all good – Cutcher, wonderfully so – and Linda Lombardi's production snaps and sizzles. They do seem a little shrill (particularly Bonniwell and Brewster-Geisz) when they are at the play's most sitcomish moments, but shrillness was the hallmark of comedy at the time and I can understand the choice Lombardi made.
Perfect Arrangement Highly Recommended

2 hours with 1 intermission

Source Festival at

Source

1835 14th Street, NW

Washington, DC 20009

$20

Details and tickets

Fine technical work, particularly the uncredited lighting design, aids the presentation significantly.
Just before the play opens, we hear Doris Day singing Secret Love.
"Once I had a secret love," she sings, "that lived within the heart of me/All too soon my secret love/Became impatient to be free/So I told a friendly star/The way that dreamers often do/Just how wonderful you are/And why I am so in love with you/Now I shout it from the highest hills/Even told the golden daffodils/At last my heart's an open door/ And my secret love's no secret anymore."
For people like Millie and Norma and Bob and Jim, who lived with the loathing of society, and had to play along, the golden daffodils remained out of the loop. But for people like Payne, whose publicity notes that he lives with his husband in Atlanta, and maybe you, the heart is an open door. Congratulations.
——————————-
Perfect Arrangement by Topher Payne  is part of The Source Festival. Directed by Linda Lombardi, featuring Andrew Keller, Raven Bonniwell, Natalie Cutcher, Kiernan McGowan, Zach Brewster-Geisz, Karen Lange and Jill Nienhiser. Kelley Kidd is costume designer and Laura Wood is the production stage manager . Produced by CulturalDC's Source Festival . Reviewed by Tim Treanor.