"What will happen then to the objects, including possible spaceships, that [fall] into [a] black hole?" Stephen Hawking once asked. "According to some recent work of mine, the answer is that they go off into a little baby universe of their own. A small, self-contained universe branches off from our region of the universe."
This, Hawking cautioned, was not necessarily a good way to make a killing in the real estate market. "In real time, an astronaut who fell into a black hole [it] would…be torn apart, by the difference between the gravitational force on his head and his feet. Even the particles that made up his body, would not survive. Their histories, in real time, would come to an end….However…in imaginary time, [they] would continue. They would pass into the baby universe… [it] might [not] be much consolation to [the astronaut], as he ran into the singularity in real time, to know that his particles will survive in imaginary time. The motto for anyone who falls into a black hole must be: Think Imaginary."
So, think imaginary, and welcome to the universe of Wakka Wakka Production's Baby Universe, now playing at Studio Theatre. It is the distant future, and our Sun is prepared to make a final, planet-destroying belch before collapsing into itself and becoming a white dwarf. It is blistering on Earth's surface; all the vegetation has been blasted; the oceans and rivers dried up; and the fish and animals turned to ashes. Only humanity, all cleverness and life instinct, survives. We are holed up in the dark tunnels of the underground, feverishly trying to create a singularity which will generate a baby universe – one with a planet to which we can escape. And we listen to Radio Apocalypse, which brings us the sounds of times gone by – the roar of the Ocean against the shore, or a thunderstorm – interspersed with manic interviews with the age's celebrities. (The announcer, interviewing the last man to stand on the surface: "And how is your wife." His reply. "She's dead.")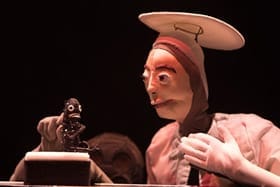 Wakka Wakka holds on to a single word – baby – to create its fictional universe. In Baby Universe, a new Universe, once created by a big bang (and, trust me, it is a big bang) is a baby – the size of an enormous flying ant – entrusted with his own mother, who nurtures him (and it is a him, with his own celestial – well, you can guess) into an adulthood in which he is…well, as big as the universe.
Since even Patrick Stewart could not play The Universe, Wakka Wakka turns to puppetry to create its characters: the Baby Universe; his assigned mother, who embraces him with the tender pity and hopeful compassion of a real mother; the chief scientist and his assistant, who see in him (unlike the seven thousand failed baby universes before him) as the hope for mankind's continuance; his unsympathetic monitor; and his array of antagonists – desperate Mercury, already under immense pressure from the Sun; the spidery Moon, who prides himself as a pied piper who leads incipient universes to their dooms; braggart Mars; blustery Jupiter; and the depressed planets Venus and Earth, who have resigned themselves to their fiery deaths. "I never cared for them," Earth confides to Mars, speaking of humans; and Mars, laughing, rejoins, "they never cared for you!"
Highly Recommended
Baby Universe
Closes July 14, 2013
The Studio Theatre
1501 14th St. NW
Washington, DC
1 hour with no intermission
Tickets: $39
Tuesdays thru Sundays
Details
Tickets
And standing above them all: the überantagonist, the Sun himself – nine feet tall, a horror of sadness and rage, dying, and determined to take all with him.
The puppets, moved by puppeteers who are dressed somewhat to resemble the storm troopers in the Brewster Rockit comic strip, perform in a style which parallels, but is not, bunruku. The puppeteers move without intruding, and our emotions are similarly moved. Let me say this again, and more slowly: the puppets move us emotionally.
This is a singular accomplishment, and evidence of high art. What Wakka Wakka realizes is that at bottom people seek to learn that life triumphs over death; that a hero is prepared to make sacrifices; and that love cannot be intimidated. And if it is done by puppets, and talking stars and planets, and singularities which exist in imaginary time, well, so be it.
————————
Baby Universe, produced by Wakka Wakka and Norland Visual Theatre . Directed by Kirjan Waage and Gwendolyn Warnock using puppets designed by Waage; featuring puppeteers Andrew Manjuck, Marta Mozell MacRostle, Peter Russo, Waage and Warnock; costume and mask design by Warnock; music composed by Lars Petter Hagen; set design by Wakka Wakka and Joy Wang; Lighting design by Alex Goldberg; Set Design by Brett Jarvis; video by Naho Tarulshi. Gabrielle Brechner was the producer; Jesse Aashelm was the production manager; Ruth Anne Watkins was the production stage manager, and Mike Donohue was the technical director. Presented by Studio Theatre . Reviewed by Tim Treanor.