The principal lesson of Adventure Theatre's curiously inert and un-Adventuresome production of the Dr. Seuss classic appears to be watch out for mom, since the shenanigans our laid-back Cat in the Hat (Rick Hammerly) proposes to Sally (Jessica Shearer) and her brother (Tyler Herman) are so mild and slo-mo that they could be offensive only to a fish (the excellent Alex Vernon).
If you are thinking of taking the kiddies to see this show you have probably read the book (or had it read to you), but to refresh your memory: it is an exceptionally cold and rainy day (Luciana Stecconi's set is suitably Seussian) and our two young people are bored out of their ever-lovin' minds (this was written before the Internet or 24-hour cable). Suddenly, the Cat appears, full of Old Nick and with an agendaful of fun – of, as he points out, the funny variety.
What does that mean? Well, for one thing, it means balancing on a ball while holding many items – including the vigorously protesting fish – aloft with various parts of his body. It means opening a box to unleash Thing 1 and Thing 2 (Julia (Lulu) Knowles and Leah A. Snow, respectively; in other shows these roles are played by Alison Cenname and Cassie Cope) so that they can fly kites in the house. It means crashing, smashing, and creating a mess. It means using a contraption never before seen by human eyes (Andrea "Dre" Moore is responsible for it, and all of the contraptions) to clean up the house. It means, in short, being a kid.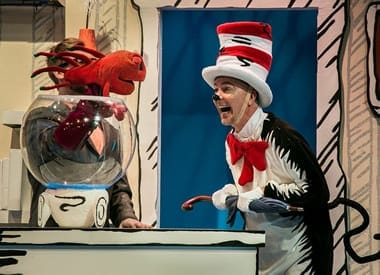 Being a kid has these things in common with good slapstick comedy: it is funny, fast and loud. Adventure's Cat in the Hat, on the other hand, is slow and decorous. There is a telling moment when the Cat, having been too ambitious in his balancing act, comes crashing to the ground; director Karen Abromaitis has her cast grab the prop pieces and float them slowly to the stage, as though she was worried about breakage.
The same ethos prevails throughout the production: during the most chaotic moments, the cast seems to be observing invisible speed limits, and when they crash into each other – as Sally does memorably with her brother – they seem to do so deliberately, even delicately.
There is a crucial moment where our protagonists must realize that the disorder the cat has unleashed is wrong, and not just because mom's coming. They must recognize that Thing 1 and Thing 2 represent savagery, and that is why they need to be netted and returned to their box.
That moment never comes in this production; Knowles and Snow are graceful, funny and absolutely adorable, and it is inconceivable that they would be dangerous.
Somewhat Recommended
The Cat in the Hat
Closes Sept 2, 2013
Adventure Theatre MTC
7300 MacArthur Blvd
Glen Echo, MD
42 minutes without intermission
Tickets: $19
Saturdays, Sundays and Mondays
Details
Tickets
So I am confused as to why Sally and her brother suddenly turn against the Cat and the Things, and I will assume the 3-to-6-year-olds who are the target audience are equally confused. Here's something even more confusing: for most of the play, Vernon serves as both voice and puppeteer for the fish. He holds the fish on a large stick, and voices his line from his fishbowl or pot, as required. But eventually the Cat grabs hold of the fish, and then stares down the fishless puppeteer for a
mano a mano
confrontation. What is this, some sort of mind-body dichotomy thing? Which is the fish? The squishy puppet in the Cat's hand, or the snorting, furious puppeteer? If my mommy were still on the planet, I'd ask her to explain it to me.
Permit me one final rheum: on the afternoon I attended, the background music wasso loud that I could not distinguish the actors' words except for the cannon-voiced Mr. Vernon.
Children's theater is different from adult theater, but that doesn't mean it's less difficult. In fact, it's probably harder: the target audience lacks the broad frame of reference which adults bring to a production, and so everything must be made clear and vivid. Over the past five years, no one has understood this better than Adventure Theatre, which consistently brings high-quality productions to its Glen Echo facilities. Regrettably, The Cat in the Hat wasn't one of them.
———————
Dr. Seuss' Cat in the Hat, adapted by Katie Mitchell from the story written by Theodor Geisel (aka Dr. Seuss) . directed by Karen Abromaitis, assisted by Adi Stein. Featuring Rick Hammerly, Jessica Shearer, Tyler Herman, Alex Vernon, Julia (Lulu) Knowles, Leah A. Snow, Alison Cenname and Cassie Cope. Narrated by Guy Raz . Set design by Luciana Stecconi . Costume design by Kendra Rai . Properties designer by Andrea "Dre" Moore . Puppet Designer Eric Brooks . Lighting design by Jason Aufdem-Brinke . Sound Design by Neil McFadden. Madeleine Evans, assisted by Julie Roedersheimer, was the stage manager.