Grieving the sudden death of a cherished person is a most personal process, not bound to an expiration date or applied formula. The passage from shock to acceptance is a campaign for control over pain and a rationalization of the unfathomable.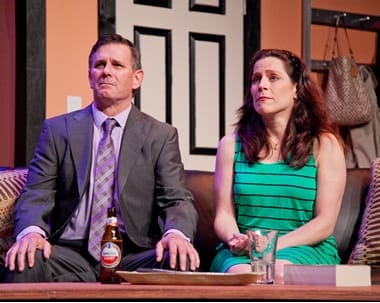 Becca, a mother bearing the death of her four-year-old son in David Lindsay-Abaire's Pulitzer Prize-winning Rabbit Hole asks if the loss she feels will be with her always.
The answer she's given is yes. But that it gets easier. Like something external you carry with you instead of the knot in the pit of your stomach. And you feel the need to keep it, and dwell on it from time to time, because it's what you have instead of your son.
Rabbit Hole lives in the miasmic months after the child Danny's horrible death in a car accident. The mourning parents Becca (Susan Marie Rhea) and Howie (Mark A. Rhea) each suffer through the tragedy in their own way, in isolation, and those silos inevitably conflict.
She furiously scrubs away at any reminders of the little boy who lived in their home while he appears to be coping better above buried anger and pain. She wants to sell the house "because Danny's everywhere" while he watches home movies of his son, furtively, late at night, in the dark, alone.
Everything said and done, from the well-meaning to the oblivious, signals their tragedy.
Guilt and blame drive recriminations, at God, the world, each other and themselves: "Dogs chase squirrels." "You bought that dog." "I'm the one who left the gate unlocked." "I'm the one who went inside to answer the phone." "If I only hadn't called, she wouldn't have answered the phone."
Lindsay-Abaire's script is a gem, leavened with grace and wit. His trademarks—humor, honesty, nuance, originality—are all on display and finely directed by The Keegan Theatre's Kerri Rambow.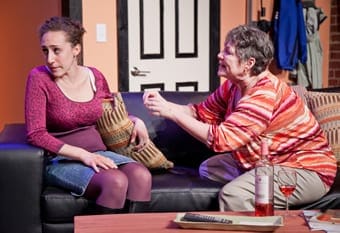 Rambow's measured, understated production is gentle and honest, building a seamless progression of tone and tension. The play never takes the lazy drop into mawkishness. Characters are fully fleshed out, the relationships feel authentic, and the precarious see-saw between pathos and humor is handled ably.
Portraying Becca, Susan Marie Rhea is a standout. Along with the script, she is the reason to see this play. She's a constant, never wavering in authenticity as she leads or reacts to others. Becca's fragility is evident; a lesser performance might carry over into shrillness, but Susan Rhea's natural warmth allows her the anger and frustration of the character. She's sympathetic all the way through. Her performance not only expresses Becca's revolutions around grief but also on the personal margins of healing.
Highly
Recommended
Rabbit Hole
Closes July 21, 2013
The Keegan Theatre
1742 Church Street, NW
Washington, DC 20036
2 hours with 1 intermission
Tickets: $30 – $35
Thursdays thru Sundays
Details
Tickets
Her pivotal second-act confrontation with Jason (Patrick Joy) the teenage boy who accidentally killed her son, has the audience hanging on every word and gesture. Lindsay-Abaire, as is his wont, doesn't deliver the usual theatrics, but instead plays it coolly awkward. The scene may be a little too cool, until Becca's sudden and momentary breakdown, delivered with such raw power by Susan Rhea that the hurt was physically felt throughout the house.
I can't say the same for her real-life husband Mark Rhea, playing the role of Howie. I've always felt his range is limited and here again his performance is forced whenever Howie is asked to express emotion, complete with scrunched face and molasses movement.
Shayna Blass as sister Izzy and Linda High as mother Nat are both strong in supporting roles, especially High, who knocks the script's laugh-out-loud funny moments out of the park while at the same time conveying experience and empathy.
Rabbit Hole is a quiet play, weighted with details. In the end, Becca and Howie seem to agree to break out of their silos. They'll tackle the day-to-day together, as a team. I felt that bode well for them. There's life in healing.
—————————-
Rabbit Hole by David Lindsay-Abaire. Directed by Kerri Rambow. Featuring Susan Marie Rhea, Mark A. Rhea, Shayna Blass, Linda High, and Patrick Joy. Set design: 4Points Design Collective. Lighting design: Megan Thrift. Costume design: Kelly Peacock. Sound design: Tony Angelini. Hair and Makeup design: Craig Miller. Produced by The Keegan Theatre. Reviewed by Roy Maurer.