As the father of two daughters, ages 7 and 16, I have seen an endless amount of live children's programing over the last decade and a half, and the tally includes approximately 50 puppet shows.
So, as I headed to the Puppet Co. Playhouse at Glen Echo Park to see its latest offering, Dinosaur Babies by the acclaimed puppet company DinoRock Productions, I brought along my youngest, Cassidy, to help judge its entertainment value. After all, the show is geared towards those her age and younger.
DinoRock has a long history of puppet shows revolving around dinosaurs, first starting in 1984 by co-founders Ingrid Crepeau and Michele Valeri, who both starred in this production. Their veteran stage presence was an asset in this show as they were able to deal with everything from a crying baby to someone pointing out a dropped prop to even a kid punching the puppet! What may have thrown less experienced performers was quickly improvised by the pair.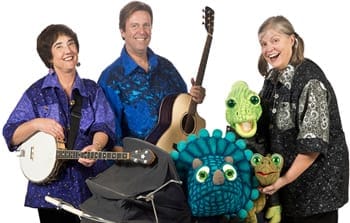 The story of Dinosaur Babies is one that resonates with a lot of children; Nelson had seen a movie about dinosaurs—a subject he had  a keen interest in—but was now having scary dreams. He was afraid to sleep and the puppeteers, called "Dream Weavers," came to sing and help. By introducing baby dinosaurs to his dreams—with the help of the children in the audience—Nelson is able to think about the thing he loves without being scared.
Crepeau handled much of the puppet work, transforming from one dinosaur puppet to the next, even donning a life-size costume at one point. Valeri handled more of the storytelling and guitar playing, and worked the main puppet, Nelson. A third performer, Steve Little, also sang and provided musical accompaniment. Playing the newest member of the "Dream Weaver" crew, Little's character "Stretch" seemed to learn valuable lessons about dreams as the audience did.
A large part of the show focuses on audience interaction, as the children are asked to sing along, holler back phrases (like "Crash, Boom Bam!), and dance in their seats. At one point, Valeri brings The Quetzalcoatlus Kid, a bird-like puppet, to take flight above the children.
Recommended
Dinosaur Babies
Closes July 28, 2013
40 minutes
The Puppet Co
7300 MacArthur Blvd
Glen Echo Park, MD
Tickets: $10
Thursdays thru Sundays
Details and Tickets
Cassidy's favorite part was a baby Triceratops who repeated "hi" over and over and over, interrupting the action on stage to the delight of all the kids on the carpet. Just as it is with live actors, timing is everything, and the puppet's knack for interruption was spot on.
The show does delve into the nightmare part of the dreams—but only by darkening the stage and having the Dream Weavers realize that their job isn't "a piece of cake," and its through fun songs and laughs that the images turn friendly again.
It's all very tame, and those with little children shouldn't worry about anything that could cause real nightmares. I would expect children eight and younger will get a kick out of the different character puppets and it doesn't talk down to kids the way some shows do. It recognizes that nightmares are a real problem and offers fun solutions on how to help have good dreams.