Sapphire is hard to stomach. Written by God's Boo and directed by Tyrell T. Lashley, the play involves a series of unflinchingly revealing therapy sessions between a troubled middle-aged woman named Kitee (O&B Production's Terrie Edwards) and the therapist (Leslie Barnett) she's come to for help. While we don't know what's ailing Kitee from the onset, what we do know is that she ails us.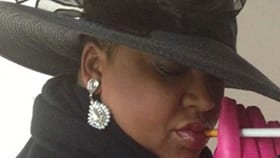 Kitee is a difficult person to like even as you hear her recount the sordid details of her dysfunctional home life and litany of abusive relationships. Kitee is crass, loud, and relentlessly obnoxious. She's the type of person who left her first therapist for asking her too many questions and who justifies abandoning her children for a boyfriend by blurting out, "I liked him on my breast way more than I liked my little boys!"
Through her sessions, we learn increasingly disturbing details about Kittee's history–how she grew up, how she met her husband, and how a rough childhood prefaced an even rougher motherhood. While this may sound like a person that wouldn't provoke anything but genuine sympathy, there's a disarming lack of empathy in both Kitee as written and Kittee as Edwards delivers her that would drain even Mother Theresa of all understanding.
Sapphire
by God's Boo
90 minutesat Warehouse
645 New York Ave NW
Washington, DC, 20001
Details and tickets
Edwards does a good job of making Kitee so loathsome she's almost unwatchable, which made me wonder if the story wouldn't have run more smoothly if she dialed it down a notch and aimed for a more subtle delivery. That being said, there were times when Edwards skillfully conveyed the nuances in her psychologically unhealthy character's personality, such as her surprising reaction when her therapist persists with an uncomfortable question.
Leslie Barnett does a likable delivery of Kitee's therapist, at many times breaking her clinical guise to mimic audience reactions of bewilderment and disgust, making it evident that it was Sapphire's lead character that was warped, and not its entire universe.
Towards the end of Sapphire there is a 15-minute or so audience participatory segment that can either enhance your enjoyment of the play or leave you incredibly frustrated, depending on what your feelings are on checking your critical thinking skills at the door.