The six foot tall panda bear that saunters onstage in the middle of Natsu Onoda Power's beguiling new ensemble show is rather unexpected. Unless, that is, you've gotten to know Onoda Power's work over the past few years.
For those who have brushed up against her playful sense of humor in other original projects around town — most recently A Trip To The Moon at Synetic Theater and Astro Boy and the God of Comics at Studio Theatre 2ndStage — the panda cameo helps create one of her favorite kinds of moments: those that are literal and metaphorical at the same time.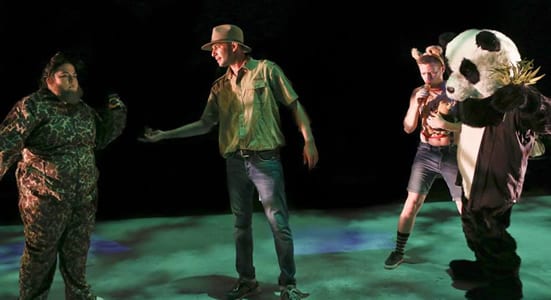 If the idea of a real panda showing up at the Green Lantern — one of DC's better-known queer bars — to dance with the type of large, hairy fellows referred to as 'bears' in the gay community makes you chuckle, come see The T Party. But even if not, come anyway. Forum Theatre's very smart move to take Onoda Power on board, albeit for a limited run (the show only plays through Saturday) delivers a supremely enjoyable show that hits big social and personal questions head-on in the least pedantic way possible.
Performed by eight impressive and tireless cast members, The T Party is one of the most important shows you'll see this year. And one of the most fun times you're bound to have at the theatre this year, too.
The literal bear dance is but one strangely effective moment in a show full of wonder, teamwork, and endless play-making. It's unabashedly whimsical fun, but it's also a thoughtful investigation into the difficult paths people walk as they learn to reconcile who they see on the outside with who they know on the inside.
And it's the modern stories of the transgender community in particular — sometimes collective, sometimes achingly individual — that Onoda Power and Forum have set their sights on.
The curiosity and respect they bring to this world of stories is enchanting. Each scene is a five-minute playlet unto itself, and the show's ability to skip seamlessly between them builds a sense of momentum, making the full-length show feel like a colorful living mix-tape of stories.
Highly Recommended
The T Party
Closes July 27, 2013
Round House Theatre – Silver Spring
8641 Colesville Road
Silver Spring, MD
1 hour, 30 minutes with no intermission
Tickets: $24
Thursday thru Saturday
Details
Tickets
It's hard to explain how, exactly, this string of playfully cerebral skits gets at some of the most interesting issues among the T community so effectively. But armed with a great collection of actors and designers, Onoda Power (who is a multi-talented designer herself, and who teaches theatre at Georgetown) makes even her most studious moments feel like recess.
The scenes are imaginative and diverse. Some feel almost like sketch improv, like the scene in which a kindergarten teacher, pressed repeatedly to explain to her students where babies come from, gives increasingly bizarre explanations. Some of the material is drawn from real-life stories, including from the writings of trans artists and activists living in the area. Much is generated by the actors (Allie Villarreal's performance halfway through the night of her poem "One" is just one great moment out of many). And some of the scenes are so gleefully demented — like, say, the quick little pop ballet all about the queer habits of dolphins — that you wonder how it all fits together so well.
But when the cast is enjoying themselves this much, magic is bound to happen. If you can't make it to the show before Saturday, keep your eyes peeled eagerly for Onoda Powers's next production. But if you can make time to catch this fun and insightful civic project, you'll see things you've never seen imagined onstage before. As you can imagine, it goes way beyond pandas.
————————–
The T Party . Conceived, written, and directed by Natsu Onoda Power . Featuring Jonathan Feuer, Zac Gilbert, Betsy Helmer, Rachel Hynes, Nehemiah Markos, Rafael Medina, Brendan Quinn, and Allie Villarreal .  Costumes Designed by Frank Labovitz, Sound Designed by Thomas Sowers, Lighting Designed by Zachery A. Dalton, Projections Designed by Sophia Lewin Adams and Alex Leidy, Props Designed by Kevin Laughon, and Stage Managed by Alli Wolf (assisted by Bobby Hunter). Produced by Forum Theatre . Reviewed by Hunter Styles
 More?
Christopher Henley talks with Natsu Onoda Powers