A night of Gershwin music?  We've all been there and done that, right?  If DC musical theatre mainstay Sandy Bainum's cabaret at Signature Theatre is any indication, the answer may be "well, not exactly."
To be sure, there's a reason many a cabaret artist throughout the years has looked to George and Ira Gershwin's catalog for source material for their acts.  Their numerous songs – many of which have withstood the test of time – are sophisticated and intricate yet also unequivocally relatable and entertaining.   Less common, however, is for one to create a cabaret that goes beyond featuring the songs the brothers wrote together and includes songs written with other composers.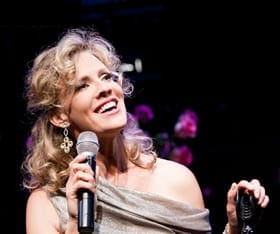 Sandy Bainum, most recently seen in Signature Theatre's Company and MetroStage's Ladies Swing the Blues, did just that with her cabaret act "S'Wonderful."  In collaboration with director Bruce Kimmel and her longtime award-winning music director Lanny Meyers, she featured the work of Ira Gershwin.  Though Ira is mostly known as a lyricist, collaborating not only with his brother George but other composer heavyweights such as Kurt Weill, Jerome Kern, and Harold Arlen, he also wrote the music for several memorable songs such as "Oh Me, Oh My, Oh You."  Together with a six-piece band featuring Meyers on piano, Bainum did well to feature both of these sides of Ira in her mostly well-constructed and thoroughly pleasant evening of song and Ira Gershwin stories.
As Bainum shared, she's been a longtime fan of Ira's lyrics, many of which she claims personally speak to her.  This appreciation for Ira's thoughts on love and life was abundantly apparent as she undertook his numerous romantic ballads and upbeat patter songs.  Her well-trained, lilting soprano voice also proved to be particularly well-suited to her song selections making her effort all the more impressive.  "By Strauss" – a Gershwin brothers' novelty song featured in Vincente Minnelli's The Show is On revue as well as the popular 1951 film An American in Paris – in particular allowed her to demonstrate her incredible vocal control and vast range while proving she's a naturally warm performer.
While Bainum was most effective in emotionally and technically delivering the numerous slow romantic ballads, with "How Long Has This Been Going On?" (from Funny Face) being a highlight, she also was delightfully charming as she took on the fast-paced, comedic list song "Tchaikovsky (and Other Russians)" made famous by Danny Kaye. Originally written with Kurt Weill for the 1950s musical Lady in the Dark, this tongue-twister song can either be a success or a failure when performed live because there are numerous opportunities for error.  Bainum's take on the song was certainly impressive as she managed to keep up the pace and not go off the rails while still appearing like she was having fun reciting numerous Russian composers.   It never rose to the heights of some other renditions I've heard from women of the musical theatre (for example, Christiane Noll's), but it was a worthy effort.
Likewise, while I could criticize Bainum for not putting enough of her own personal spin on each number phrasing wise – particularly with the better known numbers like "S'Wonderful," "They Can't Take That Away From Me," and "Fascinatin' Rhythm/I've Got Rhythm" – ultimately her 'tried and true' approach to singing the songs proved sufficient.  The material she selected and her voice are so strong that embellishments aren't necessarily needed to win the audience over with creativity. For those of us who are used to hearing these standards on a regular basis, it's always nice for there to be a few surprises in how they are performed.  However, those are just quibbles.
Ultimately, Bainum delivered a performance that would likely be the envy of many a musical theatre performer.   Professional, polished and engaging, it was certainly enjoyable.
This cabaret was a one-time performance on August 13, 2013 as part of Signature Theatre's ongoing Sizzlin' Summer Cabaret series which runs through August 17, 2013.