In Minneapolis, a company called
Mixed Blood
garnered national attention when it introduced its policy of "radical hospitality," essentially shifting to a "free entry" model. The Name Your Price-style ticketing now being tried by Forum Theatre all season and Theater Alliance for Thursday productions of
Brok-ology
is based on that experience.
In DC, in the early 1990s, Potomac Theatre Project eliminated ticket prices, instead passing the hat after each show. Charter Theatre did the same thing during the following decade.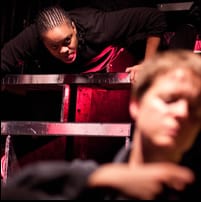 About the same time, Catalyst Theatre, in a similar vein, went to $10 tickets all the time, and at Signature Theatre (not ours, the one in NYC), ticket prices were reduced to $25, quite low for a theatre of its stature in a city with even higher ticket prices (and cost of living) than DC. The New York Times recently reported that Signature will be able to continue its subsidized ticket program thanks to a multi-million dollar grant from a foundation. During an interview, when asked if this demonstrated his interest in theatre, the head of the foundation said he isn't particularly interested in theatre, what interests him is accessibility to it.
Worryingly, the local companies mentioned above have either moved away (Potomac Theatre Project), folded (Catalyst), or significantly scaled back (Charter). Woolly Mammoth is the first theatre that I recall offering pay-what-you can (PWYC) previews, a practice that has been picked up by many groups subsequently. Lee Mikeska Gardner, who was my Managing Director at WSC Avant Bard, instituted a further iteration for us: we did (and continue to do) every Saturday matinee as PWYC. (I actually always disliked the formulation "pay-what-you-can"; it's not like we do an audit, "You're a dentist! You can pay $100!" Name Your Price is a more accurate description of the transaction, I think.)
Forum had done the same as WSC (PWYC Saturday matinees) and Theater Alliance (as I mentioned in an article last week) is doing Name Your Price Thursdays for its just-opened and well-reviewed Broke-ology. (When its Artistic Director Colin Hovde, during that interview, used the phrase "radical hospitality," I should have made it clear, as he did, that he was using the Mixed Blood lingo.)
The dirty little secret, by the way, about this sort of pricing is that Name Your Price performances (at theatres with prices in the vicinity of, or south of, $30, anyway) generally yield either more or within spitting distance of the fixed price performances. The dirty little obstacle is that, in a city with so much culture available without charge (beginning with the Smithsonian museums) and with a robust network of folks plugged into where to find free music and free film screenings, it sometimes is difficult to get listed on those sites if you fall into the "virtually free" category — another challenge for Forum Theatre.