Like any respectable musical theatre nerd, I reveled in seeing Hunter Bell and Jeff Bowen's 'little show that could,' [title of show], make it to Broadway in 2008.  The hilarious musical theatre jokes, strong score and book, and more than solid cast, it was all so good that – after seeing the insanely electric first preview – I came back to see it again for the last performance of the run.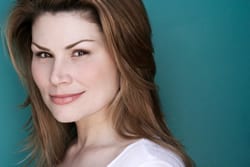 I say all of this because this show reintroduced me to the enormous vocal talent that is Heidi Blickenstaff and made me very certain that I'd want to follow her musical theatre career as it progressed.  She impressed me greatly as the lead in Ford's Theatre's production of Meet John Doe the previous year, winning a Helen Hayes Award for her efforts.  However, [title of show] allowed the musical theatre world and me to get to know her even better.
Blickenstaff's recent cabaret performance at Signature Theatre's intimate Ark Theatre – part of the musical theatre mecca's ongoing Autumn Cabaret Festival – allowed DC theatregoers to get to know her even more.  The engaging and down to earth performer, who made her Signature debut in Kander and Ebb's First You Dream in 2009 (later reprising the role at the Kennedy Center in 2012), shared a little of where she's been over the last half a year or so career-wise and, at the same time, proved her undeniable vocal and acting talent.
Accompanied by young music phenom Ryan Fielding Garrett on piano, she belted to the high heavens on a variety of old and new musical theatre numbers (no surprise there), but also displayed her probably lesser known ability to take on torch songs/standards and recent singer-songwriter pop hits.   Let me share a few of the evening's highlights.
Deliciously evil and over-the-top character roles?  These can be difficult to fully embrace in a cabaret setting, but Heidi certainly overcame that challenge and then some.   Yet, she also proved she could take on some of the emotionally-charged music written for the theatre in recent memory.  That's versatility.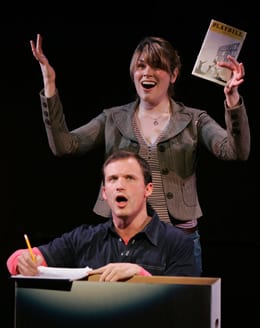 Heidi may self-identify as having been an avid lover of "Tomorrow" and "Maybe" as a child and even playing the title role in Annie for a year in a West Coast production, but she proved she now has the chops to take on Miss Hannigan.  Clearly, history shows that "Little Girls" is the kind of song that can still go over well if a non-singer performs it with reckless abandon, but there's something a bit more magical that happens when a real, trained musical comedy actress tackles it.  Certainly not a copycat rendition of Dorothy Loudon's, Ms. Blickenstaff's fresh interpretation of the classic is one to remember; it's too bad schedules didn't allow her to assume the role in the current Broadway production.
The same can be said for "I Want the Good Times Back," Ursula's introductory number from Disney's Broadway musical The Little Mermaid.   It's been a few years since Heidi played the role on Broadway (both as an understudy and replacement), but she certainly hasn't lost her touch with embodying the evil queen of the sea.
These songs from well-known musicals – along with her opener, the Stephen Sondheim-penned "There Won't be Trumpets" – were probably among the most crowd-pleasing of the night.  Yet, I was most appreciative of the fact that Heidi chose to explore her ongoing relationship with Disney not with another selection from yet another Disney blockbuster movie or stage musical – as many are prone to do – but with something a little less expected.
The lesser known Alan Menken number "Never Again" from King David has been featured on the Broadway stage – albeit in a nine-night concert run at the New Amsterdam Theatre – but it's one of those numbers that you rarely, if ever, hear except on the exquisite concert cast recording.   Heidi expertly traversed the engaging melody, highlighted the tenderness of Tim Rice's beautiful lyrics and simply gave a vocally stunning performance.   As an avid listener of the cast recording, I'd even suggest that it rivaled Judy Kuhn's.
Her emotion-filled song selections weren't limited to that one, however.
Ms. Blickenstaff most recently tackled the mammoth and monstrous role of Diana in Tom Kitt and Brian Yorkey's award-winning contemporary musical Next to Normal at Vermont's well-known Weston Playhouse.  "I Miss the Mountains" and "So Anyway" are among the musical's numbers that are probably covered the most in cabaret settings, but I was hugely impressed that Heidi transformed into Diana in mere seconds and fully captured her pain and dilemma in a raw and real way.  She made it abundantly clear that her sharing of these emotional songs wasn't intended to just display how she's vocally equipped to tackle the difficult and rangy music – although it's clear that she is – but to fully embody the complex character.   That's almost never the case when contemporary Broadway divas take on these numbers in concert settings.  What a treat.
As brilliant as her performances of contemporary showtunes were, it was her take on Vernon Duke's "April in Paris" that really caught my attention.  It's always wonderful when a performer decides to dust off songs that we might not have heard in years or, in the case of younger audience members, never heard.  In this case, she not only did that, but commanded the stage with technically stellar vocals.
Other moments in the concert were memorable for different reasons. Sara Bareilles' recent "Manhattan" couldn't be more different than "Lawn," a selection from John Kander and Greg Pierce's still-under-development dark musical Kid Victory.   The former is emotionally evocative in a subtle way, and what you get from it is largely person and situation-dependent.  The other is one of those clever numbers that you know definitely has a purpose and place in a certain musical at a certain point in the storyline.  Yet, despite the vast difference in context, Heidi's interpretations of the new material made it nearly impossible not to feel something.
Indeed, the evening was all about feeling something and listening to some really great singing. I won't soon forget it.
An Evening with Heidi Blickenstaff played two performances at Signature Theatre on September 13-14, 2013.
Remember this? Heidi Blickenstaff in the world premiere of Meet John Doe at Ford's Theatre.