Closing out Signature Theatre's first Autumn Cabaret Festival, Nadine Zahr (understudy for Brother Russia and Side by Side by Sondheim) returned to the intimate Ark Theatre along with fellow NYC-based singer-songwriter Sharon Kenny.
The duo – with background vocals from Signature favorite Madeline Botteri – explored Nadine's serial dating tendencies in Los Angeles and New York City (where she is now based) and her pursuit to find and accept herself through mostly original songs and stories. For lovers of contemporary musical theatre, the two talented songstresses also expertly wove a few showtunes (or songs written by musical theatre composers) into their well-constructed set list. The end result was an honest and intimate look at the trials and tribulations of dating in the modern world.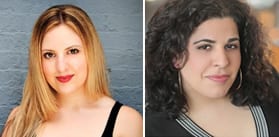 Kenny's piano-based original music offered an eclectic mix of comedic/angry tales about being a 20-something artist in New York City's dating scene ("Nerd Playa," which hilariously laments a choice to date a hipster).  However, like many singer-songwriters who have come before her, she also shared numerous songs about heartbreak ("Fallout Shelter" and "Different Bodies") and botched relationships ("Uncomfortable Strangers") that might find resonance with nearly every age group.
She also explored the emotional resignation that occurs upon the realization that a relationship is indeed over with "Quiet Violence."  This haunting song, which was oddly enough featured on the television show Dance Moms, was Kenny's most solid performance of the night.  It was nicely suited to her pop vocal stylings while also showcasing her ability to write complex and interesting lyrics that extend far beyond the surface level.
Zahr's acoustic guitar-driven music thoughtfully explored some of the same themes, but in most cases, with less of a modern 'punk' edge.  Her self-penned songs like "Yes" revealed the happiness that comes when romance goes right (at least initially).  Songs like "Sunset" had a more hopeful edge that love – the kind that goes beyond a good 'one night together' – might endure beyond a fleeting moment in time.   While all her numbers showcased her impeccable voice – the kind that features a tone that would have most singers green with envy – "Sunset," in particular, really allowed Zahr's signature powerful vocals to soar and she combined them nicely with real emotion.
A series of cover songs also proved to be solid means for exploring Nadine's life as a serial dater.  Stephen Sondheim's "Another Hundred People" (from Company) provided fodder to express the opportunities and frustrations that go along with dating in New York City. Likewise, "Blue Horizon" from Kooman and Dimond's debut album Out of Our Heads: The Music of Kooman & Dimond, Patty Griffin's "Let Him Fly," and "I'm Here" (from the musical The Color Purple) appropriately conveyed her realization that she needed to first accept herself and make a new start before jumping into a relationship again.
While one might think Nadine naturally would have a more intimate connection with the lyrics she wrote herself, she was equally as successful in bringing new meaning to the cover music she selected.  Her rendition of "I'm Here" was particularly noteworthy for its originality.  Less of a gospel-infused number than it usually is, she toned down the vocal runs that others usually include and made it appropriate for an intimate singer-songwriter cabaret.
It's not exactly a new idea to use personal dating and relationship experiences as a means to focus a cabaret performance.  Even Broadway singers like Christiane Noll have previously organized song selections around the chronological process that one goes through in finding love (case in point: her album A Broadway Love Story) just as Zahr and Kenny do in this show.  Nonetheless, what sets Zahr and Kenny apart is that they were able to successfully merge their original music, showtunes, and covers of pop songs to explore this universally relatable experience in a cohesive way.
At times I must admit that I wanted them to simply share their personal experiences through songs rather than extensively set up each number with stories or scenarios. One might give the audience some credit in figuring out what a song means on its own by only providing a few words of introduction to set the tone and context of the song.  Kenny, in particular, seemed a bit prone to rambling while setting up her songs (leading me to think that 'less is more') although she was thankfully much more articulate in her musical numbers.
However, one can easily forgive these relatively young writers for these possible errors simply because their songs were so well-constructed.   Their solid instrumental skills (particularly Kenny on piano) and voices (Nadine's in particular) made them all the more enjoyable to hear.
The finale, a performance of Marcy and Zina's popular "Love Like Breathing," was a perfect way to end the night.  A very high point in a sea of many high points, all three talented young ladies were given a chance to soar vocally and lay out the final message that once you really find love, it's cause for celebration.
This cabaret was a one-night-only performance on September 21, 2013 and closed out Signature Theatre's Autumn Cabaret Festival.