In Lisa D'Amour's Detroit, Woolly Mammoth faced overlapping challenges to bring the show together. The play calls for a set in which two houses face each other across a shared back yard: One household well-maintained, but perched precariously on the brink of ruin, and another that has already begun a descent into decay.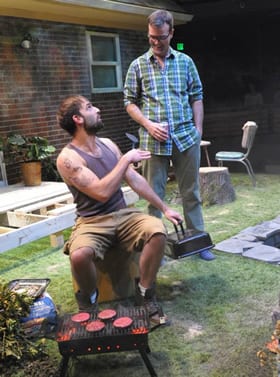 In addition to two fully-realized façades, complete with lawn furniture and a gas grill, the creative team at Woolly opted to erect a new audience section on what is normally their stage: So while the two houses face off throughout D'Amour's funny, unsettling play, the audience look past the action on stage and see more of themselves staring back at them.
Set designer Tom Kamm has embraced the themes of neighbors and the current tensions of economic uncertainty, with endless details throughout the design that hint at chaos and destruction creeping in through every crack.
[nggallery id=18]
All gallery photos by Ryan Maxwell
Detroit
Closes October 6, 2013
Woolly Mammoth Theatre
641 D St NW
Washington, DC
1 hour, 45 minutes, no intermission
Tickets: $25 – $87
Wednesdays thru Sundays
Details
Tickets