For someone who plays a suicide bomber every night, Estelle Parsons keeps an awfully sunny disposition. The Oscar-winning actress, 85, is in DC to play Alexandra, the headstrong protagonist of Eric Coble's new play The Velocity of Autumn, in what may turn into a pre-Broadway run but can be seen now at Arena Stage. Alexandra's not going down without a fight — and it's a fight Parsons can't wait to have.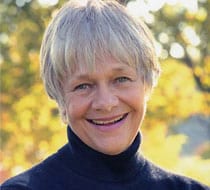 Her enthusiasm is evident even during the early hours of our phone interview. "I've never read a play quite like this," she says. "It's unique, and it drew me in right away. I knew after reading the first four or five pages that I wanted to do it. Theatre should be full of surprises, so I love seeing something that I've never seen before."
Alexandra poses a great danger to herself and to others — the play begins with the septuagenarian, feeling spurned by her family, deciding to seize control of her destiny by locking herself in her Brooklyn brownstone armed with enough explosives to level the block — but such bombast is fueled by deeper, more personal chemical reactions happening below the surface.
Danger takes many forms, and it's the kind that flows from challenging material that Parsons most relishes onstage.
"It's a really, really hard play," she explains. "It looks deceptively simple, but the emotional journey is actually really hard. It's a show about people getting old and dying, which is nobody's favorite subject. But it's very funny."
Alexandra's got a lot to say on the subject, which is something Parsons appreciated when Molly Smith, Arena's Artistic Director and the director of the show, sent her the script in the first place. "Sentiment invades a lot of the conversations we have about older people. And parts written for older actors in these kinds of stories are often kind of boring. But this woman is so feisty. She's going to go down in flames in order to get her own way."
Alexandra's estranged son Chris, played by Stephen Spinella, arrives to talk reason into his volatile mother. Turns out he isn't going to go gently either. "Stephen has some of the biggest laughs of the night," Parsons explains. "Both parts are equally funny."
Although, she adds, it wasn't always clear in rehearsals how funny the show was going to be. "It's billed as a comedy, but it was difficult at first to see what was so funny about it. Some of the out-and-out jokes were clear enough, but sometimes we'd wonder where the humor comes from, since the show talks mostly about death and getting older."
And then, somewhat mysteriously, the ingredients began to combust. Parsons suspects it's all that aggressive flame-fanning from Alexandra. Through her strange, passionate lens, we begin to see ourselves.
———-
A long-time resident of New York City, Parsons grew up in Marblehead, Massachusetts. "People don't talk about this subject in such a direct way where I come from, she says. "But this play is willing to speak those truths about dying that no one else will say. It's written very close to the bone — you hit a lot of emotional bumps along the way. I think that's why the audience loves it. That's certainly why it's so fun to play."
Parsons has been on stage since 1961, following some early work as a commentator and producer for The Today Show before it went on the air, and the past five decades have been most exciting when the next project coming down the pike has been something brand-new.
"I hate to repeat myself, she says. "If I read something and it feels like something I've done before, I set it aside. I like to be in on pioneer efforts. And every new play is a pioneer effort."
Parsons occasionally directs and takes up workshop projects as well. But the acting comes first."People are always asking me to read their plays, but I don't always have an opinion to give," she confesses. "Really I read plays to look at a character."
And when those great roles come along, as they do from time to time? "I do them, or I don't do them. But what I really don't do is analyze. I don't look at plays that way. Everyone's very busy analyzing plays, and it just makes me wonder: how can you act in a play if you've already analyzed it? I just go out there and do something, or something happens to me. I've worked in theatre all my life, and that always works out."
And what about a play like this, which is so rooted in family dynamics? Does she draw experiences from her own family into her work?
"I don't work that way. I watch everyone all the time — everyone you meet and everything you see is fodder for your acting. But not my family particularly. Families are families, made up of very special relationships. I don't think you want to mess with that."
———-
"Sometimes I think I'm spending my life reading bad plays instead of great literature," she adds. "Fortunately I'm reading 'Anna Karenina' right now. God! Reading a chapter of that book is like eating a great piece of cake, every time."
What else keeps an actress sane while performing a role like this? "I've been getting around to see all the memorials I haven't seen before, like the FDR Memorial and the Martin Luther King, Jr. Memorial. I've been renting bikes. I go to the gym every day. Sometimes I just like to walk around by the water. Anything that gets me on my feet and out the door."

Recommended
The Velocity of Autumn
Closes October 20, 2013
Arena Stage at the Mead Center for American Theater
1101 Sixth Street, SW
Washington, DC
1 hour, 25 minutes, no  intermission
Tickets: $70 – $113 (prices may change)
Tuesdays thru Sundays
Details
Tickets
Not restaurants, though. "I hate them. I worry sometimes that going out to restaurants has completely replaced going out to the theatre. I don't go to them if I don't have to."
As for what's coming up, Parsons has a few balls in the air — she's particularly excited about a project she's been collaborating on with Rachel Dickstein called Lear's Shadow, debuting next season with the New York group Ripe Time — but a break may be in order soon.
"It's time for me to take some time off," she says. "I've been working steadily for the last five or six years, and I haven't been able to do anything in my 'real life' for a while. I got the chance to go to the Galapagos and to Machu Picchu last year, and I'm hoping to travel more. I'd love to get down to Argentina, and I'm hoping to go to India over Thanksgiving."
Some might argue that there are easier ways to relax than traveling around the world."I know. I think I've got to stop taking up challenges," she says.
She's a wonderful actress. But on that last point, as well-delivered as it is, we're not totally convinced.