The man in the pig mask looks over the reservations for your name. He is having difficulties, and is not helped by the fact that he is in handcuffs. "Look harder," says his mistress, who is wearing a lusty bustier. "Harder." She smacks him with her riding crop: whappo. "Thank you, mistress," he says.You are ushered into a constricted waiting space, all brick and black curtains. There is a bar, and a place to buy candy. Men in bustiers and skirts bustle about. One offers to hold your glass, although it is hard to make out what he is trying to say over the jackhammer din of Depeche Mode. A man crouches within a wire cage designed for a medium-size dog.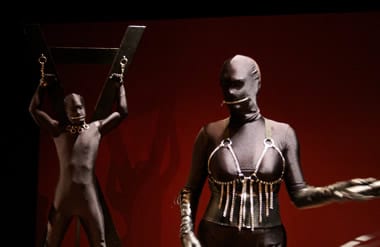 And then: the main course. We move to the Anacostia Playhouse's main seating area. On stage, a man (Jacob Yeh) stands locked to a Saint Andrew's cross. His mistress – Mistress Teri (Allyson Harkey) – releases him. They are both covered, head to toe, in form-fitting black Zentai suits which vaguely recall fencing attire. Unloosed from his bond, he crawls across the room, the metal in his outfit clanking against the floor. He squats, prone, before her. They begin to play.
For David Henry Hwang, bondage is the frame, but it is not the game. Nor – though it seems otherwise at the outset – is race the game. Mistress Teri starts the festivities out by assigning roles: her submissive is to be a Chinese man (she puts nerd glasses on his spandex-covered face) and she is to be – a blonde. She annihilates her submissive with racial stereotypes: she wants his expert help with her physics homework, but will not date him on a bet. They move on to other stereotypes: Mistress Teri is an African-American woman, and her submissive is…a liberal white man. The submissive is an Asian man, and Mistress Teri is…an Asian woman. In every scenario, the submissive gets it in the neck.
Though race is a factor in the submissive's humiliation, Hwang gives us no insight into race or racial stereotyping. The real subject appears to be how difficult it is to say this: I am attracted to you, and I would like to begin a relationship that will eventually include sex. The man tries to approach Mistress Teri in her various roles half a dozen times in half a dozen ways; each time she sneeringly dismisses him as…a man who wants sex. "Live in fragments no longer," E.M. Forester wrote, "Only connect." But Mistress Teri is there to assure the disconnect.
Oh, well. It is S&M, after all.
Pinky Swear delivers all this in a competent, even inspired, fashion. Harkey is particularly good with dialect, presenting credible, non-stereotypical characters with just a hint of an accent. Yeh brings truth to his character's passion; we can sense it growing outside the roles he assumes in bondage and reaching out to Mistress Teri herself. Even though Mistress Teri is swaddled in a costume which makes her as attractive as a mummy wrapped in black tape, we can see, and appreciate, the powerful pull she has on Yeh's character.
Somewhat Recommended
Bondage
Closes November 23, 2013
Pinky Swear Productions at
Anacostia Playhouse
2020 Shannon Place SE
Washington, DC
1 hour no intermission
Tickets: $20
Thursdays thru Saturdays
Details
Tickets
 
The problem is that this immoderately talky play is full of false starts and dead ends. The play is set in a bondage den (nice set by Chris Holland, by the way), but Hwang has nothing to say about bondage or about what its popularity says about us. He puts his characters through race-based humiliations but his depictions of racial stereotypes (Chinese men are brainiacs but not sexy; African-American women, regardless of accomplishment, are uninhibited sexual athletes; and so on) are commonplace. When he gets down to dialogue about the difficulty men and women have connecting in this politically volatile age, he has some real insight, and he expresses it beautifully. But the dialogue he writes could have been staged in a Starbucks, or somebody's living room.
Pinky Swear doesn't help matters by wrapping the storytelling in a faux-bondage setting. The man in the pig mask – the guy in the cage – none of this helps us to take the play seriously. And, though Bondage has several very witty lines, it is not a comedy, and its subject matter is a profoundly serious one.
What Bondage appears to me to be, at bottom, is an essay – a good one, nicely delivered by the people charged with that responsibility. But in an hour devoted almost exclusively to talk, I wish Hwang had given us something more focused and less gimmicky.
———————-
The pre-show Parlour: concept: Karen Lange . Directors: Amy Couchoud and Ouida Maedel . Featuring: Jennifer Bevan, Mike Cafarelli, Jason Chang, Melissa Hmelnicky, Jon Jon Johnson, Karen Lange, Anna Lathrop, JR Russ.
Bondage by Henry David Hawng . directed by Toni Rae Salmi assisted by Shane Solo. Featuring Allyson Harkey and Jacob Yeh. Lighting and set design by Chris Holland . Costume design by Liz Gossens . Props design by Sarah Conte . Sound design by Kenny Neal . Lucas Zuniga was the technical director and set construction was done by Renegade Design and Michael Salmi. Ruth Anne Watkins was the stage manager, assisted by Tre Wheeler . Produced by Pinky Swear Productions . Reviewed by Tim Treanor.