Lyle's a class-act. He cleans, serves and can save the day—that is, if you are willing to look beyond his reptilian snout and sharp incisors. He may be green, but he's an extraordinary crocodile with a performance past.
The Primms (Jobari Parker-Namdar, Ashley Foughty, and David Landstrom) are shocked to find Lyle bathing in their new house on 88th street. Lyle, mild-mannered and helpful, proves himself a kind friend and wins approval of the neighborhood folk, except one. Mr. Grumps (Michael John Casey) and his kitty, Loretta, scheme to oust the gentle croc. Lyle endures threats and a stint in the zoo before saving the acrimonious duo from a house fire with the help of Hector P. Valenti (Matthew Schleigh), star of stage and screen.
Lyle is from a series of children's books (ages 4 and up) written in the 1960s by Bernard Waber. His timeless tale about acceptance is worth revisiting for adults as much as children. The simple story's stage script (adapted by NPR commentator Kevin Kling) packs plenty of wit for all ages and a jazzy score and snappy dialogue (all puns intended) bounce it briskly along.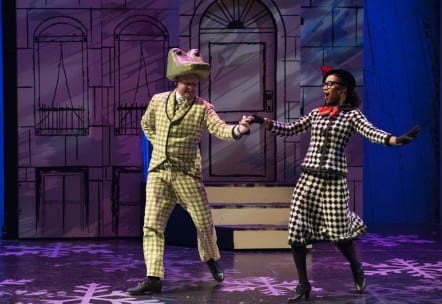 As the show opens, winter wafts about a black and white cityscape bedecked by red and green lights. The costumes—poodle skirts and colorful spats—provide a dash of nostalgic whimsy, reminiscent of the 50s. Subtle nods to the holiday season sprinkle throughout the production. Magic is in the air.
Parker-Namdar, Foughty, and Landstrom play the Primms with a Cleaver-ish sensibility and innocent candor. Everyone is good, but this is Lyle's show, and Kurt Boehm, playing the titular croc and serving as the musical's choreographer, gives the production its sense of wonder, some sweetness and a whole lot of charm. His choreography takes from the greats—the Charleston and the Rockettes—resulting in toe-tapping fun. The musical numbers (and a parade) are tap heavy but sublime, especially when the whole cast glides in synch through an ice skating adventure at Rockefeller Center.
H

ighly Recommended
Lyle the Crocodile
Closes January 10, 2013
Imagination Stage
4908 Auburn Avenue
Bethesda, MD
1 hour, 30 minutes
Tickets: $10- $27
Schedule varies
Details
Tickets
Brynn Tucker plays neighbor Ms. Nitpicker as if she is a breath of fresh air, and is an excellent foil to the sniveling Mr. Grumps. Phillip Reid and Christopher Wilson entertain as a series of goofy, periphery, always combative characters, from inept fireman to bumbling movers. They provide much of the show's humor: "See ya later, not a gator!" says Wilson to Lyle at one point.
This is director Kathyrn Chase Bryer's second time at the helm and Imagination Stage's trio of Lyle productions (having produced the show in both 2002 and 2009).
Lucky for Lyle. This third time's a real charm.
————————————————————–
Lyle the Crocodile . Based on the book by Bernard Waber .  Adapted for the stage by Kevin Kling . Music by Richard Gray . Directed by Kathryn Chase Bryer . Featuring Kurt Boehm as Lyle the Crocodile; Michael John Casey as Mr. Grumps; Ashley Foughty as Mrs. Primm; David Landstrom as Joshua; Jobari Parker-Namdar as Mr. Primm; Phillip Reid as Funny Guy 2; Matthew Schleigh as Hector P. Valenti; Brynn Tucker as Ms. Nitpicker; and Christopher Wilson as Funny Guy 2 .  Music Director: Deborah Jaconson .  Choreographer: Kurt Boehm Scenic . Scenic Designer: A.J. Guban . Lighting Designer: Brittany Diliberto . Costume Designer: Frank Labovitz . Sound Designer: Christopher Baine . Stage Manager: Kristen J. Bishel . Produced by Imagination Stage . Reviewed by Kelly McCorkendale.