DCTS has partnered with Angelika Mosaic Film Center in Fairfax, Virginia to offer you free tickets to the latest screenings of opera, ballet and theatre from around the world.
We have 3 pairs of tickets to the next screenings of the Royal Opera House presentation of Verdi's grand opera LES VEPRES SICILIENNES, being shown for the very first time.
Antonio Pappano conducts a star cast that includes Bryan Hymel, Marina Poplavskaya, Erwin Schrott and Michael Volle.
The opera ballet plays a significant role too, with dancers from The Royal Ballet and Royal Danish Ballet also performing. The Paris, 1855–set opera features impassioned and dramatic music, rich in showpiece arias and ensembles and with striking choruses.
This monumental operatic work takes over the threshold from the reality of the opera house into the dreamlike stories of the operas they present. (Running time: 295 minutes)
TWO SHOWINGS ONLY:
SATURDAY, DECEMBER 07, 2013
2:00 PM
WEDNESDAY, DECEMBER 11, 2013
7:00 PM
Tickets are $20. Buy online or call 571 542-3308.
ENTER NOW TO WIN A PAIR OF TICKETS
Simply send an email here.
Include your name and best contact phone number.
Don't forget to let us know whether you wish to attend the Saturday, Dec 7 or Wednesday, Dec 11 screening.
We must receive your email by Friday, Dec 6 by 2pm.  Winners will be contacted immediately after.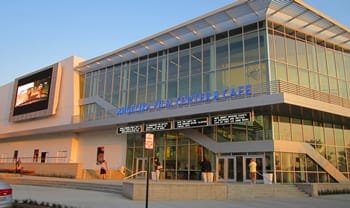 Angelika Mosaic
2911 District Ave (at Lee Hwy & Gallows Rd). Fairfax , VA 22031
See what's playing at the Angelika Mosaic Film Center