The Lincoln Center Theatre has assembled a vast company of more than 20 actors, and allotted an equally vast budget to its spectacular production of the perennial favorite Macbeth.  Our most recent view of the piece was earlier this season when Alan Cumming brought us his version of the nefarious ways of the Thane of Cawdor, who becomes King of  Scotland  in the middle of the eleventh century. Very soon Kenneth Branagh will arrive with his own interpretation of it. Each actor puts his stamp on it, each director attempts to tell its tale in a fresh and original way.
Toward that end, Jack O'Brien, whose Broadway credits cover the spectrum from musicals (Dirty Rotten Scoundrels, The Full Monty, Catch Me if You Can, Hairspray) to large straight fare (The Coast of Utopia), simpler plays (The Nance, The Little Foxes), classics (Henry IV) and so much more.  He's worked in London's West End, at the Metropolitan Opera (Il Trittico) and as Artistic Director of the Old Globe in San Diego from 1981-2007. He's even written a book, the aptly named "Jack Be Nimble."
I suspect that with this production of the Scottish Play, he chose to apply bits and pieces of all his previous directorial outings, for he's come up with something of a hodge podge which is kin to these new fangled autos that rely on different sources of energy to move them along.
He and his designers (Scott Pask for sets, Catherine Zuber for costumes) have gone for the opulent middle earth look. "The Seal of God's Truth", the late Middle Ages mandala, is a major element in the set design, and also serves as the artwork for this production. He's given free reign to those creating lighting and sound effects that embellish the very black and white other world atmosphere that pervades throughout. To further implement this larger than life concept for the play, to give it the air of grand opera, he seems to have given free rein to several groups of actors.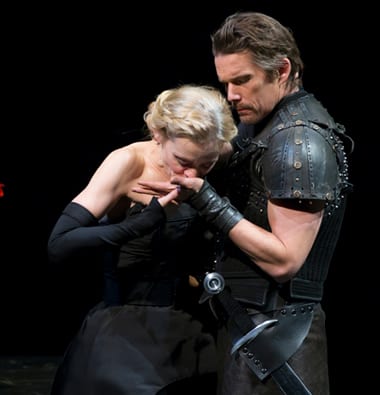 He's filled the stage with young men, and he's cast his leading man and lady accordingly. With film star Ethan Hawke in the title role, and Irish born but British raised Anne-Marie Duff playing the King and Queen, both easily passing for thirty five though both actors were actually born in 1970, Macbeth's court is young and vigorous. Their physical relationship with each other is hot, and it helps justify the King's blood lust for power as well. Well matched by Ms. Duff's lithe body and singular attack, they are clearly THE couple in the play. In some ways, they bring vivid life to both characters. But then we come to the verse, to the words they've been handed by Shakespeare, writing at the peak of his powers when he was producing hit after hit. Hawke's Macbeth is well thought out, complex, arresting. His voice, abused by all the shouting he does, enables him to growl and murmur menacingly and with great effect. But often he seems to be talking to himself,   and even the familiar "Tomorrow and tomorrow" soliloquy  is garbled and gargled. For those who didn't learn it verbatim in high school, this is a big disadvantage.
Ms. Duff, also physically in control of her marvelously aggressive Lady Macbeth, is almost totally unintelligible, so cluttered are her speech patterns. After trying for three quarters of the play to understand her, I thought: "In a film they could put titles on the screen and that would help."  That should not be necessary when an actress is speaking English, the language she is supposed to be  sharing with her audience.
For his supporting cast, Mr. O'Brien has chosen a fine group of more conventional featured players — Brian d'Arcy-James as Banquo, Nathan Stark as his son Fleance, Richard Easton as Duncan, Johnny Orsini as his son Malcolm, Francesca Faridani as Hecate. By "conventional" I mean only that they speak the verse clearly, they are at home in the designed world in which they've been placed, they tell the story and they use the stage well.
The three witches — here, it would appear the director chose three excellent actors, each of whom has sparkled elsewhere many times in the past. John Glover, Malcolm Gets and Byron Jennings.  He's chosen them, and seemingly said "Go, guys! Have fun!" To attract such a talented trio, he threw in another role or two for each of them. Glover is also the late night Porter, Gets doubles as Angus, and Jennings plays a bloody sergeant in the first scene in the play, seconds after playing a witch in the prologue. For me, these three, each  of whom I've relished in other shows, were way over the top, and appeared to be having much too much "fun", as they cackled and shrieked their way through the various verses of "Round about the cauldron go, in the poison'd entrails throw" as they tossed "eye of newt and toe of frog, wool of bat and tongue of dog"  in to boil and bake.  Not scary at all as all the grotesque goodies in their recipe were merely written out on very large note pad pages.
This Macbeth has its moments. It is always visually stunning, very impressive in the large scenes at court (among others, the first entrance of Lady Macbeth, the crowning of Malcolm at the end, with the addition of set pieces and suitable music. And the staged curtain call was thrilling).
The use of the incredibly deep stage at the Beaumont is used effectively several times during the evening. Ethan Hawke and Anne-Marie Duff "acted" Macbeth and his Lady with well-rooted passion, often with original takes on familiar material, but Ms. Duff must work on diction, and Mr. Hawke has got to learn how anger can be projected without constant shouts. If he doesn't he'll have no voice left by the end of the run. And he's got to let us in on his very quiet moments as well.  I'd like to hear ALL of  "Is this a dagger which I see before me?" not just the odd phrase or two.
Macbeth's cousin Richard III (by "cousin" I mean they are both kings and both have   greed for power) is triumphing  at the Belasco, just a little south of Lincoln Center and it wouldn't be a bad idea for some members of this troupe to drop in on him, as played by Mark Rylance, for a lesson in how to really put to use that worn out phrase, "Less is More".
Macbeth is onstage thru January 12, 2014 at the Vivian Beaumont Theater, Lincoln Center, 150 West 65th Street, NYC. Details and tickets
———————————
Richard Seff, Broadway performer, agent, playwright, librettist, columnist adds novelist to his string of accomplishments, with the publication of his first novel, TAKE A GIANT STEP. His first book, Supporting Player: My Life Upon the Wicked Stage, celebrates his lifetime on stage and behind the scenes. Both books are available through online booksellers, including Amazon.com.
He has also written the book to SHINE! The Horatio Alger Musical which was a triple prize winner at the New York Musical Theatre Festival (NYMF). Each year, Actors Equity recognizes the year's most outstanding supporting player with, appropriately enough, the Richard Seff Award.
Richard Seff is a member of the Outer Critics Circle.