DCTS has partnered with Angelika Mosaic Film Center in Fairfax, Virginia to offer you free tickets to the latest screenings of opera, ballet and theatre from around the world.
We have 3 pairs of tickets to the screening of the The Sleeping Beauty performed by The Bolshoi Ballet (recorded Nov. 20, 2011).
The opulence of the newly renovated Bolshoi Theater, one of the world's largest venues for opera and ballet, is in full bloom in The Sleeping Beauty. The treasured tale of nymphs, fairies, and storybook romance is the pinnacle of choreographer Marius Petipa's career, and is regarded the ultimate classical ballet.
With Tchaikovsky's beautiful melodies and a storyline based on Charles Perrault's works (some heroes such as Puss in Boots and Blue Bird are present in Act 2), Sleeping Beauty rolls out the most incredibly sumptuous scenes which mirror the grandeur of the Russian imperial court of the 19th century.
Watch David Hallberg in his highly anticipated debut as the first ever American Premier at the Bolshoi, opposite Svetlana Zakharova as Princess Aurora, one of ballet's most technically challenging roles.
(Running time: 3 hrs 10 mins including one intermission)
ONE SHOWING ONLY:
SUNDAY, January 12
2:00 PM
Tickets are $20. Buy online or call 571 542-3308.
ENTER NOW TO WIN A PAIR OF TICKETS
UPDATE:  ALL TICKETS ARE GONE

We have 3 pairs of tickets to this performance.
Tickets will be awarded to those first responding.
Winners will be contacted immediately.
Email here to enter to win a pair of tickets.
Be sure to include your name and best phone number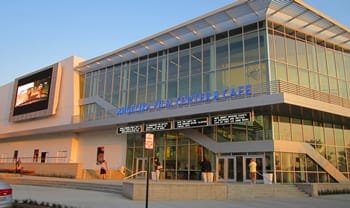 Angelika Mosaic
2911 District Ave (at Lee Hwy & Gallows Rd). Fairfax , VA 22031
See what's playing at the Angelika Mosaic Film Center