You'd never think "Pulitzer Prize-winning drama" to look at How to Succeed in Business Without Really Trying. It's too unpretentious. Too breezy. Too fun.
And yet, when you really dig right into it, How to Succeed proves itself to be one of the smartest musicals ever written, if not the smartest. Debuting in 1961 with a book by Jack Weinstock, Willie Gilbert, and the inestimable Abe Burrows, along with music and lyrics by Burrows' Guys and Dolls chum Frank Loesser, you'd be hard pressed to find a script and score more jam-packed with pointed satire and beat-for-beat hilarity than this one.
Fast-forward to 2014, and satirizing the corporate game is all the rage once again. The Wolf of Wall Street is piling up the Oscar nods, and Mad Men returns to begin its final stretch of episodes in just a few months. If the motto of the eighties was "Greed is Good," the more existentially empty "More is never enough," spoken in The Wolf of Wall Street and echoed in Jason Loewith's program notes for How to Succeed, is a sober, self-aware reflection for the twenty-teens.
Woah, isn't this a musical comedy?
Yes, folks, yes it is, and a great one at that, but thanks for permitting my digression. Because you see, How to Succeed in Business Without Really Trying, now playing at the Olney Theatre Center, is a very smart production of a very smart musical, and this intelligence is evident in every pore.
Let's start with Mr. Loewith's direction, because the unity of the production is essential to this success. Right from the opening moments, with smiling industrial images from the corporate world (projections and set by James Dardenne) and "boys are blue, girls are pink" silhouettes in sharply defined poses, Loewith creates a consistent theatrical style ideal for bringing out and punctuating the beats. Throughout the show, strong picturization, well-deployed button action, and highly defined character movement take the heady "hmmm" laughs in the book and inflate them to gut-busting guffaws. That he does this without sacrificing the specificity of the humor, dumbing it down, or over-writing the scripted laughs with broader gags, only gives me more cause for admiration.
  Among the merits of this strong definition is a well-realized population of characters. From the leads to the supporting actors and all the way into the ensemble, there's a bigger world that we don't get to see, a fully living and breathing World Wide Wicket Company. Watch Taylor Elise Rector's Miss Krumholtz following Kurt Boehm's Mr. Gatch around, and you'll see a whole story. Give a bit of thought to what befell of Chris Rudy's poor Mr. Tackaberry, because Lord knows there's a story there. There are stories everywhere.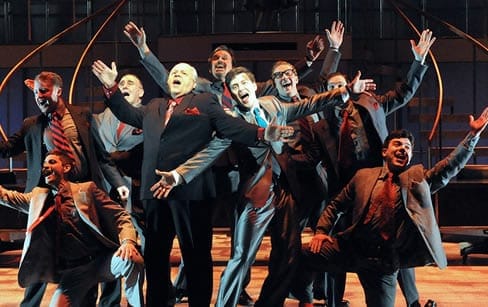 Moving from the tertiary to the secondary, it is with very little surprise that I report that George Dvorsky's Mr. Bratt and Sherri L. Edelen's Miss Jones sparkle with veteran panache, but it is once again a testament to the actors and the production just how much more dimension is there than necessary. They both land their gags, sure, but you also see deeper into these people, with Mr. Dvorsky's neuroses during "A Secretary is Not a Toy" being a particular treat. And yes, of course Ms. Edelen sings the hell out of her section of "Brotherhood of Man", and it is glorious. This production wisely takes several bits of inspiration from the 1996 Des McAnuff Broadway revival, vs. the over-choreographed Rob Ashford production of 2012.
In fact, economy is the greatest weapon of choreographer Tommy Rapley, embracing the limitation and inspiration of a small cast and resisting urges to expand numbers beyond what they are meant to be. The dances are witty and exuberant, particularly the Fosse-honoring "Coffee Break" (Fosse choreographed the original production), and the sublime "Brotherhood of Man". What's remarkable, too, is that there are tons of great lyrics during these numbers, and Rapley and Loewith never let the physical movement overwhelm the joke. You don't miss a thing.
Obviously, getting full humor value out of the music and songs is praise for Christopher Youstra as well. His ensemble produces clean, solid harmonics, the leads soar, and the lyrics land with aplomb. Also, he leads quite the robust nine-piece band as well. (It seems to me that each subsequent Olney show has a larger and larger pit, so kudos to Associate Artistic Director/Director of Music Theatre-hat-wearing Youstra as well.)
Elsewhere in the supporting cast, distinct, intelligent performances comes in from Aileen Goldberg's Smitty, Dan Van Why's Bud, Harry A. Winter's dual roles as Mr. Twimble and Mr. Womper, Lawrence Redmond's J.B. Biggley, and particularly Coleen Hayes' Hedy La Rue. Hayes' Hedy is a refreshingly non-abrasive vamp, with a lot of heart.
But among this whole group, you're getting seasoned pros with unending comic ideas. Even youngest among them Angela Miller proves her mettle with a strong take on land-mine role Rosemary*. Her romantically awkward, gooberish pursuit of Finch is contemporary without being anachronistic, and  unique without being revisionist. This is her most difficult task in this role and an actor's greatest challenge, and her confidence at this early stage of her career is surely a sign of more great things to come.
* Land-mine role: a role rife with potential for misinterpretation or controversy, much like the "Happy to Keep His Dinner Warm"-singing Rosemary. See also: Shakespeare's Petruchio, R&H's Billy Bigelow, and Schmidt and Jones' Luisa.
Highly Recommended
HOW TO SUCCEED IN BUSINESS WITHOUT REALLY TRYING
Olney Theatre Center
2001 Olney-Sandy Spring Rd.
Olney, MD.
2 hours, 45 minutes with 1 intermission
Tickets: $31 – $63
Wednesdays thru Sundays
Details
Tickets 
And now let's talk about Sam Ludwig's J. Pierrepont Finch.
Right now, onstage at Olney, Sam Ludwig is giving one of the most intelligent, thorough, and vivacious leading performances in DC's recent history. You must see this man do this role.
Let's ignore proficiency for a moment. Obviously the man can sing and hit his comic marks, or I wouldn't be praising him like that. He can dance when asked, of course. Ludwig has the tools of his craft, but it is what he does with them that is real art.
The character that Mr. Ludwig has built is a brilliant creation, managing to give Robert Morse's iconic take on the role a subtle honorarium without ever devolving into imitation or shallow aping. Watch him throughout the first act – Finch is a man built out of affectations, a careful creator of reactions, and a master of perception. And most ingeniously, behind those eyes is NOTHING. Whoever this man is, we have no idea, because the J. Pierrepont Finch that walks into that office building is a construct. Maybe he's a sociopath, we don't know. There's a wall there, and we aren't getting in.
What is remarkable, though, is the spark that comes when Finch and Rosemary make their connection in "Rosemary". Suddenly, we begin to see bits of the real man emerge, perhaps even grow for the first time. His transition through the second act is so gradual and so thorough, that the triggering of his old skillset late in the show is a jarring, wonderfully crowd-pleasing moment.
It takes a ton of skill even to appropriately highlight a great work, which is why comic book inkers are artists in their own right. Aside from the aforementioned aspects, Joel Moritz's lighting, Seth Gilbert's costume plot, and Jeff Dorfman's sound design all directly contribute to the production's effectiveness.
And of course, there's Sir Ian McKellen, giving voice to the words of Mr. Finch's magic book. What could I possibly say about Sir Ian, except that his work is effortless and just perfect? Jokes punch, story is told, and yes, for the nerds like me out there, there is a one line delivery that is more than a little bit Gandalf-esque. It may have drawn a stupid giggle from me.
Long story short, Olney's version of How to Succeed is one that absolutely needs to be seen by any appreciator of musical comedy or character-acting, or fan of the region's talent. It's easily the best thing I've seen at Olney, and possibly one of the best musicals I've seen our region produce. A slew of artists in every discipline are putting forth some truly excellent work.
Turns out, "Really Trying" might be the best way to succeed, after all.
—————–
How to Succeed in Business Without Really Trying . Book by Abe Burrows, Jack Weinstock, and Willie Gilbert . Music and Lyrics by Frank Loesser . Based upon the book by Shepherd Mead . Directed by Jason Loewith . Musical Direction by Christopher Youstra . Choreography by Tommy Rapley . Featuring Sam Ludwig, Angela Miller, George Dvorsky, Sherri L. Edelen, Kurt Boehm, MaryLee Adams, Maggie Donnelly, Aileen Goldberg, Colleen Hayes, Ashleigh King, Bryan Knowlton, David Landstrom, Allie Parris, Taylor Elise Rector, Lawrence Redmond, Chris Rudy, Dan Van Why and Harry A. Winter . Scenic design: James Dardenne . Costume Design:  Seth Gilbert . Lighting:  Joel Moritz . Sound:  Jeff Dorfman . Director of Production: Dennis A. Blackledge . Production Stage Manager: Josiane M. Lemieux . Produced by Olney Theatre Center . Reviewed by John Dellaporta.
*Full Disclosure: the author has been employed in two productions at Olney Theatre Center in the past. He has auditioned for several others, been called back for a few, and passed over for even more. This has not affected the impartiality of this review.