Souvenir purports to be one big gag about bad opera singing – and of course some people would say all opera singing is appallingly funny– so a comedy based on the life of an historic, horrendously bad soprano would be like aiming at the side of a barn. Any joke, or should I say note, indeed gets guffaws.  Luckily, it becomes much more – a play about overstepping ambition, the phenomenon of celebrity, the truth of not being able to see or hear ourselves, the indomitability of the human spirit, and friendship.  As such it is worthy of our attention.
Playwright Stephen Temperley found material for his play in the astonishing career of Florence Foster Jenkins, a New York socialite in the early decades of the twentieth century, who came upon some means after her parents death and used it to follow her dreams which included thinly-veiled charity work funded by her own singing in recitals. The woman became a celebrity in that American phenomenon of the ridiculous, tasteless and deplorable who pursue fame. She ended her career by "scaling the heights," singing at Carnegie Hall.
Temperley has fashioned the work as a two-hander, in what he calls a "fantasia," between the two characters, Florence Foster Jenkins, and her accompanist of twelve years, Cosme McMoon. Brian Keith MacDonald plays the pianist-composer, who reminisces about his relationship with the woman who couldn't hit a single note with any degree of accuracy. He seems mystified about continuing to work with her despite this. "People used to say to me, 'Why does she do it?' I always thought the better question was, 'Why did I?' "
MacDonald spends most of the first act caught in expressions of stupefaction as he is treated to strangled swoops and off-pitch trills, but it is in the second act that the character becomes more fully faceted. MacDonald reveals the complex web of their relationship: his growing dependency on Jenkins financially, which accords him time to write his own musical compositions and opportunities to travel and live a good life, but bleeds him of any profound creative thinking. His incredulity with both her lack of self-awareness and her success is offset by his growing fascination and respect for her spirit.
Lee Mikeska Gardner, a veteran performer to Washington stages has returned to the area to take on the Florence Foster Jenkins role, and she does so fearlessly. It's not easy to sing well, but I do believe it is tremendously harder to sing this badly. Gardner does so with gusto. She has so imbibed her character's philosophy fully – "Nothing is more detrimental to good singing than this modern mania for accuracy." — that by the end of the play she almost has succeeded in re-tuning our ears to her character's personal belief system. Funnier than her coloratura squawks and offbeat tempi, which to my mind get somewhat old and are too broadly indicated, are some of her well-observed preparations and mannerisms as a singer. The pulling up of imaginary strands from the top of her head, focusing to lift the soft palette and creating acoustic space between the molars represents the good, the bad, and the ugly of singers' rituals.
With her short hair permed in a 1920's do and burnished copper as a penny, Gardner is splendid when animating the "fire" of this woman's belief in herself. She conveys well Jenkins' spiritual joy of music and music-making and carries the audience with her to the end where we all get a glimpse of that exquisite sound she hears in her head and stand with her at the altar of music, channeling from the great composers themselves.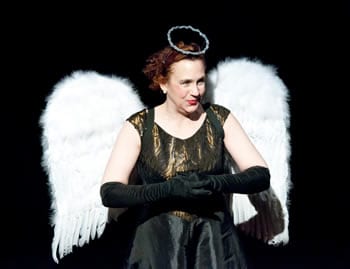 But these two actors achieve their best moments together when plumbing the role of doubt in artistic lives and the revelations of fear and shame that come to all people.  In one scene, MacDonald screams at Jenkins to hear a note and "do it," that is reproduce it correctly, his frustration is so real, and his impotent rage at not only her but at himself that he reveals he is, even more than she, self-deluded and unaccomplished. Gardner's reaction to his shouting "Silly woman!" makes her, as well as the audience, gasp, but the way she picks gingerly through the following moments as through a field where a bomb has just gone off and how she regains her emotional equilibrium and self-confidence at his expense is a priceless moment of theatre.
It all comes to a head at the climactic scene with Jenkins' biggest but final concert at Carnegie Hall. Finally Jenkins discovers her efforts have been met with derision, and her humiliation seems to annihilate her. Gardner and MacDonald cling to each other as if sharing the same life-preserver ring, and the scene is both harrowing and miraculous in what it reveals about the human spirit and relationship and, maybe most especially, the power of the "kind lie."
Recommended
SOUVENIR: A Fantasia on the Life of Florence Foster Jenkins
Closes March 2, 2014
1st Stage
1524 Spring Hill Road
McLean, VA
2 hours, 10 minutes with 1 intermission
Tickets: $27
Fridays thru Sundays
Details
Tickets
Director Jay D. Brock makes the whole memory aspect of the play an intimate and gossipy evening shared by a slightly disgruntled musician, who'd become a kind of silly relic, and was reminiscing about his patron, the rich and talentless woman who had inexplicably taken on a cultish fame.  His direction hits it best stride when the script, heavy on the recital playlist, allows Gardner to drop the singing schtick to reveal a psychological portrait of a woman who either was blissfully unaware of her shortcomings as a coloratura soprano or had almost heroically chosen to honor her own spiritual journey.
Special mention must be made to costume designer Yvette M. Ryan, who dresses Ms. Gardner in over a dozen changes from the historically accurate velvet sheath, to the beaded drop-waist flapper dress; the sublime and ridiculous theatrical "costumes," added much to the evening's entertainment. I might have gasped not only at Ms. Gardner's ability to negotiate the quick changes but Mr. MacDonald's ability to tie a bow tie on stage accurately, without aid of a mirror.
Mark Krikstan managed to create a workable set using proscenium arches that increased the illusion of depth in 1st Stage's intimate space. Baron Pugh with his light design got the atmosphere of a small music rehearsal studio then added significant wattage to suggest a recital hall suitable for Miss Jenkins' size and ambition.
Thanks to Gardner and MacDonald, the show has got brio. Warning label. By the end of the show you, just like Miss Jenkins' original audiences, may be wheezing and stuffing handkerchiefs into your mouth to keep from laughing so hard your sides split.
——————–
 Souvenir: A Fantasia on the Life of Florence Foster Jenkins by Stephen Temperley . Directed by Jay D. Brock . featuring Lee Mikeska Gardner as Florence Foster Jenkins and Brian Keith MacDonald as Cosme McMoon .   Set design: Mark Krikstan . Costume design: Yvette Ryan . Lighting design: Baron Pugh . Sound design: Greg Martin . Stage manager: Tamara Hunter. Produced by First Stage . Reviewed by Susan Galbraith.