The DC chapter of the national non-profit Opera on Tap launched last week at the Black Fox Lounge in Dupont Circle. Titled Love is in the Air, Opera on Tap DC's first performance (co-presented with the Washington National Opera Bravo club) included an array of opera and musical theatre favorites in bite-sized crowd-pleasing sets.
The performance sold out and the venue was packed – two-thirds of the attendees sat at small tables and couches and the other third stood with drinks in hands. A far (and welcome!) cry from opening night at the Kennedy Center.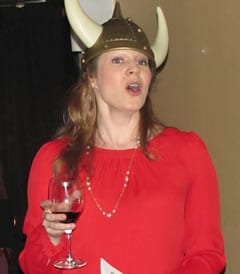 Co-founders Elise Jablow and Kristina Riegle put on a smashing show. Jablow (who I'm deeming "Queen of High Bs") sang a stunning "Quando m'en vo." Riegle was hilarious wandering through the audience during "The Physician" and later sang a bold, seductive "Seguidilla." The performers moved through the audience and brilliantly broke the barrier so frequently that it was easy to confuse them with audience members.
Riegle stole my heart declaring, "I need another drink" after the first set. (I studied voice in the age of "I can't drink on Friday because I have an audition on Wednesday.")
Melissa Chavez sang an entertaining "Amor" and a chill-inducing "Ch'il bel sogno" (not having the translation for the Puccini aria was a let-down, but I get why supertitles weren't provided or even possible).
Weill's "Lonely House" was performed with nuance, power and heart by Ben Pattison and his rendition of "Una furtiva lagrima" was entertaining and well sung. Brody DelBeccaro's presence and patter was down to earth and his voice was lovely and strong singing Schumann, Donizetti, and Mozart. He was one of the most engaging performers of the evening.
A gigantic pat on the back to Opera on Tap DC for creating a fun, affordable, and accessible opera in the often "tightly wound" city of DC, and breaking apart (and making fun of) classical music stereotypes. Set lists were posted on Facebook after the performance and donations were taken in a Viking hat.
At the end of the evening, the audience sang along to Verdi's Brindisi glowing in the aftermath of wine, grilled cheese (in my case), and good song – why can't opera always be this welcoming and warm? Rest easy – Opera on Tap DC is well on its way to reclaiming the genre and they want you to join them for the journey. Warning: The combination of alcohol, opera, and good food may induce smiling, swaying, head banging, and overall having a grand time.