Julia Cho's The Piano Teacher is a tightly constructed chiller of a play that leads you down dark paths only to reveal unexpected recesses where the truth is darker still. The Rep Stage production, expertly directed by Kasi Campbell, carefully takes you by the hand through what seems to be a benign visit with a lonely widow. By the end, its grip is tight and it will leave a mark – just not the one you expect.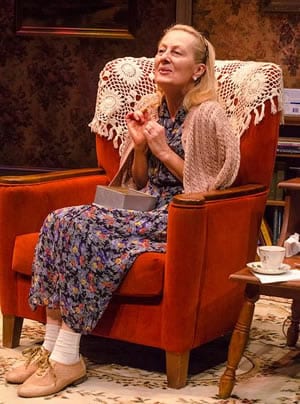 The Piano Teacher, coming in at 90 minutes with no intermission, presents a fresh take on an old-fashioned pot-boiler. But this is no Dial "M" for Murder or Deathtrap rehash; Cho is not interested in a who-dunnit. The tingle in the spine offered here is more insidious: it's really about facing the truth, which can be more frightening than a boogie man hiding in the shower any day.
The play starts pleasantly enough as grandmotherly Mrs. K. (we never know her full last name) opens her sitting room up to the audience. Sit close enough and she may offer you a cookie, as she reminisces about her late, much older husband and the pride and joys of her life, the piano students she taught in her living room over many years.
Cookie-pushing gives way to a walk through her lonely life. Where are her former students now? Should she reach out to them? What if they answer? These questions and many others are most assuredly answered, but saying more would be a disservice to the play and the compellingly taut production.
The Piano Teacher features three actors up to the challenge of balancing the mundane and the horrific; actors attempting to clearly reveal the layers of truth each character must pass through to see the darkness at the end of the tunnel. They never step over the line into melodrama. Laureen E. Smith takes the stage with a gentle grace tinged with regret. Smith'a performance evokes the matriarchal ease of Helen Hayes if she were hiding something too frightening to acknowledge. As her former students, Kashi-Tara Barrett and Joshua Morgan masterfully insinuate themselves into Mrs. K's life again. Like chamber musicians, each performer takes their turns in solo passages while harmonizing in sync to create a dark sonata.
The actors are given an impressive setting in which to tell Mrs. K's story, a simple yet elegant sitting room, complete with comfy chair and ancient piano, designed by Daniel Ettinger. Marianne Meadows lighting offers suitable atmosphere throughout the performance.
Before I attended The Piano Teacher, I must confess I had to look the play up. After seeing the Rep Stage production, I hope it finds many stages where Mrs. K. can meet and greet her guests, offer them a chocolate chip cookie and then lead them into the shadows. For now, head to Columbia and meet her there. She's waiting.
———————
The Piano Teacher by Julia Cho . Directed by Kasi Campbell . Featuring: Laureen E. Smith, Kashi-Tara Barrett and Joshua Morgan . Scenic Design: Daniel Ettinger . Lighting Design: Marianne Meadows . Costume Design: Jennifer Tardiff . Sound Design: Chas Marsh . Properties: Ally Cribbs . Dramaturg: Lisa A. Wilde.  Production Stage Manager: Raine Bode. Produced by Rep Stage . Reviewed by Jeffrey Walker.