"I think the DC Theatre scene is a great place for a director to pick up small projects, I think there's a lot of theatres in town that are very supportive," says Jess Jung, sitting down to talk about her production of Happy Days, currently running at the Mead Theatre Lab at Flashpoint.  "But I think everybody has a different story of how they got their leg up to consistent work."
With any luck, Happy Days may be that leg up for Jung, if our impressed reviewer's response is any indication.  So what path does a budding director take, to go from – as Jung has, for example –Minneapolis to Louisville to Chicago to upstate New York and at last to DC?  And how does she arrive at a place where she's making what amounts to, basically, a debut by tackling a characteristically challenging Samuel Beckett play?
"This is the first thing I've had my stamp completely on" as far as full productions go, particularly in DC, says Jung.  She feels people in town probably know her best for her work at the Source Festival, where she is Associate Producer.
Which is not to suggest that Jung selected this play in order to stand out.  Her motivation was personal and artistic, and began with something we might all relate to.
"I was reading the play a couple years ago when I didn't yet have a smartphone in my life, and I was a teaching artist, and teachers kept emailing me if they were going to change the classes, but I would already be on the Metro, so I missed the communication," Jung says.  "I was new to town… I didn't have maps, the world was changing, and because I didn't have the right technology, I wasn't able to be connected."
Traditionally, notes Jung, the play – in which a woman named Winnie is buried up to her waist at first, and later up to her neck, speaking from her immobile position, and nearly alone except for the detached presence of her husband, who has few lines – is read as a metaphor for death.  Instead, Jung related her own technological isolation to Winnie's predicament, and asked, "What happens if we look at [Happy Days] as a play about what it means to be isolated today?"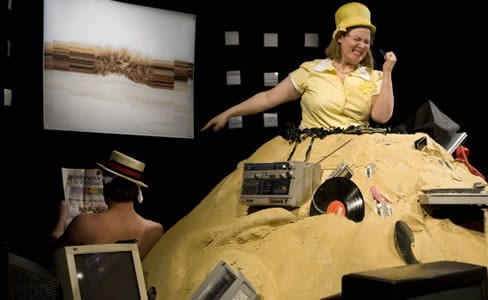 "[Winnie's] from the old style, the old world," Jung says.  So Jung conceived of a change in the play's setting – instead of the mound of earth that Beckett specifies in the script, she envisioned a pile of "objects that are too slow for contemporary living.  Lots of old phones, a typewriter, cassette tapes, a film reel."
That simple change in concept might have been par for the course if the play in question were anything but a Beckett piece.  In Jung's case, her novel approach would lead to a nearly two-year process involving at least three separate organizations, before it could be realized in the production onstage now.
Here's a little more about how Jung came to be in DC, riding on the Metro, before detailing the story of how her revisioning went from idea to stage.  She hails from Minneapolis, and completed her BA in Theatre at Augsburg College there before heading off to the Actors Theatre of Louisville.  There, as Assistant Education Director, she directed young actors, and added to her education experience; she remains a teaching artist to this day.  But at the time, she worried about being "pigeonholed into only being able to work with young actors."  So off she went to DePaul University in Chicago, to complete her MFA in Directing.
While at DePaul, Jung met her now-husband while directing the drama program at a summer camp where he managed the art program.  After graduation, she learned that his job at NIST was going to be taking them to DC.
"I was really scared" about the move to the new town, Jung said, so she "went straight to" her professor, Catherine Weidner.  Weidner, it turned out, was involved in creating the Academy for Classical Acting at Shakespeare Theatre, and had assisted Michael Kahn in the past.  Jung asked her what to do.  "She told me that DC was a great place, and she would give me the names of some people to meet.  I had coffee with people and got to know the scene and went from there."
Not long after arriving in our smartphone-loving city and picking up her first directing work here in the educational theatre realm (at Imagination Stage and Adventure Theatre), Jung conceived of the new approach to Happy Days.  She first found a chance to realize it at the Hangar Theatre in Ithaca, New York.  A Director's Project Fellowship from the Drama League allowed her to produce whatever she wanted there in the summer of 2012, so Jung "tested out this concept."
The Hangar provided a short rehearsal time for their laboratory production, so Jung and her cast had to dive quickly.  This led to some tight-rope walking moments, thanks to the notoriously reticent Beckett estate, that has rejected, among others, all-female productions of Waiting for Godot for contradicting the playwright's intent.
"I needed to ask special permission from Samuel French," the play's publisher, says Jess, because she was attempting to build her technological mound instead of one out of earth, as Beckett's stage direction insists.  The Hangar Theatre, being an educational institution, also wanted to cut the text down to an hour's worth, fitting the brief rehearsal period.  By the time Samuel French responded, however, it was only four days before the show would go into tech and then final dress rehearsal.  The response was only half positive.
"There was some official language, something like …'you can alter the vision but you can't alter the play,'" Jung recalls.  "It's funny because it's like a case-by-case basis."  Ultimately "the permission was granted because we [were] not changing any text" to bring about the technological-isolation vision.
However, that meant the half hour of running time the Hangar wanted removed had to be added back in – with only a few days to memorize the additional text.  "It was bonkers," says Jung.  Luckily, the actors were game, and the now full and complete show went up – and went well.
"The audience didn't realize that [the technology in the mound] wasn't part of Beckett's original concept," Jung says.  "So that was good, at that time, it didn't seem to be jarring."
While she got lots of good feedback on the production, Jung knew it wasn't done.  Later, when she knew she "wanted to produce something in DC, it seemed a natural choice [to revisit Happy Days], because I was still interested in getting to the heart of what this play was."
Unexpected collaborations are the running theme in the backstory of this show.  Next up was the partnership with CulturalDC, the producing organization responsible for the Mead Theatre Lab presentation.
"My project is somewhat outside of the box for Mead Theatre Lab," says Jung.  "They usually say they want new work or fresh ideas on classic work.  So you need to be making something new in some way… I'm taking a classic text and putting a new concept on it."
Jung brought back the original set designer and sound designer from the Hangar production.  "Everyone else is DC," she says, "which is really great – to have that collaboration.  [There are] many theatres… represented in the room. Christian [Sullivan, playing the taciturn husband] is a Rorschach Theatre member, Karen [Lange, playing Winnie] is [co-founder and co-artistic director of] Pinky Swear… I work for Forum and Source."  (Jung will be starting as Forum Theatre's casting coordinator soon.)
"The group in there represents what [the DC] theatre scene is, because we have our hands in the greater DC area," Jung says.  "I'm proud of the team."
Diverse and capable as her team may be, it's no small thing for a fresh-faced director to take on this piece. Delia Taylor last tackled the trapped but happy Winnie in the 2011 WSC Avant Bard production and seven years ago, the venerable British actor Fiona Shaw handled the role in a Royal National Theatre of Great Britain production at the Kennedy Center.
"There's been countless Winnies, and many of them are famous," says Jung, describing the challenge laid before herself and Lange.  "You can read about these triumphant actors who have taken on this role, and also directors.  There's something to the gravity [of it]… you don't want to screw it up, and you know the audience is coming in with a preconceived notion about the play."
To get past that sense of the play's serious history and weighty expectations, Jung hopes to show the deeper, "universal" truths.  "If we can just get to the heart of the story, or what's happening moment to moment, then we can break it down into something that's not so monolithic."
"Beckett ultimately is very truthful action in an absurd world," she adds.  "I do think the play is really universal…  There's an understanding of relationships, what marriage is after years and years.  And I think there's also something to the monotonous quality of life that we can all feel, and how we push past it, or don't.  That's universal."
That universality may be the only consistent thing involved.  Besides being presented with a non-standard theme on a non-standard set, and being an atypical production for CulturalDC, Jung notes that "it's funny because I usually have a movement based aesthetic… and now I've trapped my actor in a mound."
So what will be next for this director, now that she's broken her own mold and reshaped a few others?  Jung intends to stay in DC – and that seems likely given her husband's position – but she notes that "when you have a job in theatre… you live kind of in transit in a lot of ways." She hopes to be able to present more of the kinds of work that engage her own interest around town.
"I really resonate with plays for dreamers," she says.  As well, "female writers or female protagonists resonate for me."  Jung has several projects potentially in the works that she prefers not to discuss prematurely.  But her current goal is primarily "sustainability.  Ultimately," she says, "I'd love to have a job in theatre that is able to support me.  Period.  The end."
Highly Recommended
HAPPY DAYS
Closes February 23, 2014
Mead Theatre Lab at
Flashpoint Gallery
916 G St NW
Washington, DC
1 hour, 30 minutes with 1 intermission
Tickets: $15
Fridays thru Sundays
Details
Tickets
The road to a directing career in theatre is not an easy one.  When asked if there is a place for new directors in the DC scene, Jung replies, "There's an experiment with this that's happening."  A lot has been changing in the local arts, as any longtime theatregoer will recognize, and, of course, the whole world outside the arts has been changing even more quickly and thoroughly.  Jung has a story that may connect her modern interpretation of this play with the journey she took to get where she is now, as she moves forward as an artist.
"I manage this apprentice company [at Imagination Stage]," says Jung, "and they're really adamant that I get on Twitter.  I just kind of learned what a hashtag is!  And I feel out of the loop.  And I don't care to be in that loop, quite frankly.  Winnie is this lovely old-fashioned woman who kind of just goes about her own way."
So does Jung feel like a bit of a Winnie, buried in her mound?  "Yes, absolutely I sometimes kind of feel like Winnie.  …Winnie has a bag of objects, and they are very special to her.  That's all she gets to do for her whole day is spend time with those objects.  And there's something to her particular connection and specificity with each object that makes having objects in the mound resonate."
"She talks a lot about memories… a lot of these objects bring up memories.  All of us have those things, stuff we hang on to that connects us to the old world.  They're useless, but we hang on to those things because they have meaning.  But if we held on to all of them, we'd be lost."
MORE?