Director Rebecca Holderness describes The Wedding Dress as a psychological thriller and the audience is tasked with trying to figure out what really happened, in the vein of a film noir murder mystery. The plot shifts quickly from reality to the past, and to the imagination of the main character's confused mind.
"It was very compelling to me as it deals with a subject that interests me—the life of a human being, a woman in particular," she says. "Plus, I knew it would be an adventure as it was a play that was new to me and would be new to the audience as well. Many things have changed in how we perceive performance in media and what we think is psychological or real."
When asked to direct The Wedding Dress, as part of Spooky Action Theater's Nelson Rodrigues Festival, she knew very little about the revolutionary Brazilian playwright or his monumental work (titled Vestido de Noiva in its original form), which is said to have ushered in a new era in Brazilian theater, thanks to its complex exploration of its characters' psychology and its use of colloquial dialog.
She went to work discovering all she could about Rodrigues. In fact, she set up a Facebook page for her cast so they could all share information and learn together.
"The play is quite remarkable for its time (it debuted in 1943) and I found Rodrigues very compelling for a variety of reasons," she says. "I began researching his life and found the relationship with his wife and his being a newspaper man quite interesting and refreshing."
In 2013, Holderness was named a Zelda Fichandler Award finalist for her invigoration of Milwaukee Theater and most recently directed Ruined at Burning Coal in N.C. She has worked with Spooky Action twice before—directing Kafka on the Shore and Einstein's Dreams.
It was the theater's artistic director Richard Henrich who invited her back to the D.C.-based visionary theater, feeling Holderness's voice would add plenty to The Wedding Dress' U.S. debut.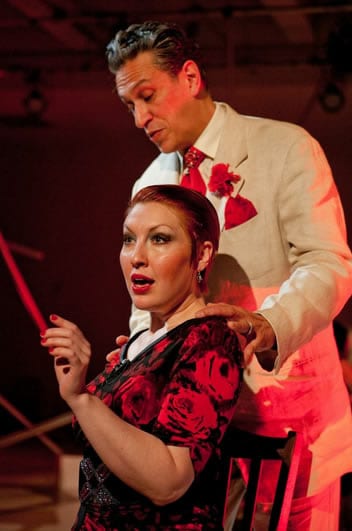 "I was intrigued when he suggested it to me," Holderness says. "He was interested in exploring it because it had features that fit my particular style and work that I do. The play provides the challenge of balancing different representations of reality and cohere them at the emotional core."
All of the actors in The Wedding Dress (except one) play several characters and so each actor must find a central core of human experience that is expressed through these different characters. The characters are diverse, and cluster around a woman and her family, the newsroom and a hospital in 1934, and a Madam, her brothel and her lover in 1904. These two strains are brought together by accident.
Holderness looked for agile movement-based actors, who were collaborative in nature, so each could play an equal role in creating the world of the play through movement and language as well as investing in the emotional journey of the character.
"All the characters and I become intimate, so in a way they are all like me and not like me," she says. "It's my job to continually identify with each character and see the play from their point of view."
THE WEDDING DRESS
Closes March 9, 2014
Spooky Action Theater
1810 16th St NW
Washington, DC
Tickets: $25 – $35
Thursdays thru Sundays
Details
Tickets
Although the play's time and setting were not updated, Holderness did go through the script in its original Brazilian form with an interpreter and found there were some translation problems that felt dated.
"We wanted to make sure we kept that same film noir feel and make it more contemporary. For me, the challenge was trying to do with completely different technology," she says. "It didn't need to be updated. People still watch those same Dashiell Hammett movies, they still watch The Maltese Falcon, it's a style that never loses steam when done right."
Holderness credits her design team with helping her bring this unusual production to life, stressing that it's not easy for designers to create an environment for a play that's not realistic.
As audiences leave the theater, Holderness hopes they take away delight in seeing the world refracted back to them in a new way.
"I want them discussing the internal question of "What if it was I?" and have a spirited debate over a drink or desert and coffee about who really did it," she says. "Whether they agree or disagree, I hope they debate. That's the kind of experience I want them to have. And maybe they will become more curious about Nelson Rodrigues, as he was a really interesting person."
More?
Nelson Rodrigues describes opening night of The Wedding Dress
Brazil, 1943.