DCTS has partnered with Angelika Mosaic Film Center in Fairfax, Virginia to offer you free tickets to the latest screenings of opera, ballet and theatre from around the world.
We have 3 pairs of tickets to each screening of Puccini's La Boheme, as performed by the Royal Opera House, recorded July, 2013.
Teeming with period detail, John Copley's definitive production of this much-loved opera is traditional opera at its best.
From a shabby garret to the bustling Café Momus to a snowy courtyard at dawn, this minutely observed panorama of 1830s Parisian life, beautifully designed by Julia Trevelyan Oman, conjures emotions and atmosphere ranging from joy to tragedy, in large-scale crowd scenes and intimate tableaux.
Puccini no doubt drew on his own student escapades for the robust humor of the comic scenes. And in his depiction of the tender and ultimately tragic love between Mimì and Rodolfo, Puccini achieved an immediacy, warmth and humanity that have rarely been equaled.
Starring: Rolando Villazon, Stefania Dovhan, Maija Kovalevska
(Running time: approximately 3 hours, 10 minutes with 1 intermission)
2 Screenings

THURSDAY, February 20
7:00 pm
SUNDAY, February 23
2:00 pm
Tickets are $20. Buy online or call 571 542-3308.
ENTER NOW TO WIN A PAIR OF TICKETS

Update: All tickets are gone.
Look for our next Angelika Film giveaway coming soon.

Tickets will be awarded to those first responding.
Winners will be contacted immediately.
Email here to win a pair of tickets
Be sure to include a) the day and time you prefer
and b) your name and best phone number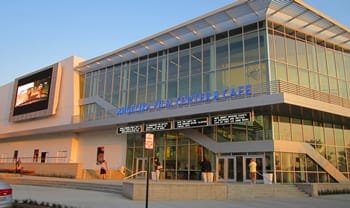 Angelika Mosaic
2911 District Ave (at Lee Hwy & Gallows Rd). Fairfax , VA 22031
See what's playing at the Angelika Mosaic Film Center