Only perfect-pitch direction and excellent casting could get this quirky expressionist work off the ground.  Luckily Spooky Theater has just what it takes to get juices flowing like you wouldn't believe.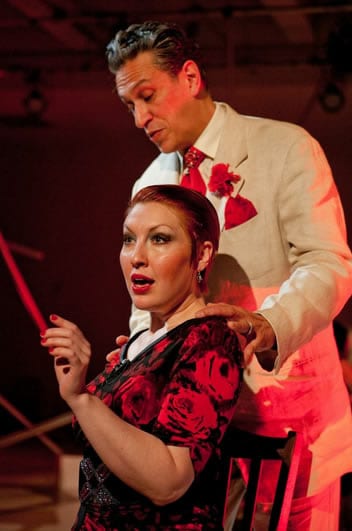 Characters deal with infidelity, prostitution, murder, loose-legged women writhe and grind against the pillars– it's all covered in this Brazilian gem, sprinkled with hints of solicitation of a minor, mega doses of insanity and over all mayhem.
Mundy Spears is perfectly cast as the confused wife Alaide who's either lost her memory after a car accident, is totally insane, is the only sane one of the bunch, and/or is dead.  Only someone with the chops of Spears could pull off this hodgepodge of possibilities, and keep you holding on for the ride.  It doesn't hurt that Spears is drop dead gorgeous and could seduce anything with a pulse.  And that includes the character identified as Madame Clessi, played to the hilt by Dane Figueroa Edidi who exudes an effortless charm as the premiere brothel proprietress.
In this tale filled with innuendo and intrigue, it doesn't matter that the Madame Clessi character provocatively portrayed as a sensuous, coquettish fan wielding siren was only a figment in Alaide's furtive imagination, since Madame was withered and old with varicose veins when she died and was rotting in her grave during Alaide's re-imaginings. Spears handles all of these surrealistic Dada-like moments with ease, having rocked the house as Lilly in the world premiere of Caesar and Dada with the same mesmerizing expressions one could get lost in.
Alaide struggles to make sense of the bits and pieces of memories that percolate up as she talks with fellow seekers, including those who might be with her in the hospital after the car crash, was it an asylum?  We're never quite sure when and where we are with The Wedding Dress, but director Rebecca Holderness grips the issues tight enough that one doesn't feel abandoned or lost in a caldron of confusion.
Functionally stylized, the actors move in choreographed sequences or hold a pose in a freeze frame tableaux to help tell the story where details slowly start to crystallize into clear passages.  Only toward the end do we get a better sense of Alaide's point of view sifted through her delusions, appreciate the true character of her husband Pedro, played by fine New York actor Randolph Curtis Rand, and finally understand the veiled woman through a commanding performance by Tuyet Thi Pham who is a joy to watch.
Other high caliber ensemble work is seen in Frank Britton as the father who would rather not know all of the secrets and realities that he does, and a moving performance by Michael Kevin Darnall during a simple announcement about Alaide's death and funeral services where his hurt is honestly rendered and achingly real.
Recommended
THE WEDDING DRESS
Closes March 9, 2014
Spooky Action Theater
1810 16th St NW
Washington, DC
1 hour, 30 minutes, no intermission
Tickets: $25 – $35
Thursdays thru Sundays
Details
Tickets
The production set design by Vicki R. Davis works well, too, with huge criss-crossing silver beams that flank the top of the stage in abstract art.  Fly Steffens served as dramaturg as well as projection designer where he hit the mark with videos of the old vintage 1950's cars on the highway, even sometimes rolling backwards.  Of course lighting and sound have to be perfectly calibrated to match the rest of the high-stakes values, and Maya E. White and David Crandall, who also contributed to projections rise to the occasion setting the moods with shadows and ominous sound effects.
That Spooky Action could produce such a complex D.C. premiere says a lot about the sheer will power of this relatively small scale company. With its multiple layers of altered states and dimensions, The Wedding Dress is not an easy piece to mount and bring alive or understand.  Everyone involved has dug deep into crevices of memory, physical movement, and psychological temperament to bring forth characters, images, settings and scenes that will linger long after the lights come up.
————————-
The Wedding Dress by Nelson Rodrigues . Directed by Rebecca Holderness . Featuring Mundy Spears, Randolph Curtis Rand, Dane Figueroa Edidi, Tuyet Thi Pham, Michael Kevin Darnall, Frank Britton, Stefanie Garcia, Rafael Medina, Aniko Olah and Sue Struve . Produced by Spooky Action Theater . Reviewed by Debby Jackson.
More?
DCTS interviews director Rebecca Holderness