Last week I came to a conclusion: the best way to increase the entertainment value of a mediocre play, like Timon of Athens, is to give it to a repertory theater company. They'll mix it in with three or four others, including a couple of better ones, and they'll give the same small group of actors roles in all those plays, which means that an actor with a big role in the mediocre play will also have a role of substance in a better one, and his work with the stronger material might nourish his work with material that isn't so good.
That's what seemed to happen at the Blackfriars Playhouse anyway.
Timon is the story of a man who goes to pieces when he finds out that people aren't the noble creatures that they should be. He's a wealthy man whose generosity with friends is profligate. At the beginning of the play, while he's hosting a lavish banquet, news comes that a guy he knows has been thrown into debtors' prison, so Timon pays off that guy's debts. Then news comes that another guy he knows can't marry the woman he loves because he isn't rich enough to please her father, so Timon gives him what he needs to qualify as rich enough.
"We are born to do benefits," he says. "My wealth is in my friends."
Perhaps — as long as some of it is also in his pockets. But when he goes broke and turns to his friends for help, they turn away. Again and again. So Timon gives the world the finger and takes to the woods, where he may not last long, but at least he won't have to suffer the presence of people.
Of course there's more to it than that, but not enough more to lift the play above the formulaic realm of mediocre entertainment — which is why some critics think that Shakespeare wrote it in a hurry, in collaboration with a lesser playwright, to satisfy the relentless needs of the repertory theater company he worked in.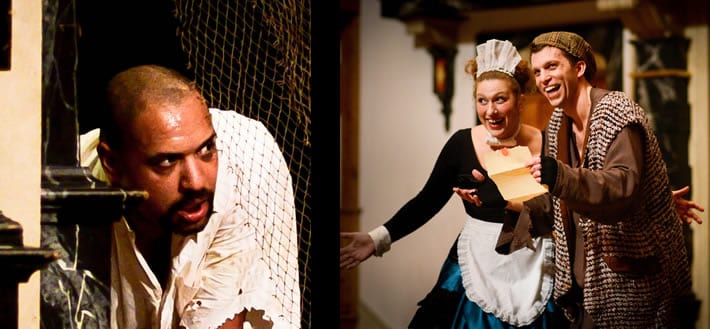 What elevates the play in this production is René Thornton, Jr., who plays Timon — and who has played a hundred other roles in seventy-seven different productions at the Blackfriars Playhouse over many years. He'll play five other roles this week. Thornton has a big body and a deep voice and the kind of charisma that makes you hope he'll glance in your direction. I've seen him play a lot of characters that require what you might call noble bearing: Brutus, Claudius, Othello. Once I saw him eating lunch at Baja Bean, and I thought, "There's a man who puts a taco in his mouth with dignity!"
Dignity and noble bearing are the qualities Timon is supposed to typify in the first half of the play, so of course they gave René that role, I tell myself: that's what he does; that's what he is. And I settle in to watch him dignify. Which he does so well that when his friends reject him, and he flips the house the double bird before he leaves the stage for intermission, and then returns by crawling out of a hole in the floor, his ivory coat gone, the sleeves torn off his handsome shirt, I'm shocked by how the world diminishes a man.
"I didn't always believe it," Artistic Director Jim Warren says, "but [now] I am convinced that every single play by Shakespeare can be a great evening of theatre.  Some of his plays are 'better' than others, but each of them has something to say, some great characters, some riveting scenes. And when you perform these plays using the staging conditions for which they were written, even the most obscure, least-performed play comes alive…"
Those conditions make the audience part of the world of the play, Warren says. Everybody in the house shares the same pool of light all the time, which allows the actors and the audience to see each other equally well. And the audience surrounds the stage on three sides, which makes it easy for the actors to address them directly, especially the audience members who have chosen the so-called "gallants' stools," twelve of them, which are actually on stage.
That aesthetic governs all productions at the American Shakespeare Center, but the special Actors' Renaissance Season, which is going on now, turbo-charges that aesthetic. It's a rotating repertory season of five plays which the actors direct themselves on the fly, often using cue scripts, with little rehearsal — just two and a half days of rehearsal for the current production of As You Like It, according to Allison Glenzer.
"During our Summer, Fall, and Spring Seasons, " Warren explains, "we do rigorous table work, scanning every line, paraphrasing every line, diving into the rhetorical devices different characters use," but during the Renaissance Season, he says, "the process is much faster and the product is more raw. The best modern analogy is when a band decides at soundcheck that they're going to work up a new song or a song they haven't played all tour and add it to the setlist that night."
During  Saturday's performance of The Servant of Two Masters, that commitment to working on the fly produced the most enchanting moment I've seen on stage in a long time. Gregory Jon Phelps, playing the servant, had just opened and read a letter he was supposed to bring to one of his masters, and suddenly he realized that he would be in trouble if he delivered it unsealed. "I know!" he says, "I've heard that you can reseal letters with chewed bread," and he takes a chunk of bread out of his pocket.
"Ew!" cries a girl in one of the gallant stools.
At which point Phelps turns toward her and says, "I don't know, it might work." And he starts to eat the bread. Which makes her laugh. And laugh and laugh and laugh. He stops eating and comes over to her, pats her on the back, then offers her the bread. "Try it," he suggests, which makes her crack up uncontrollably. He smiles at her, and looks at us, and looks at her again. Uncontrollably. Breathe in, breathe out, he coaches her by gesture, in and out, and when she starts to get a grip, he moves away. But in a second he comes back and holds his hand up for a high-five, which she gives him. Then he asks the audience for a round of applause. Finally he goes back to the middle of the stage and reseals the letter with a blob of mushy bread.
The interlude lasted for probably a minute and a half, during which time Phelps, whose great power as an actor derives in part from his complete immersion in the moment, was working with the laughing stranger as a co-performer. With her and with us.
The Servant of Two Masters was written by Carlo Goldoni, not by Shakespeare, but during the current Actors' Renaissance Season, the American Shakespeare Center has completed an incomparable feat: staging every play that Shakespeare wrote. That's thirty-eight plays, including many that an ordinary audience has never heard of, like Timon of Athens.
To wrap my mind around the magnitude of that achievement, I emailed seven other famous Shakespeare companies and asked how many plays from the canon each of them had done. As far as I can determine, only one has done all thirty-eight: the Royal Shakespeare Theater in Stratford-upon-Avon, which is probably the largest theater operation ever to exist. It employs a staff of 700 people, not including actors, on a campus valued at $187 million. Washington's Shakespeare Theater has come close — every play except Henry VIII — but it, too, is an enormous enterprise: $82 million in assets, and a paid staff of more than 200, not including actors.
By contrast, the American Shakespeare Center has a full-time staff of 18, not including actors, and total assets that fluctuate from night to night, depending on how many glasses of wine they sell at intermission. Yet somehow "ASC does more productions by Shakespeare and his contemporaries every year than anybody else in the world," Warren says. Believe it or not, right there in charming little Staunton VA, a hundred miles from the Beltway.
"We only have 38 surviving plays by Shakespeare, so it just makes sense that we would find a way to do them all."
Lucky us that someone in the world is trying to make that kind of sense.
————————————————–
The Actors' Renaissance Season at the American Shakespeare Center continues through April 6. It includes these five plays in rotating repertory: As You Like It, The Servant of Two Masters, Timon of Athens, Epicene or the Silent Woman, and The Maid's Tragedy. The repertory company includes Sarah Fallon, Allison Glenzer, Andrew Goldwasser, John Harrell, Abbi Hawk, Jonathan Holtzman, Josh Innerst, Chris Johnston, Gregory Jon Phelps, Tim Sailer, Tracie Thomason, and René Thornton, Jr. Produced by American Shakespeare Center . This article by Mark Dewey. Order tickets online