"When I started," Stacy Keach told me, "my goal, my objective was to try to combine pop art with classical work.  Like Leonard Bernstein with music, or André Previn.  Agents and producers don't like that.  They want you to be one thing or the other."
Keach made the remark in response to my observation that his career has been unusually varied.  From early days playing Shakespeare for Joseph Papp, to his visits to our Shakespeare Theatre Company (STC), he has had an impressive career as a classical actor.  He's done popular movies such as The Bourne Legacy as well as critically acclaimed indie films, such as this year's Oscar nominee Nebraska.  He's done musicals on the stage and series on TV.  He's played complex historical characters like Martin Luther, and tough guys like the Warden in Prison Break.  He's played Hamlet and Mike Hammer.  That's range.
I had learned from the blog Keach has been writing during his current stint at STC playing Falstaff in Henry IV that he had previously played the role for Papp in Central Park.  "That was 47 years ago.  I was 27.  Now I'm 72.  Somehow the numbers got reversed.  Back then, I was trying to be old and fat, now I'm trying to be young and thin."
I presumed that the earlier production in the Park might have been only the more frequently performed Part One.  (Shakespeare told his history of King Henry IV in two parts.)  Keach corrected me.  Like the current production, his first turn as Falstaff spanned both parts.  His Prince Hal back then was Sam Waterston — like Keach, an actor who was a Papp favorite and a Central Park Hamlet, and who is actually a year older than the actor who was playing his father figure, Falstaff.
Keach said:  "I'm so excited about this production.  When Michael [Kahn, STC Artistic Director] asked me to do it, I didn't hesitate.  Some of my fondest memories are playing Falstaff.  What I had forgotten, but am now coming to realize, is that it is a very strenuous role.  The battles, dragging bodies around, the robbery — I'm feeling it, the pressure, physically.  It's like an athletic event.  And I'm carrying 40 pounds of extra weight," he said, referring to his padding and adding that it's a challenge for him not to sweat off his whiskers.
I asked Keach about the legendary Mr. Papp.  "He was largely responsible for my career.  He got me started."  It was 1964 and Papp's New York Shakespeare Festival was doing Hamlet for its free Shakespeare in the Park.  Keach was cast as Marcellus and the Player King.  Hamlet was played by the German actor Alfred Ryder "for about two minutes."  Ryder was replaced by Robert Burr, who had been acting in, and understudying Richard Burton in, the landmark rehearsal-clothes production then running on Broadway.  "He came on opening night, Burton, with Elizabeth Taylor.  They came to pay their respects to Bob Burr."
It was the not-quite-Shakespearean lead in Macbird! that really put Keach on the map.  It was 1967, a few years after the assassination of John F. Kennedy, when he did Barbara Garson's parody of Macbeth, in which Lyndon Johnson corresponded to Macbeth, JFK to Duncan, and Robert Kennedy to MacDuff.   It must have been very controversial and daring at such a confused and vulnerable time in our history, right after the event that gave birth to a cottage industry of conspiracy theories, to put on a play whose premise was that the sitting President had killed his predecessor.  Were they concerned?  Were they worried about repercussions?  "We were deeply concerned about being accused of being saboteurs and seditious traitors.  Yes, we were worried.  But there was not a single repercussion.  We were ignored, as if we never existed, by the White House."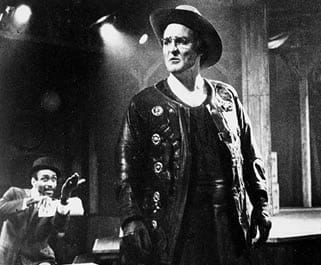 I next asked about his role as Buffalo Bill in Arthur Kopit's Indians, which began here at Arena Stage.  "Roger Stevens [a Broadway producer who became the first President of the Kennedy Center] and Lyn Austin produced it and took it to Broadway.  I love it [the play] and had such a good time doing it.  But it did not resonate too strongly with New York critics.  The reviews were respectable, but it didn't do any business.  It was labelled a political play and not an entertainment, which kept people away.  It closed after four and a half months.  But it's still very timely.  I wouldn't be surprised if we see a revival.  It's time for one."
We reminisced about the days when PBS did more than produce public affairs programming and import British drama, when they also produced and broadcast American drama. "It's so sad.  I wish they still did that.  I miss those days when they did live theatre on TV.  I was brought up on Playhouse 90 and Kraft Television Theatre.  Actors got the chance to play roles they would never have a chance to play otherwise."  Keach mentioned Rod Steiger in Marty.  Keach was involved in a couple of those PBS broadcasts, productions of plays that made a great impression on me.
One was Jean Anouilh's Antigone, in which Keach played the one-man, impeccably suave Chorus.  Antigone was played by the wonderful Geneviève Bujold.  Keach seconded my appreciation of La Bujold and told me that they had recently done Yasmina Reza's The Unexpected Man together in Malibu, where she lives.  "I loved doing it with her, she is so great."
I remembered that Keach did the national tour of the musical Barnum, and that I saw him on some 1970s talk show, during his Broadway stint in Deathtrap.  On the talk show, he sang a ditty he had written about his character.  ("He's the maniac of Broadway, Sidney Bruhl…", or something like that.)  I asked why he hasn't done more musicals.  "I'm not a singer.  I write music and play the piano, and I can do 'talk singing,' in shows like Camelot and The King and I," but he said there's a limit to how far his musical skills will take him.  "Joe Papp talked to me about taking over for Raul Julia when he left Threepenny Opera."  But Keach concluded that the musical demands of the part were out of his range.
We talked about what attracts him to projects.  "I'm more into the role, the part is what attracts me, and Shakespeare has been very important to me, much to the chagrin of agents and producers.  Including this stretch," he added about his current gig playing Falstaff, a commitment that has had a much longer than normal rehearsal period, "though I did fit a movie in during rehearsals."  (More about that later.)
Another break from his time in town was going to the Academy Awards as one of the stars of Nebraska, a part that also had a singing component.  I don't think it's too much of a spoiler to tell readers who haven't seen that terrific film that Keach's character sings "In the Ghetto" at a Karaoke bar.  I asked if it had been Keach, director Alexander Payne, or screenwriter Bob Nelson who chose the song.  "It was Albert Berger, the producer, who chose the song.  It was such a wonderful movie to work on, I was privileged to be a part of it.  And it was great to work with Bruce [Dern] who's an old friend.  We go way back together.  We did That Championship Season [the 1982 film version of the Pulitzer Prize-winning Jason Miller play] together.  It was great to work with him again."
I said that I hope that Dern (who in a less competitive year would certainly have won the Best Actor Oscar) could leverage his success in the film into other roles.  "He's gotta get back to the theatre.  He hasn't in later years.  But, it's not his passion."  In response to my remark that Dern was invisible for the past several years, Keach spoke about the importance to an actor of finding a way "to reinvent oneself and to keep busy."
My brother Edward suggested that I ask Keach about being the only American actor in the otherwise British cast of Conduct Unbecoming, the 1975 film version of the play that's kind of like A Few Good Men only with Brits in India, and in which, Ed thinks, Keach was terrific.  "The irony is that, after I did that movie, everyone thought I was English and I couldn't get a job as an American."  That plus the fact that he had gone to school in England — he studied at the London Academy of Music and Dramatic Art on a Fulbright Scholarship.  (To be precise, one of the other stars of Conduct Unbecoming, Christopher Plummer, is Canadian, and therefore is technically also American, but they have the Queen on their money, so he doesn't count.)
Michael Kahn is directing the Henry plays and has been instrumental in bringing Keach to DC periodically.  I pointed out that the previous high-profile person to come to DC to lead a theatre (before Kahn took over what evolved into STC) was Peter Sellars, whose tenure running the American National Theater at the Kennedy Center in the early 1980s did not have as happy an outcome.  Analyzing what happened to Sellars, Keach said that "there was a difference of opinion about a vision for the future."  Sellars was interested in "eccentric, original work, they wanted something more traditional.  But I loved working with him.  What a smart man."  Keach played the lead in the Robert Sherwood play Idiot's Delight during Sellars' brief tenure.
That led to Keach bringing up a subject I had decided I would steer clear of.  He served 6 months for cocaine possession in the early 1980s in England.  He did the time at Reading Gaol, immortalized in the poem written by Oscar Wilde during his time there.  Since I was born in Reading, I thought for a second that mentioning that might be a good ice-breaker, but I quickly changed plans and decided to stick to things theatrical.  But Keach himself brought up his incarceration in the context of doing Idiot's Delight.  "They've just shut the prison," he told me, adding that "one of the nicest things that could have happened, they put my picture next to Oscar Wilde."  For the record, he graciously didn't hold my Reading connection against me.  And, remarkably, he didn't seem the least bit bitter when speaking about the unfortunate episode.
Back to Idiot's Delight — what did that have to do with Reading Gaol?  Keach said that he did the play shortly after his release and that the character he played, Harry Van, "had a problem with cocaine.  Everyone thought we added that" to capitalize on his recent notoriety.  But, no, it was in the play, and it was just one of those "serendipitous moments."
The story reminded me of another he told in that TV interview I saw years ago during his Deathtrap run.  George C. Scott and his second wife Trish Van Devere came to the show.  When they heard their names during the play, they assumed that the mention had been put in that night because they were in the house.  No, Keach told them, that's the way the line had been written into the script by playwright Ira Levin.
Was Scott a good friend, I asked?  Not so much a friend but "a great mentor.  I learned so much from him."  One of Keach's first films was with Scott in The New Centurions, from the Joseph Wambaugh novel about beat cops in L.A.  "I was very self-conscious in front of the camera when we started.  He helped me with that."
I ask if he ever worked with the first Mrs. Scott, Coleen Dewhurst.  "She was Gertrude when I played Hamlet in Central Park," Keach told me.  He then told me about a night when, backstage, he made a remark about Scott that didn't sit well with Dewhurst.  Their marriage, by then, was "on rocky turf."  She walloped him during the closet scene.  He "threw her across the room."  Droll pause.  "It was an electric scene that night."  He then reeled off other actors in an amazing cast supporting his Hamlet:  James Earl Jones as Claudius, Waterston as Laertes, Barnard Hughes as Polonius, Raul Julia as Osric, Charles Durning as the Gravedigger.  I checked the Lortel Archives on-line to make sure I got all this right and saw that Christine Baranski played "Lady."  Keach got the Obie for Distinguished Performance.
All told, he played Hamlet three times, including at Long Wharf Theatre and in Central Park.  Amazingly, each time he had the same Ophelia (Kitty Winn, best known for the early Pacino film Panic in Needle Park).  Linda Hunt was the Player Queen in each production.
I asked what he is proudest of.  "That's hard to say.  I'm proudest of my family.  As far as work is concerned, it's difficult for me to look beyond the present."  And, for now, the present is Washington, "where I've had wonderful successes.  Most of my theatrical work has been in DC over the years.  I love the audiences.  Most of my Shakespeare has been done here."  He then mentioned his national tours of Frost/Nixon and Barnum, which played The Kennedy Center, as did The Kentucky Cycle.
That last, I believe, was the first play to win a Pulitzer Prize before receiving a production in New York.  After winning the Pulitzer, it played The Kennedy Center on its way to a short Broadway run.  "Yeah, that was a big disappointment.  When we came to DC with it, it got slapped on the wrist."  The review in The Washington Post was discouraging, but playwright Robert Schenkkan (whose All the Way about LBJ is currently playing on Broadway starring Bryan Cranston) decided he wasn't going to make changes because of anything the Post said, and, besides, the New York press "won't emulate The Washington Post.  Well, guess what?  They did.  The review in The New York Times was a carbon copy of The Post."  Keach, though, admitted that there were problems with the play, another two-evening affair.  "Part one was glorious.  Part two got into union issues," as the focus shifted to workers' rights, and the Oresteia-inspired family conflict "dropped away."
When asked about roles he would like to do in the future, Keach said he wants to revisit his last STC role, King Lear, in the same production, directed by Robert Falls, that began at Falls' Goodman Theatre in Chicago before coming to STC and sweeping the Helen Hayes awards.  Also, he's working on a one-man show about Ernest Hemingway.  (He won a Golden Globe award for playing Papa H. in the mini-series Hemingway in 1988.)  Iago is a role he's never had a chance to play, but feels he might be too old for now.  And he's toying with the idea of directing Shakespeare.
Speaking of directing, the second of the PBS broadcasts from the 1970s that I remember so well was one he directed, Arthur Miller's Incident at Vichy.  (He also directed a PBS version of Six Characters in Search of an Author, featuring, of all people, Andy Griffith.)  I asked why he hasn't directed more since doing it in the 1970s and later directing a few episodes of his Mike Hammer TV series.  He said that his actor brother James began to get interested in directing so Stacy decided to step aside to "let him carry that ball.  Now [James] is not spending any time as an actor, he directs and produces."  In fact, James Keach (among the films he has produced is the Johnny Cash biopic Walk the Line) was in town recently to accept a Proxmire Award for his current project, which follows Glen Campbell's final concert tour and chronicles the singer's battle with Alzheimer's.
Speaking of brother James, I wanted to ask about the classic Walter Hill western The Long Riders, which featured the Keach brothers as the James brothers, the Carradine brothers as the Younger brothers, the Quaid brothers as the Miller brothers, and the Guest brothers as the Ford brothers.  Whose idea, I asked, was that?  "It was our idea!"  The Keach brothers, who were producers of the film, "struggled for nine years to get that movie made.  The studio said 'You can't get all these brothers.'  But we did."  He told me about a photo they staged to prove that they could, which included Jeff and Beau Bridges, who eventually couldn't commit and whose roles ended up being played by the Quaids.  He joked that they considered changing the title to Everyone and His Brother.
I asked about working with John Huston.  "He was great.  We were very good friends during that period.  He was an inveterate gambler.  He loved to gamble.  We would play backgammon on the set every day.  We did three films together."  Huston directed Keach in Fat City and The Life and Times of Judge Roy Bean.  "And we acted together.  It was called The Greatest Battle, with Henry Fonda, Samantha Eggar, Helmut Berger.  It was just awful."  I loved Berger back in the day so I had to ask about him.  "He was a wonderful actor, a sweet, sweet man.  He had amazing charisma.  We had a lot of fun playing a couple of Germans together."
Given Keach's devotion to theatre, it's not surprising that when Ely Landau launched his ill-fated American Film Theatre series, which made faithful film versions of great plays, Keach was one of the movie stars who anchored one of the projects, when he played the title role in John Osborne's Luther.  I saw it at the time and told Keach that I remember how great he looked in the loin cloth scene.  And did I remember correctly that he did nudity in that?  Yes, he confirmed, and in another film as well, The Squeeze, a British film, and he remembered others in that cast:  David Hemmings, Stephen Boyd, Edward Fox.  "All gone.  Well, Eddie isn't gone."  Best remembered for Ben Hur and Fantastic Voyage, Stephen Boyd died surprisingly young.  "Yes, on a golf course.  I think about him all the time."
Keach's last Broadway show was the wonderful Jon Robin Baitz play Other Desert Cities, which I was lucky enough to have seen him and Stockard Channing in, and which he called "one of my favorite jobs."  He mentioned a few films he already has in the can.  "I have a bunch of things coming out this summer."  He made the sequel to Sin City (Sin City: A Dame to Kill For) and the animated film Planes, as well as the one he made during Henry IV rehearsals, called Cell, which is from a Stephen King novel and also stars Samuel L. Jackson and John Cusack.  Plus, "I just finished a wonderful film in Vancouver called If I Stay."  As he spoke about that film and its lead Chloe Moretz, his enthusiasm was palpable.  Maybe Keach will be on the awards circuit next season with that one.
With nearly 200 mentions in the International Movie Data Base, with several films waiting to come out, I ask whether he has ever not been working.  "Dry spells, I've had 'em."  And he detailed a couple of "droughts."  Of the scores of films, which is his favorite?  Big smile:  "The next one."
Keach's career has been unique and far-reaching, and it's impossible to cover everything during a chat squeezed in between a busy day rehearsing and an evening run-through of Henry IV, Part One.  ("Not as bad as some other days," he dead-panned.)
Looking back, I can't believe I didn't ask about working for Robert Altman.  And my brother Ed is surprised I didn't bring up the TV series Caribe.  Fortunately, however, Keach has written a memoir, which provides more detail about the fascinating stories I could only touch on, and much, much more.  It's called All in All: An Actor's Life On and Off the Stage, and it's available on Amazon.com and at the gift shop at the Harman Center, where Henry IV runs until June 8th.
Henry IV, Part 1 opens in previews March 25, 2014 and continues through June 7.
Details and tickets
Henry IV, Part 2 opens in previews April 1 and continues through June 8, 2014.
Details and tickets
Stacy Keach is blogging his Henry IV experiences every Wednesday. Chimes at Midnight