For the next couple of weeks, we in DC have the chance to experience something special:  Tovah Feldshuh's truly remarkable performance as Golda Meir in Golda's Balcony, William Gibson's solo play about the woman who led Israel through a tumultuous period in its history.
Feldshuh's performance brought her a Tony nomination, and the show became the longest-running one-woman play in Broadway history.  However, I can't imagine a better place to see it than Theater J's intimate Goldman Theatre at the DCJCC in Dupont Circle.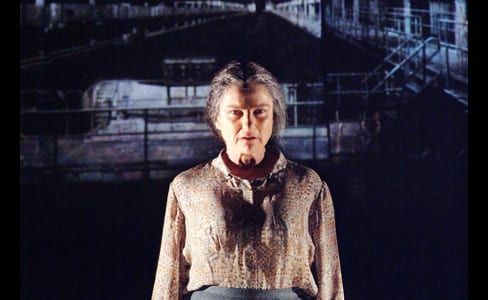 About 20 minutes into the piece, which has been cruising along at a very brisk pace, Feldshuh as Meir stops herself as she is describing conditions in a refugee camp on Cyprus.  Head bowed, she takes a sip of water before continuing.  At several points during the evening, her emotions seem to well up suddenly, surprising herself and us.  When she looks into the audience and asks questions, it doesn't feel rhetorical.  The moment when she fondly laughs remembering the Russian Jews who ran up to her calling "Goldalah, Goldalah!" seems to occur completely in the moment.  The beginning of the play, when she notices and then addresses us, is wry and real.  These riveting behavioral details create the feeling of a conversation, not a performance — spontaneous, truthful, thoroughly convincing.
Historical drama is often replete with wince-inducing lines that seem off pitch and are tarted up with schmaltzy humor and cheap sentiment.  Gibson's play is better than that.  A couple of jokes are a bit corny.  (One about finding bargains at S. Klein, for instance.)  But for the most part, the script rings true enough that we buy fully into Feldshuh's characterization.
More importantly, the play is about something deeper than biography.  It investigates themes that are both timeless and timely.  Gibson uses Meir's story to explore the moral complexities surrounding the use of force even when it is employed in defense or to survive.  A striking image of dead Jewish boys still holding the stones that proved no match for superior weaponry acts as a catalyst for Meir.  At the same time, she is haunted when "more life for all means more death for some."  Questions of this kind will always trouble compassionate people.  Today, when our newspapers are full of horrific reports about events in Syria and the Central African Republic, and remembrance of the Rwandan genocide as its 20th anniversary is marked, this play resonates particularly strongly.
Another recent anniversary was that of the Cuban Missile Crisis.  As a serious Hardball fan, I've heard Chris Matthews talk frequently about that event as emblematic of how enlightened diplomacy kept the Cold War from becoming hot, radioactively hot.  The crux of Gibson's play is about a less well remembered drift to the nuclear brink.  That was in 1973 during the Yom Kippur War when insufficient support from the Nixon administration caused Meir and her government to veer frighteningly close to a nuclear decision whose consequences, it is easy to imagine, might not have remained regional.  The play's title refers to a platform from which observers looked out over Dimona, the site of the secret Israeli nuclear weapons program.  Meir visited it so frequently that it took on the nickname "Golda's Balcony."  She describes it in the play as "a view into hell."
The tension between the idealism that fueled the creation of Israel and the compromises resulting from the use of power to ensure its survival troubles Gibson's Golda.  "Paradise Lost," she muses at one point.  When did the objective of the "redemption of the human race" evolve into a preoccupation with munitions, she asks at another point.  Israel makes sense, she reasons, but she is haunted by what she refers to as its costs.
Highly Recommended
GOLDA'S BALCONY
Part of the Voices from a
Changing Middle East Festival
Closes April 27, 2014
Theater J
1529 Sixteenth Street, NW
Washington, DC
1 hour, 30 minutes, no intermission
Tickets: $60 – $65
Tuesdays thru Sundays
Details
Tickets

I won't go into the details of the last-minute addition of Golda's Balcony to the Theater J season as a sort of balance to the controversial The Admission, but this isn't a play that avoids difficult questions or white-washes Israeli history. There was controversy surrounding the play's premiere since Gibson speculates about the Meir government and its consideration of the nuclear option. And, although certainly sympathetic to Meir, the piece never descends into hagiography.
Playful fun is made of the fact that her autobiography was ghost written.  More pointedly, she admits that the memoir doesn't mention Dimona.  Meir seems allergic to the arts.  "I could do without that music," she testily snaps.  She takes responsibility for the failure of her marriage, the sad and lonely death of her husband, and the fact that too often her priority was "the cause" above her children.  "Such stories," she laments, after recounting the tale of a refugee, a woman who had smothered her crying infant to prevent it alerting the Nazis to her hiding place.
There is a chilling echo of that when she tells us the story of her own daughter's shock and hurt.  Meir knew of a planned strike that ended up not occurring.  Her daughter and grand-children were at Ground Zero.  "Why didn't you tell us?"  "Israel first."
Gibson doesn't force the questions he raises into easy or pat answers, although Meir expresses palpable relief upon retiring from office.  She says that the cruelest part of her job had been sending boys to die and now it was time for Israel to find someone else who could do that…and who would not shy from arming the nukes if necessary.  The play ends with her asserting Israel's right to exist, which she follows with the plea "Shalom."  But there is no sense of how to reconcile the two expressions beyond hoping for their resolution.
The play deals with, but doesn't dwell on, Meir's role as a pioneer, one of the first female heads of government.  The fact that she is a woman is certainly part of the play.  A connection is made between the traits she inherited from her mother and the perception of her as "intransigent."  However, how she navigated the barriers to political success as a woman would have been more interesting to me than some of the details of her domestic life.  Also, she mentions that she is Socialist and non-religious (as were many of Israel's founders), but those dynamics and how they affected her are not explored in depth.
Some of the bouncing back and forth among events throughout her life nearly gave me whiplash.  There was one point at which she is talking to Kissinger during the Yom Kippur war, and I didn't catch a transition back to the 1950s when suddenly she is talking to Ben-Gurion.  But for the most part Gibson is informative about the history without being confusing.  He keeps to about a half a dozen the principle figures Meir deals with.  (With Golda's Balcony at Theater J and Camp David across town at Arena, it seems to be the season for plays about recent Middle East history.)  Incidentally, Gibson wrote a multi-character play called Golda which was produced on Broadway in 1977 with Anne Bancroft.  Dissatisfied with it, he returned to the subject with this play, which was filmed in 2007 with Valerie Harper.
Scott Schwartz is credited as "Production Consultant and Original Broadway Director" and presumably deserves a lot of the credit for the cohesion of the production and for the richness of Feldshuh's work.  Presumably due to contractual concerns or something like that, some of the designers are also listed, puzzlingly, as consultants.  They work together (Anna Louizos, Sets; Jess Goldstein, Costumes; Jeff Croiter, Lights; Alex Hawthorn, Sound) and with Feldshuh to create a richly textured evening.
I'm not a big fan of one-person scripts, but this one will be up at the top of my list, along with other unforgettable solo shows I've seen, including Henry Fonda as Clarence Darrow, James Earl Jones as Paul Robeson, and (of course, and last week, for the second time!) Hal Holbrook as Mark Twain.
I'll also never forget Feldshuh as Golda Meir, nor will many others in the opening-night audience who leapt to their feet when the play ended.  Or sat in rapt silence about two-thirds of the way through as we watched Meir, unspeaking, take in the realization that the state of Israel had come into being and that the dream of a Jewish nation had been realized.  You could hear a pin drop.  That the production succeeds so well is a tribute to the entire team.  That it succeeds brilliantly is due to the masterful performance of Feldshuh.
———————
More!
Tovah Feldshuh talks with DCTS about playing Golda Meir