It is so extraordinary to see the name of one man above the title of a show, listed as Producer. Unless that man is Cameron Mackintosh, the Florenz Ziegfeld, Harold Prince, David Merrick of his generation – a man of taste, intelligence, passion, combined with courage, business acumen  and an instinct for what the public needs and wants from its musical theatre entertainment. He not only produced the world's longest running musical, Phantom of the Opera, he managed to do the same for the second and third winners as well. You may have heard of them.  Cats and Les Misérables. He's had so many other smash hits, the runs of which would have satisfied half a dozen producers, you'll just have to take my word that the man is an icon.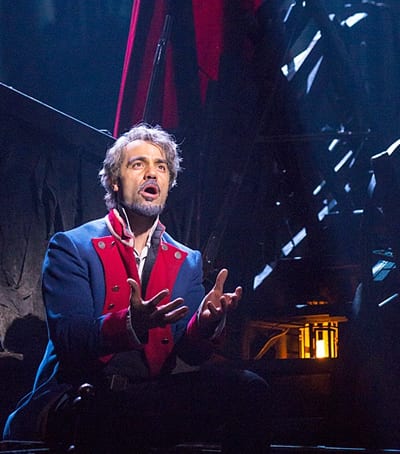 Not content with the 6680 performance first run of Les Miz (as it has come to be called), he managed to add 463 performances in a 2008 revival on Broadway, and now in 2014 he has re-invented the show with a brand new cast, director, designers, orchestrators. He's even gone to the source, Victor Hugo, on whose novel the musical is based. Mr. Hugo, long gone to his reward, has supplied the evocative paintings that inspire the settings and image designs of Matt Kinley.
Just as stunning a performance in the lead role of Jean Valjean as was given by Colm Wilkinson in the original, is the current one by a younger Ramin Karimloo. Discovered by Mr. Mackintosh when he was new to the scene some ten years ago, Karimloo has paid his dues by playing supporting roles in several long runs, including Sunset Boulevard, Phantom, Miss Saigon, and recently as the star of Love Never Dies, the Andrew Lloyd Webber sequel to Phantom which had a decent run in London. Karimloo is new to us, a true 'discovery', and to musical theatre he brings good looks, a magnificent voice, a magnetic presence, an instinct for acting that allows him to play Valjean right to the end, though the character at that point is forty years older than the actor who is playing him.
As his vis-a-vis, his arch enemy, the obsessive Javert, whose religion is The Law, another actor of vast supporting role experience is Will Swenson – again, younger than any of his predecessors. Physically impressive (Javert is usually played by someone about whom you would never imagine a personal life), he brings fervor to his early scenes when he is clearly a young man, and conviction to the later scenes by which time he's become a fanatic.  The staging of his final moment is breathtaking, yet it is fresh and new and totally different from that of the original production.
I must admit that first time round, when I saw the original, I tended to think of Cosette, Fantine and Éponine as one female character. Each has a wistful song, and they  are in many ways alike. "I Dreamed a Dream", "Castle on a Cloud", and "On My Own" all sound as though they could be sung by any one of them. Other awkward moments in the book, as it tries to condense over 1200 pages into a three hour theatre piece, still confuse me. Years often lapse between scenes, and the one sure way of knowing where we are time-wise is by checking the color of Valjean's hair.
I blush to announce also that I've never been quite sure of just which revolution we are witnessing "at the barricades". I know it's not the one that sent Louis XVI and his Marie Antoinette to the guillotine.
But as one who last studied French history decades ago, I'm just not all that up on what was going on in France in the early 19th century which is the period Hugo was probing.  Research tells me that the barricades were broken during the June 1832 rebellion in Paris, but I'm still not sure exactly what "les citoyens" were rebelling against. It's clear that they are unhappy with the ruling class, but there is no mention of any specific complaint or any particular person except Javert, who is merely head of the police.
However, that doesn't seem to bother anyone much, and  I assume the musical would have as much impact if it were set in Cairo or Atlanta, or anywhere else during troubled times.  We have good guys and bad guys and a hero with integrity who is an inspiration to us all, which is certainly one reason why the story of these unfortunate folks, Hugo's "les misérables",  will never die.
Among the others with which it concerns itself are M. and Mme. Thénardier, who bring boisterous low life into the otherwise very dramatic goings on.  Their tavern is a pig sty, and they look as though they'd perhaps washed for their wedding, but never since. As played by Cliff Saunders and Keala Settle, they are quite wonderfully in your face. The two of them, he skinny, she not, are a colorful couple, one you'd be better off avoiding in real life. But in this musical, they certainly add spices not available from anyone else. Seasoning to the stew you might call it.
The romance between young citizen Marius and his beloved Cosette is played to perfection by Andy Mientus and Samantha Hill. Mientus is making his Broadway debut but he's proven in workshops and on the road and in TV (he was featured in the recent series "Smash") that he's on his way to a major career, for he has talent and charm to spare. Ms. Hill is playing a role not unlike Christine Daaé, in which she made her Broadway debut in Phantom, and she is lovely. Little Gaten Matarazzo is magnificent as Gavroche, the bravest, most delightful and moving youngest member of the lads at the barricades. Kyle Scatliffe as Enjolras is impressive as he rouses his fellow fighters with "The People's Song" and "One Day More".
Les Miz is all music, one of those sung-through musicals that were all the rage in the 1980s, thanks to Mr. Lloyd Webber and his disciples, which must include Claude Michel-Schönberg and Herbert Kretzmer. Much of it is rousing, some of it is moving ("Bring Him Home" as sung by Ramin Karimloo is enchanting, as is Andy Mientus' "Empty Chairs At Empty Tables"), it is stage worthy but sometimes excessive. One less anthem, one less wistful ballad for the interchangeable young women would be helpful, but then again, over 7000 performances and counting might suggest that I stop complaining.  So I will, with the highest recommendation I can make for a big musical that delivers mightily all evening long.
Les Misérables is onstage at the Imperial Theatre, 249 West 45th Street, NYC.
Details and tickets
Richard Seff, Broadway performer, agent, playwright, librettist, columnist adds novelist to his string of accomplishments, with the publication of his first novel, TAKE A GIANT STEP. His first book, Supporting Player: My Life Upon the Wicked Stage, celebrates his lifetime on stage and behind the scenes. Both books are available through online booksellers, including Amazon.com.
He has also written the book to SHINE! The Horatio Alger Musical which was a triple prize winner at the New York Musical Theatre Festival (NYMF).
Each year, Actors Equity recognizes the year's most outstanding supporting player with, appropriately enough, the Richard Seff Award.