"A handshake in a corridor," is the phrase John Moletress used to describe the genesis of Jarman (all this maddening beauty). Described as "a premiere work-in-progress performance," the piece can be seen at Atlas Performing Arts Center through Sunday, Apr. 27.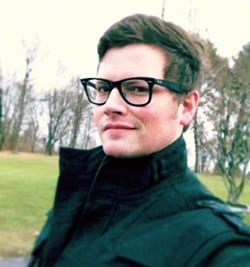 The handshake was between Moletress, its director/performer, and Caridad Svich, its writer. Moletress is Founding Director of force/collision, the company which is presenting the piece and which earlier presented the world premiere of Svich's play Magnificent Beauty, also directed by Moletress. Svich is the recipient of an Obie award for Lifetime Achievement whose stage adaptation of Isabel Allende's The House of Spirits was seen at GALA Hispanic Theatre last year.
"We wanted to find something to work on together again," Moletress told me. "She mentioned Jarman. I said, 'Perfect. I love Jarman.'" They shook hands on it.
The subject they were considering was the ground-breaking, envelope-pushing, highly respected, influential British filmmaker Derek Jarman. The discussion between the collaborators occurred as the anniversary of Jarman's death approached. Jarman died of AIDS in 1994 at age 52. This anniversary has occasioned "convergence with other arts organizations, not so much here, but in the UK," Moletress noted.
"Film has to be a major aspect of the work because film was a major aspect of his work," Moletress said. He confided that he hopes that as they continue to develop the piece, it can be taken to other cities, and he pointed out that a piece with a single actor is much more "financially feasible" than a larger-cast project. (Moletress, by the way, is working with an associate director, Jacob Janssen, who provides him with an outside eye.) However, many artists other than the evening's single live performer are involved in the filmed scenes. "There's been an entire community of people working on the film aspect. Between voice-over roles and the film itself, about 40 other actors" make up the Jarman company.
"We didn't know what form it would take," Moletress said of the film component. Describing its interaction with the play's script during rehearsal, Moletress said that the film aspect "expanded itself." He told me that at times it felt as if they were "producing two separate entities" that eventually "converged together to make one."
Describing Jarman as a guerrilla filmmaker, Moletress stressed that his aesthetic was informed by his early work, which was shot on Super 8. "He had no money and no script; he brought his friends together to create beautiful imagery, and to do it on the fly. So we got together and had a jam session. We kept developing it over the last month. We were taking a page from Jarman's book in terms of process and used that as a guide to develop the imagery."
JARMAN (all this maddening beauty)
Closes April 27, 2014
Atlas Performing Arts Center
Lab Theatre II
1333 H Street NE
Washington, DC 20002
1 hour, 15 minutes, no intermission
Tickets: $20
Thursday thru Sunday
Details and Tickets
And what makes Jarman relevant in 2014? "You know," Moletress said, "we wanted to discuss, how do we look back at him from where we are now. What paths did he pave and why is he relevant? We're looking backwards in the script. I play two characters within the play. One is Jarman, the other is a young artist now who is trying to find himself through Derek's works. Caridad has laid out the script so that there are things happening both within Jarman's time and our time. Both characters in different times have a conversation about the artist and his legacy."
We were joined during our conversation by the filmmaker of the project, Benjamin Carver. "The first time I saw Jarman's work, I was overwhelmed. It wasn't the type of film I was accustomed to seeing. I felt alienated from it. Then I got to know him as an artist by reading books and interviews with those who were close to him, and I became inspired by him and his process and what he's all about, the way in which he approached art, took risks, made it so personal, the way in which he encouraged people to make deep, personal work instead of the kind of corporate commercial stuff that was being produced then and that he railed against."
Carver said that the Jarman approach and aesthetic "frees you up" because it no longer matters if you don't have the best equipment — you can create art on an iPhone. The Jarman legacy, from a practical perspective, is that he would not let "lack of budget or commercial viability stop him in the creation of deeply personal, intellectual, and passionate works."
A couple of weeks after my talk with Moletress and Carver, I saw the performance at Atlas. It triggered my memories of experiencing Jarman's work and reminded me of the things that make it special. This is not a review — it's a collection of thoughts provoked by Jarman (all this maddening beauty).
One phrase I scribbled was "queer angel." I don't recall the context, but it points to an aspect of Jarman's work that permeates the evening — his preoccupation with classical art, its religious themes, and the homoerotic possibilities available in it that can be seen as shocking in a modern film context. (His films include Caravaggio, about the artist, and Sebastiane, about the saint.) The association of Jarman with religious thinkers such as Thomas Aquinas is compelling and thought provoking.
"Is that the way of all artists?" This is another line whose context I don't recall. It is, though, one that brings to mind the struggles, dilemmas, and choices facing artists who have a particularly strong vision and for whom compromise is anathema.
Jarman's death was preceded by blindness, and his final film, Blue, is an hour and nineteen minutes of nothing but a blue screen over which voices are heard. Mention of, and use of, that evocative color recurs periodically throughout the piece, most strikingly when Moletress takes blue paint (or blue something) and smears it across his eyes.
"The story is fiction — like all stories that are true." (Or something close to that.) Loved that line.
A sequence about the film Sebastiane was fascinating in its exploration of the association of the erotic with the violent. He speaks of arrows piercing the skin and of being mesmerized, moved to tears, turned on, inspired. Like other important artists, Jarman explored things that skirt the boundaries of the taboo.
What about rules? Does art matter? What is normal? These are questions the piece engages. "Fuck narrative" (another line I heard) is not an answer to those questions, but an aesthetic perspective that Jarman (all this maddening beauty) shares with some of Jarman's work.
The fixation on England (not the UK, not Great Britain, but England specifically) surprised me and is a motif that weaves through the piece.
In the spirit of Jarman ("Fuck Narrative"), I'll juxtapose two lines from the piece in a way that the performance doesn't:
"Beauty. We must make beauty." — "We'll find a way, we always do."
As an addendum, I'll mention that memories of Jarman ignite for me memories of Richard Warwick, a wonderful, important, and protean actor I wish was better remembered.
For members of my generation attuned to gay themes in film, he was there at nearly every turn, from the rebel in If… who consummates a same-sex attraction, to one of the gay aristocrats who murders Rasputin in Nicholas and Alexandra, to the laborer who sleeps with Brian Cox in The Lost Language of the Cranes. He seemed to pop up at so many important points in gay cinema. And he was the highest profile actor to appear in Jarman's breakthrough film Sebastiane. He died of the same disease and at the same age as Jarman, though a few years later.
—————–
Finally, in full disclosure, I should state for the record that Moletress played Charlotta in the production of The Cherry Orchard that I co-directed with Gaurav Gopalan at Washington Shakespeare Company. I played a role in a Page-to-Stage reading of Magnificent Beauty by Svich that Moletress directed in advance of its full production. Sound/Projections Designer David Crandall and I have worked together more times than I can count, including the WSC production of Hamlet which I directed, and for which Crandall won a Helen Hayes award.
Ben Carver's latest video for Jarman (all this maddening beauty)