The current revival of Martin McDonagh's play, its first shot at Broadway after two off/Broadway incarnations in the late 1990s, makes clear one fact. That is that Daniel Radcliffe, the actor now playing the title role, is as genuine as sterling silver or eighteen karat gold.
Those who thought, when they saw him play Harry Potter in film eight times, that his identification with Harry would  be so strong that the public would never accept him as anyone else, were simply wrong.  It did happen to some: Henry Winkler and his "Fonz" character comes to mind. But as Equus, How To Succeed In Business and now this play prove, Daniel Radcliffe is actor first, star second.  His "Cripple Billy" in this revival is a fully rounded, very brave characterization, for Billy is deformed by a paralyzed left side, and he's been stuck on a small island off the west coast of Ireland, in a town that is home to some 500 people, and all of those we meet are cruel, eccentric, and unloving. Or so it would seem.
And therein lies the intriguing quality of Mr. McDonagh's very original play. In other works he has proved himself a master of gory Gaelic whimsy. He certainly knows the rhythms in the speech of his colorful cast, but he knows about their inner workings as well. Billy, for example, has two maiden aunts, Eileen and Kate Osbourne, and at first we think we're meeting two dotty spinsters whom we've met before, often played by the likes of  Elsa Lanchester or Edna May Oliver.  But one of these talks to stones, and the other runs the shop that barely supports them, a shop that seems to feature canned peas, an egg or two when available, and not much else. And are they really Billy's aunties? You'll have to stay tuned to find out.
Another local fixture is Johnnypateenmike, a middle aged gossip monger who looks as though he hasn't changed clothes since he was a youth. Johnnypateenmike (and that's how he is always addressed) brings island news to the aunties every day in exchange for which they give him an egg or two now and then for his ninety year old bedridden Mammy (that's what he calls her) who very likely will outlive him, much to his dismay.
But there are secrets and lies that bind all of these rural folks, and those secrets and lies seem to be the only elements that give them reason to go on living.
There are others who contribute to Cripple Billy's miserable life. There is another teenager in town, one Bartley McCormick, a nasty brat whose only interests would seem to be sweeties (candy) and telescopes.  Bartley gets most of his fun out of laughing at other people's misfortunes,  and is the kind of boy you turn away from when you see him approaching down the road.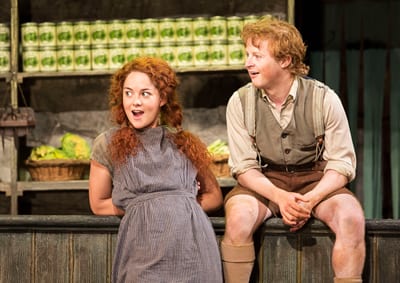 Bartley's sister Kate is even worse. She's the prettiest girl on the island, and she knows it. For her it's a weapon, probably the only one she possesses. She is ruthless in using it too, even sensing that Billy has a crush on her, and tormenting him with that insight. "Babbybobby" had a wife who died of tuberculosis, is a loner who runs a boat back and forth to the mainland town of Inishmore.  McDonagh has assembled a group of terrible people here and into the mix he's thrown poor Billy, whose parents died under mysterious circumstances soon after he was born, leaving him to the two spinster aunts, who agreed to take him in and raise him.
The playwright will thicken the plot by referring to something that actually happened in 1934, the time of this play. Robert Flaherty, a real film maker, was in Inishmore filming a documentary called "Man of Aran" and all I will tell you is that Billy, Bartley and Helen all get Babbybobby to row them over to the mainland to have a look. That journey changes everything.
Out of this murky and special material, McDonagh has fashioned a moody play that we find ourselves laughing at most of the time, but as effectively as with a flash of lightning, there will be a moment of great sadness, particularly in the eyes of Daniel Radcliffe's Billy.
The cast is perfection. Gillian Hanna and Ingrid Craigie play the aunties with delicious restraint and considerable know-how. By the evening's end, I came to admire them more and more, for their characters evolved into something more complex than at first glimpse.
Sarah Green's "Helen" is Scarlett O'Hara on a bad  day. Merciless, clearly unhappy with her life and determined to make everyone pay for that sad fact, she plays unappealing most appealingly. Pat Shortt's (yes, his name has an extra "t" for good measure)  Johnnypateenmike is another necessary evil, for without him, life in Inishmaan would be even more dull than it is. But he has a surprise or two for us if we are patient. Gary Lilburn plays a doctor,  the one man in town who has a warm heart and a pure soul, other of course than Billy. I don't recommend you plan to get away from it all by retiring to this seemingly placid little island filled with colorful characters.
The play encourages post-performance discussion, as its twists and turns can be confusing, but on further examination, Mr. McDonagh's plot line is entirely possible, and in Billy he has created a hero for all ages. As played by the now fully mature and gifted Daniel Radcliffe, he is someone we can only wish well.
The Cripple of Inishmaan is onstage at The Cort Theater, 138 West 48th St, NYC.
Details and tickets
Richard Seff, Broadway performer, agent, playwright, librettist, columnist adds novelist to his string of accomplishments, with the publication of his first novel, TAKE A GIANT STEP. His first book, Supporting Player: My Life Upon the Wicked Stage, celebrates his lifetime on stage and behind the scenes. Both books are available through online booksellers, including Amazon.com.
He has also written the book to SHINE! The Horatio Alger Musical which was a triple prize winner at the New York Musical Theatre Festival (NYMF).
Each year, Actors Equity recognizes the year's most outstanding supporting player with, appropriately enough, the Richard Seff Award.